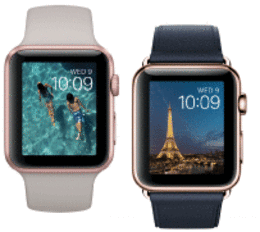 Good Buy: High-Tech Holidays
From the latest phones to fun gadgets, there's a lot to choose from when it comes to technologically advanced gifts. If you haven't made your list yet, don't worry, we've got you covered.
Here are the latest—and best—gifts to give, both big and small.
To see they Good Buy gallery, click here
1. FOR THE CREATIVELY-INCLINED
MICROSOFT SURFACE BOOK
If you're looking to give an artsy gift, Mircosoft's Surface Book is it. The innovative computer transforms into a laptop, a canvas with a 13.5-inch touch display, or a portable clipboard with a detachable keyboard to match any creative user's needs. It runs on Windows 10 Pro and features front- and rear-facing cameras, HD video-recording capability, dual microphones and stereo speakers. Safe to say it's an endless supply of inspiration.
Starting at $1,499; Microsoft.com?
Photo courtesy of Microsoft
2. FOR THE STYLISH TECHY
APPLE IWATCH
For anyone who is attached to their iPhone, Apple's Smartwatch might be the best gift to give. The iWatch has the ability to scroll, zoom and navigate with touch-and-slide functionality, while performing most of iPhone's functionality. It gives users access to synced music, at-a-glance phone calls and messages, while featuring additions including Apple Pay and health and fitness apps. A customizable watch face and designer bands also add a lot of personality and flair.?
Starting at $349; Apple.com?
Photo courtesy of Apple
3. FOR THE FITNESS BUFF
JAWBONE ACTIVITY TRACKER UP4
?There's a lot more a Jawbone fitness tracker can do these days, and the latest UP4 offers tap and pay capabilities—via a valid American Express account—and monitors resting and passive heart rate. The now-sleeker wristband device has sensor technology to keep track of heart health, all while maintaining standard features including up-to- date tracking of sleep, activity and calories burned. Basically, it multitasks so your loved one doesn't have to.
$199.99; Jawbone.com?
Photo courtesy of Jawbone
4. FOR THE ADRENALINE JUNKIE?
PHUNKEEDUCK
?PhunkeeDuck is the affordable alternative to the Segway and a hybrid version of the traditional skateboard. It's conveniently compact and powered by a rechargeable Lithium-Ion battery that's equipped with a seven-hour life. The PhunkeeDuck moves simply by leaning weight forward, backward or right-to-left and reaches a maximum speed of about 12 MPH. While its retail tag might be hefty (this is far superior to the ones you see at the kiosk in the mall), PhunkeeDuck typically offers discount codes, saving customers upwards of $250.
$1,499.99; PhunkeeDuck.com
Photo courtesy of PhunkeeDuck
5. FOR THE ANDROID NOVICE
GOOGLE'S NEXUS 6P
Google's latest Android ups the ante on their Nexus system with brand-new features that will make any novice user drool when they open their gift. The 6P is the first of its kind designed with an all-metal body and crafted from aeronautical-grade aluminum with a 5.7-inch display that's big, but small enough to fit in your hand. It also offers a 4K resolution camera and Nexus Imprint, fingerprint security located along the phone's backside. Not sold? The USB Type-C charger gives up to seven hours of battery life after only a 10-minute charge. Your giftee will thank you later.
Starting at $499; Google.com
Photo courtesy of Google
6. FOR THE ECO-AND-TECH- CONSCIOUS?
NEST LEARNING THERMOSTAT
For the person ahead of the at-home tech game, a smart gadget that monitors and controls home temperatures—all while saving money to boot— is the gift to give. The latest third generation of Nest Learning Thermostat has a 40 percent larger high-resolution screen and a faster response time to programming itself based on movement and a user's preferred temperature. Plus, it can be controlled anywhere thanks to a mobile device. Now that's trés tech-savvy.
$249 or at no cost with specific providers; Nest.com
Photo courtesy of Nest
7. FOR THE AMATEUR PHOTOGRAPHER
NIKON D550
The Nikon D550 is ideal for the non-experienced photographer looking to take sharper photos than the selfies on their phone. With retouch options, photo filters and built-in WiFi capabilities, it's easy to share and edit 24.2- megapixel photos and HD videos in an instant. The lightweight DSLR camera also features a 3.2-inch LCD swivel touchscreen and a 3.6x zoom lens shooting at 5 frames-per-second so a moment is never missed.
Starting at $899; Nikon.com
Photo courtesy of Nikon
Published (and copyrighted) in South Jersey Magazine, Volume 12, Issue 9 (December, 2015).
For more info on South Jersey Magazine, click here.
To subscribe to South Jersey Magazine, click here.
To advertise in South Jersey Magazine, click here.