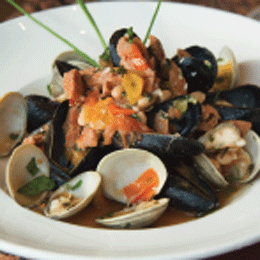 A Break in Tradition: Luna Rossa Biagio Lamberti
Luna Rossa Biagio Lamberti
3210 Route 42 Turnersville (856) 728-4505
REVISIT
The Lamberti name has become well-known—and well respected— across South Jersey, and even over the bridge in Philadelphia. With seven restaurants operating across the area for almost 30 years, "Lamberti" is officially a trusted source in local fine dining.
Luna Rossa Biagio Lamberti is just one of the family's eateries that pays homage to their Italian roots. A sprawling space, with tables for big and small parties in a variety of tastefully designed dining rooms, Luna Rossa sticks to tradition, with familiar entrées, a list of gourmet pizzas and pasta plates that really play to the families of Gloucester County.
The family-friendly direction is clear in appetizers, which includes a list of classic apps—like clams casino, calamari and mozzarella sticks—and a selection of gourmet starters, perhaps more suitable for date night or a night out with friends.
Porcini mushroom ravioli was one of the gourmet options, made in-house and stuffed with cooked wild porcinis before being tossed in a brandy cream sauce and served with more mushrooms. The sweet and creamy sauce—that was buttery and enticing on its own—combined with the earthy, rich mushrooms was absolutely dreamy. The ravioli pasta itself, meanwhile, was cooked just al dente, so it still had a bit of a bite that helped add some texture to the dish.
Another appetizer, Duo Piccante, was a more upscale take on the classic mussels in white sauce you're used to seeing on Italian menus. Mussels were sautéed with top neck clams, sliced sausage, cannellini beans and tomatoes. While I would have liked more meaty shellfish, the white wine broth was taken to the next level with the help of the sausage, which added saltiness and just the right amount of heat. When combined with the clams, mussels and tender beans, it created a sort of soup that I could have eaten all night long.
Luna Rossa's lasagna looks like the lasagna you're accustomed to, with the standard broad sheets of pasta, sauce and cheese stacked and baked in a neat Napolean, but it's what's inside that really sets it apart. The dish was completely smothered in a bright red, house-made tomato sauce, the clear star of the dish thanks to a burst of fresh tomato flavor. Meanwhile the addition of sliced house meatballs and sausage tucked under the pasta gave the dish the body it needed.
Veal Lucia—also available in chicken—took thinly sliced cuts of veal and sautéed them in a creamy white wine sauce, alongside roasted red peppers, spinach and jumbo lump crab meat. It was served with melted mozzarella on a bed—or mountain—of al dente capellini with more sauce. The crab retained its own unique flavor without being too fishy or overpowering, and the roasted red pepper really helped to create some much-needed sweet- ness. And while the sauce was rich and creamy, it somewhat masked the flavors of the veal, mozzarella and spinach.
A selection of desserts sounded enticing, and we settled on limoncello raspberry cake. Layers of white cake were stuffed with a limoncello cream with bits of raspberry in it, and finished off with lemon icing, a raspberry coulis and whipped cream. The flavor, and slight bite, from the limoncello was certainly not absent and stood out above the other flavors, pushed further along by the tangy lemon icing. Meanwhile the cake was light and fluffy and created a delicate finish to the meal.
Judging by the crowds at Luna Rossa Biagio Lamberti, and by a menu that clearly understands its audience, this is one restaurant that can successfully feed the pickiest eater or fiercest foodie in your herd.
Published (and copyrighted) in South Jersey Magazine, Volume 12, Issue 9 (December, 2015).
For more info on South Jersey Magazine, click here.
To subscribe to South Jersey Magazine, click here.
To advertise in South Jersey Magazine, click here.