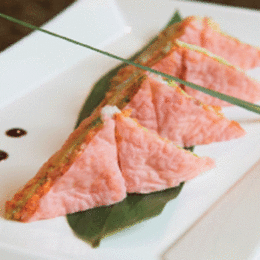 A Break in Tradition: Osaka
Osaka
720 Haddon Ave. Collingswood | (856) 858-1888
3 Fork Rating (Good)
It's hard not to love a hibachi dinner: It's dinner and a show; complete with a ton of food loaded up with plenty of soy sauce. So it's no wonder the hibachi tables are always packed at Osaka on Haddon Avenue. I've personally eaten at their hibachi on more than one occasion, and have had a good time. But my real Osaka experience came for the first time this year, on an evening when I wasn't particularly in the mood to catch flying hibachi shrimp in my mouth.
This Collingswood spot has been a Japanese eatery for years, but has come under Osaka ownership fairly recently. The space looks the same—slightly modern, with lots of mahogany, high-back leather seating and neon effects adding just enough lighting to the dim space—but the menu now reflects the change.
To start, the sushi is hard to resist, as a sushi bar sits right by the entrance enticing diners as chefs work away at their craft. An Eagle Roll combined cooked Chilean sea bass with king crab and avocado before topping it with spicy salmon and spicy tuna. Sea bass was a new sushi protein for me, but was deli- cate and flavorful, and—along with the avocado—balanced out the surprising spice that came from the tuna and salmon.
A starter took fish and rice to a new platform: the sushi sandwich. Diced spicy tuna, spicy crab meat, tomago masago—or sweet egg cooked until fluffy—and avocado was tucked between sushi rice that was rolled thin onto sheets of pink soy paper, then served with more wasabi sauce and soy for dipping. It was a fun dish, and the limited amount of rice really left room for the fish and crab to shine, but the soy paper itself, which was similar to the texture of a tissue, was slightly off-putting.
Another appetizer, the pepper filet mignon, was almost too beautiful to eat— almost. Paper-thin slices of rare filet mignon came stacked and served drizzled with a brown ponzu sauce and spicy green wasabi sauce. When the right bite came, the flavors matched the visual beauty, with tender, buttery steak and a bite from the pepper blending with just the right zing from the wasabi. You do have to be mindful of the wasabi with this dish though, as it can easily overpower the plate.
Ginger and scallion chicken and shrimp—one of several kitchen entrées available—deserves credit for its unique- ness. It came with fresh vegetables that still had a bit of a bite, despite being sautéed in a brown sauce, and that added a bit of texture and flavor that you don't normally get in a stir fry. And while the accompaniments were nice and the chicken was tender, the shrimp were bland and slightly overcooked, and would have benefitted from a bit more care.
I normally shy away from a bento box, as it's hard to find unique options out there, but the tonkatsu variety seemed promising. The platter came with the standard shrimp tempura, California roll, vegetable tempura and white rice, and also served a crispy, fresh vegetable spring roll. The star of the plate, however, was the tonkatsu itself. Paper-thin pork was tempura battered and deep fried, and served with a sweet, house-made brown sauce. The pork, though thin and crispy, was still juicy and retained plenty of its own meaty flavor. But the sauce stood alone as the highlight, sweet, tangy and so unique on its own.
"Unique" is a good way to describe the new Osaka as a whole. From appetizers and sushi options to entrées, everything on the menu took a slight turn from tradition to create a selection that was really intriguing, and largely successful. While some of those quirks proved slightly unsuccessful, the excitement of a menu unlike any other is enough to keep me coming back again.
Published (and copyrighted) in South Jersey Magazine, Volume 12, Issue 9 (December, 2015).
For more info on South Jersey Magazine, click here.
To subscribe to South Jersey Magazine, click here.
To advertise in South Jersey Magazine, click here.