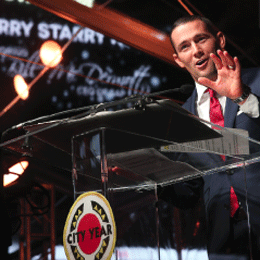 Sporting Chance
Washington Township native seizes opportunity to build an impressive career in world of professional football.
His office may be located on the other side of the country in one of the most stunning stadiums in the NFL—if not all of sports—but Al Guido made sure to include a piece of South Jersey when he was decorating it.
The chief operating officer for the San Francisco 49ers at just 36 years old, Guido has enjoyed a meteoric rise in a professional sports career that spans a little more than a decade. But no matter where the ride has taken him, from Phoenix to Dallas to the Bay Area, he has never forgotten his roots.
"I'm very partial to the area and town I grew up in," says Guido, a 1998 graduate of Washington Township High School. "I was born and raised a Philly fan, and I still read Philly.com almost every night. I even have the Richmond Drive sign from Washington Township hanging in my office."
Guido, who starred in football and basketball for the Minutemen before playing football at The College of New Jersey, grew up with a passion for sports, like many people in South Jersey. But he has been able to parlay that passion into a career, getting his first break in sales with Comcast-Spectacor, the owner of both the Philadelphia Flyers and Philadelphia 76ers at the time.
After stints with the Lakewood Blueclaws (a minor-league affiliate of the Phillies) and the NHL's Phoenix Coyotes, Guido moved on to the Dallas Cowboys, where he man- aged the premium seat department that broke industry records and helped get AT&T Stadium built.
He played a similar role in the creation of Levi's Stadium—the sparkling home of the 49ers that opened last year—and eventually accepted his current position in January 2014, where he oversees sales, fan experience, marketing, stadium operations and more.
We spoke with Guido about the various stops of his career, why South Jersey means so much to him, and why his friends from back home keep calling about a certain Sunday coming up in February.
Starting his career in sports…
I can't say that I planned exactly for this. It would be amazing if I did, but that's not the case. I went to The College of New Jersey, and I had no clue what I wanted to do. I took a job with [American Express] on the financial services side and I didn't like it. I liked the thought of Wall Street, but I didn't necessarily like the job. Comcast-Spectacor, which was the owner of the Flyers and the Sixers at the time, was hiring for a sales job. So I took that opportunity, and once I sold my first ticket—to a Philadelphia Wings game of all things—I was hooked. I wanted to be in pro sports and I enjoyed being on the business side. ... I guess I was good and lucky enough to move around. My big break was with the Dallas Cowboys, which most people in Philly hate hearing, and my family did too. But to open up that stadium and do what we did there was kind of a launching pad for my career.
Joining the 49ers…
Legends was a sales and marketing company that was created by myself and another guy. We really wanted to take the talented people we had on the Cowboys project when we started that company. That's how I met the York family (the owners of the 49ers); they were trying to build a stadium in Santa Clara. That was 2009 or 2010, and I started working out here just on a consulting basis. Then when the vote passed [to build the stadium], I moved out here and worked on the sales and marketing front with Legends on behalf of the team. About two years ago, I accepted the offer to work here full-time as the chief operating officer of the club.
If you build it…
I've been spoiled; 10 years of my career have been spent on building or working on brand-new stadiums. Levi's and AT&T in Dallas are probably in the top 10 as far as recognizable buildings in the United States. We're hosting Super Bowl 50 this year, and we just won the bid to host the 2019 College Football National Championship. I've been super lucky to do this and it's been a fun ride, no doubt.
Plans for Super Bowl 50…
They're massive. We're proud of a lot of things, but the one thing we're extremely proud of is that we've made a pledge to be the most philanthropic Super Bowl in history. Twenty or twenty-five percent of all the dollars raised by the host committee will go back into the local community. We really wanted to impact the region. We didn't want it to be just about Sunday or just about NFL Experience. We wanted it to touch all pillars of the region, and not just for those two weeks. Whether it's nonprofits or feeding the hungry, we wanted it to have a legacy. We want people to say it impacted them or their company or their nonprofit long after it leaves.
Requests for Super Bowl tickets…
No doubt, I've been hit up by a lot of people that want to come out. That happened a lot when I was with the Cowboys, too. The Cowboys and Eagles obviously play in the same division, so when I worked for the Cowboys all my Eagles friends growing up wanted to come out and see the stadium. Last year when the Eagles played here, we had our own little hashtag for our re- union. We probably had 50 people that came out for the Eagles game. To be able to give back through this job has reconnected me with some people I grew up with, which is cool.
Ties to South Jersey…
My parents got divorced when I was 9. My mother now lives out here; my father lives in a small town outside Philly called Glenolden. My sister lives in Cherry Hill, and I still to this day own a house in Mount Laurel. I rent it out, but I still hold on to it. I have three little girls now so it's a little harder, but pretty much every summer I vacation down the Shore. A lot of people don't under- stand that. They call it the beach out here, but I still call it the Shore.
I came back about a month ago when we played the Giants. My sister had her second kid and I'm the godfather, so I spent most of my time at her house. Then I went with a couple of my buddies who I played ball with to P.J. [Whelihan's]. That was probably the first time I've been back [to Washington Township] in about 10 years. It was cool to get back. It was a drive down memory lane.
Life in Northern California…
I love this area. My daughters are still pretty small—they're 7, 5 and 3—but two of them are in school now. My wife and I just bought a house that we're rebuilding, and we like it a lot. My father was just out here visiting, and we [agreed] that it's very similar to the East Coast in that they have all four seasons here, but they're just not as extreme. In winter, you have to put on a sweatshirt and everything, but it's not too cold. In the summer it's hot, but the humidity isn't as bad as it is back east. But it still has the beach and the mountains and you can get to a lot of things, which I love.
Published (and copyrighted) in South Jersey Magazine, Volume 12, Issue 9 (December, 2015).
For more info on South Jersey Magazine, click here.
To subscribe to South Jersey Magazine, click here.
To advertise in South Jersey Magazine, click here.