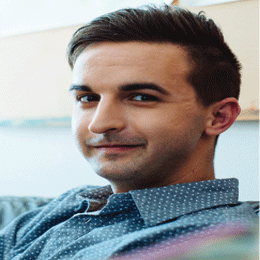 Man of Action
At just 28 years of age, Brandon Monokian has quickly become a name to watch in the East Coast theater world. The creative mind who hails from Lumberton has been writing, producing and acting in stage productions for several years, performing his original works on numerous stages—including a recent showing of his play Peter Pan Is Dead at Philadelphia's FringeArts festival this past fall—writing and assisting other producers, and acting in theater companies, all while helping run his family shop in Ocean City every summer.
But Monokian's newest venture is one that captures a global audience, with the help of a wildly popular cast and completely original story. His independent mockumentary Happy Yummy Chicken tells the story of two playwrights on a mission to write a musical about a woman recovering from her breakup by eating fried chicken for two months.
Monokian wrote, produced and starred in the movie, which also casts three actresses from the Emmy-award-winning show Orange is the New Black—Taryn Manning, Diane Guerrero and Emma Myles—as well as actress Suzzanne Douglas, known for her work in How Stella Got Her Groove Back and School of Rock.
We spoke with Monokian about the film—which just released a trailer for the public and will begin touring independent film festivals in 2016—his future projects in the works, and how he manages to make South Jersey a part of his rise to fame.
Inspiration for the film…
The whole film was kind of about the crazy things we do for love. It's about a woman who broke up with her boyfriend, so she sits in a restaurant eating fried chicken for two months. Her story gets picked up by the news, and these guys see the stories and turn it into a musical. It's a mockumentary based on the process.
It's a satire of a real news story that actually happened. I wasn't so much inspired by the story itself, but that it was so simple and the news blew it up. There were so many articles and videos online. I thought it was interesting to see how we attach to these weird news stories with the help of social media. Everything is so instant and things happen so quickly.
From stage to screen…
A while ago I was performing in all these theatrical tours, and the cast was so mistreated. But it was good because it really lit a fire in me to do something. Music and film are so interchangeable, and it's such a good representation as a creator because it's permanent. Writing the film meant a lot to me and I wanted to produce a film because I wanted more people to be able to see my work as a businessperson. I can only fit so many people into a theater and with film people can see it around the globe. It was a conscious choice to get my work out there, and having this cast certainly helps.
Cast of characters…
I still can't believe how we got together with this cast; it's bizarre how it happened. I wrote it in November, we filmed in May and they didn't sign on until right before. Taryn Manning (Pennsatucky in Orange is The New Black) had read something that I wrote and we got to talking, and I asked her to give me feedback on the film and she actually ended up saying, "Yeah I'll do it." Obviously when you have people who are starring in the hottest show on the planet in your film it raises the stakes, because everyone knows that they are really, really talented. You have people at the height of their careers reading your work, and it's so humbling.
[Taryn Manning] usually plays a tougher, rougher character. In [Happy Yummy Chicken] she's really sweet and really funny. Which really reflects her personality; she's a really endearing human being. I'm excited to see people that they might know from TV or movies playing roles they've never seen before. These are total 180s for these actors. Suzzanne Douglas is in the film and has had this in- credible 30-year career, and she tells me she has never played a role like this. For them to say they've never played a part like that is cool, to say the least.
The life of an up-and-comer…
There isn't glamour to this career like you think; it's really tough. There's some glamorous things happening, but they're very, very brief moments in my busy, wild life. You don't see the weeks of hard work.
Coming back home…
A lot of [Happy Yummy Chicken] was shot in the town of Montclair which is where I went to school, and we filmed at a family friend's house in South Jersey on Day 1. So to be able to film at home on Day 1 in Lumberton, two minutes from the house that I grew up in, was a very full circle moment. This is where I grew up and where I dreamed of these things, and it's happening in my home.
The future…
I'm writing something with Taryn Manning, which I'm super pumped about. It's such a dream to work with her once, and to do it again is unreal. Not only is she so talented, but she's taken the time to coach and mentor me. I'm also work- ing on some projects with Emma [Myles] from Orange [Is The New Black] and doing a lot of commissioned writing. ... I want to do everything. People always ask me as I continue in my career, "Do you want to act or write?" I say "Yes."
Published (and copyrighted) in South Jersey Magazine, Volume 12, Issue 9 (December, 2015).
For more info on South Jersey Magazine, click here.
To subscribe to South Jersey Magazine, click here.
To advertise in South Jersey Magazine, click here.