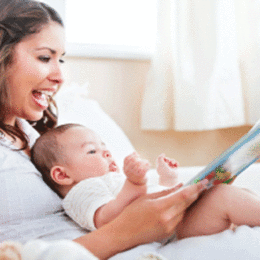 Special Delivery
When parents welcome a new baby into the world they want to do everything possible to further its development. Every cuddle strengthens your bond; every word you speak builds their vocabulary. Like a sponge, babies soak up all of this information. Alison Gopnik, a professor at UC Berkeley and noted author of books examining the science of babies' brains, writes, "Fundamentally, babies are designed to learn. Babies' brains are more flexible than adult brains ... which helps them to learn and explore."
Reading, in particular, is one of the best ways to develop a child's vocabulary. The sooner books are introduced in their lives, the better prepared children will be for school and beyond. Realizing this opportunity, one local nonprofit organization has been putting books into babies' hands just days after birth.
Story Storks was founded in 2012 by Maureen Hicks and Adrienne Evans, along with Barbara Funkhouser, who helped them form it into a 501(c)(3). Hicks, a retired elementary school teacher, and Evans, a teacher at Gateway High School, got the idea for Story Storks while completing their master's degrees at Rowan University in 2011. During their clinical practice course they tutored Camden fifth through seventh grade students in reading and made a discouraging discovery.
"While tutoring we discovered that these children never had books of their own until they entered school," says Hicks. "Adrienne and I were so shocked that we decided some- thing needs to be done to get books to children [sooner]. We discussed what we could do as teachers to help children become exposed to reading and books right from birth. That day, Story Storks was created."
Following the mythical idea of storks delivering babies, the Story Storks deliver books to newborns in the hospital, each with a personal touch. A Story Storks volunteer goes to each mother's room and presents them with a board book along with a sticker containing their baby's footprints (imprinted by the nurse after delivery) on the back of the book, and writes the baby's name and birth date inside the book.
Books are offered in both English and Spanish, and there is also a brochure handed out with reading tips and information about Story Storks itself.
But why get the books into their hands at such a young age? That was another realization reached during their master's studies.
"During our final course, we did a research argument where we taped families of newborns over a period of six weeks," says Evans. "We found that the babies who were videotaped responded to both verbal and visual cues while being read to. These babies ranged from one month to eight months of age. ... Although we couldn't prove that these babies were learning, when watching the videos, we saw the babies followed with their eyes while their parents read to them, and with the older babies they began to touch the books and respond to the parents' change in voice while reading."
Story Storks started delivering books in April 2012 at Cooper University Hospital in Camden. "Through our senior thesis we dis- covered research that states a baby will have learned 50 percent of the words it will ever use by age 5," says Evans. "We also discovered the discrepancy in word exposure between the different socio-economic groups. This is the main reason we decided to start at Cooper."
Since then, the small grassroots organization has expanded to three hospitals in South Jersey. Approximately 2,500 babies are given books annually at Cooper, 1,000 at Inspira Medical Center in Woodbury and 1,500 at Kennedy Health System in Washington Township. "As of this year we have created over 10,000 future readers through Story Storks at these three hospitals," says Evans.
Hicks and Evans say they are encouraged by the responses from parents they meet. "Their eyes light up when they see the footprints on the back of the book," says Hicks. "We've even had parents who we've met for a second time and they tell us how they couldn't wait to get another book from Story Storks." For babies and parents in the NICU, the books have proved to be calming. "We keep books in the NICU unit for parents to read to their babies, and our volunteers will also go in to read to them, and it's amazing to see how the rhythm of reading helps to calm a fussy baby," says Evans.
Hicks and Evans say their volunteers help make it all possible. There is at least one stationed at every hospital they service daily. And Story Storks is supported by an advisory board of health professionals, early childhood development professionals, attorneys and professors who bring their expertise to help Story Storks complete its mission. "Without the volunteers and panel we would not be able to help create future readers," says Hicks. "It's amazing to know we're making a difference. Not everyone can say that."
Story Storks holds an annual Wine and Cheese Night fundraiser, the next of which is scheduled for March 2016. One- hundred percent of the proceeds raised by the organization go to books and sup- plies. With the support of the community, they hope to expand Story Storks to at least two more hospitals in the next year, but their dreams expand beyond South Jersey.
"Adrienne and I would love to see Story Storks expand around South Jersey and Philadelphia, and we have a model for other hospitals to follow," says Hicks. "Wouldn't it be an accomplishment to have every baby in the U.S. receive a book from Story Storks and instill in them a love of reading to prepare them for school and beyond?"
For more information about Story Storks, visit StoryStorks.org or follow them on Facebook.
Published (and copyrighted) in South Jersey Magazine, Volume 12, Issue 9 (December, 2015).
For more info on South Jersey Magazine, click here.
To subscribe to South Jersey Magazine, click here.
To advertise in South Jersey Magazine, click here.