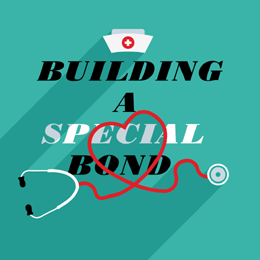 Building a Special Bond
Nurses are more than physical care providers: They're a familiar face who reminds a patient they're not just a chart or a statistic and most importantly, they offer emotional support and education. Every day, scores of nurses—both new and old—are working hard to improve both their patients and their respective families' lives, the environment and community in which they work. Nurses are vital to any hospital, rehab facility or long-term assisted living center and South Jersey Magazine's annual Top Nurses feature is honoring their work by celebrating what inspired them to answer the call of duty in the first place.
Chris (Adam) Thaler
RN, Cooper University Health Care
Before becoming a Daisy Award-winning nurse (Cooper's first recipient to date), Thaler spent 10 years working in sales and after a change of heart, he pursued a nursing degree. Today, Thaler has over seven years of experience working with Cooper and is currently a cardiac nurse and has experience working on an Alzheimer's and dementia care unit. His accolades include 2015's Cooper Heart Institute and The Heart House Award for Excellence in Cardiovascular Nursing and the Alzheimer's Association's Martin Luther King Jr. Award. Thaler—who is studying for a bachelor of science in nursing from Rowan University—owes his success to his wife, who has been a constant source of inspiration and support.
What inspired you to become a nurse?
The birth of my son. [I was] stuck in a sales job [and] I knew I needed to do something better to provide for my family and [for my] kids to look up to. … After discussing it with my wife, I quit my job and went back to school. All three of my kids inspire me to be a better nurse and continue growing with the field.
What's the hardest part about your job?
Adjusting to the continuous demands of healthcare [and] providing the best patient care possible to the patient and family.
What's the best part?
My co-workers. They are a strong, vocal, smart, caring, loving group that inspires their patients and fellow co-workers day in and day out. Even on the worst of days, they help get you through it.
--------------------------------------------------------------------- Kim Packer
MS, BSN, RN, NEA-BC, Corporate Director of Clinical Excellence, Kennedy Health
Packer is on a mission to improve the nursing department—whether it's allowing nurses to be involved in the decision-making pro­cess through Shared Governance or bolstering up their collaborative efforts. She has experience working as an emergency department nurse at Virtua for about eight years and more than 14 years of active clinical nursing practice. As corporate director of clinical excellence, Packer is a vital piece in Kennedy's Department of Nursing since 2012, thanks to implementing the Relationship Based Care and the Nursing Scholarship Program. She's also a member of the Organization of Nurse Executives, New Jersey, the American Nurses Association and the New Jersey State Nurses Association.
What's the hardest part about your job?
There is so much to do and only so many hours in a day. Critical thinking, prioritization and collaboration are more important than ever. We are … using each minute as efficiently as possible to achieve the best for our patients.
What's the best part?
Working with all of the people. It's a inter-professional practice and just seeing the collaboration and everybody working together to achieve a common goal—which is to do what's best for the patient—that's the most rewarding part of the job.
What inspired you to become a nurse?
Wow, that's a story. It was what my grandmother wanted me to do. [She wasn't a nurse], but it was her dream for me and it has been a great a career and I wouldn't change anything.
--------------------------------------------------------------------- Rebecca Kelly
BSN, RN, FN-CSA, Virtua Voorhees
Kelly's nursing instincts go far beyond the walls of Virtua Voorhees. Aside from being a preceptor, charge nurse and SWAT team member on the Acute Pulmonary Care Unit, she's a sexual assault forensic nurse at the Camden County Prosecutor's Office, volunteers at Voorhees Animal Orphanage, the YMCA (earning the Volunteer of the Year Award) and fosters homeless animals. Kelly started her career at Virtua in 2012, participates in Shared Governance and received 2015's Virtua Nurse Excellence Award and Relationship Based Care Award.
What's the best part of your job?
Watching our patients get better and walk out of the hospital! It's great to know you made a positive difference in someone's life.
What's the hardest part about your job?
Trying not to take it home. You become very close to your patients and it's hard not to let their difficulties affect you once you go home.
What inspired you to become a nurse?
Several years ago, my mother underwent a difficult medical situation and was treated at Virtue hospital. I was inspired by the care she was given by her nurses.
--------------------------------------------------------------------- Shirley Lay-Martino
RN, Our Lady of Lourdes Medical Center
Lay-Martino is just nine years away from celebrating her 50th work anniversary at Camden's Our Lady of Lourdes Medical Center. The seasoned nurse is a certified emergency and trauma nurse and has worked in the ER for the past eight years and in the dialysis unit and kidney/pancreas transplant department for 33 years. She was honored with the Lourdes' Sister Elizabeth Cory Award in 2010 and became the first recipient of Lourdes' Guardian Angel Award. She also inspired her own children to go in the medical field: both her son and daughter are nurses—with her daughter serving in Baghdad's ER during the surge and currently based in an Army Medical Center in Fort Campbell.
What's the hardest part about your job?
If there is a shortage in any chain of care that you have little control over, the patient and/or family may not feel that your care meets the expectations.
What's the best part?
[Exceeding our patients and their families'] expectations.
What inspired you to become a nurse?
I went to high school in the late '60s and '70s … the guidance counselor gave some limited choices: teaching, nursing or secretarial skills. Obviously, I chose the right path.
--------------------------------------------------------------------- Kara Anne Chromiak
RN, Thomas Jefferson's Methodist Hospital
While Chromiak is earning her bachelor's of science in nursing degree at Immaculata University, she's been an active registered bedside nurse for three years and works on the medical and surgical floor with telemetry capabilities at Jefferson's Methodist Hospital. The Clementon resident also divides her time (even using vacation days) by volunteering for countless organizations including Mid-Atlantic Burn Camp, where she's been a camp counselor for young burn survivors since 2004. Chromiak has also been recognized for her community service and nursing efforts by Jefferson, Nurse.com, The New York Times and more.
What inspired you to become a nurse?
Many factors ... however, taking care of my grandfather on home hospice made me realize nursing was what I was meant to do.
What's the hardest part about your job?
Sometimes what can be best for a patient is holding their hand and being there when medicine cannot give a better outcome. It's emotionally difficult, but also a privilege to possess.
What's the best part?
When I see sick patients get better. There's no better feeling than seeing a patient smile.
--------------------------------------------------------------------- Susan Norton
RN, BSN, Thomas Jefferson's Methodist Hospital
With 16 years experience working at Jefferson's Methodist Hospital, Norton is best described as a "nursing sleuth," since she's known for her rigorous attention to detail and staunch advocacy for patients. The Mullica Hill resident has been a nurse on the Orthopedic Shoulder and Elbow Unit since 2007 and previously worked in the Cardiac Care Unit and medical and surgical units. Aside from aiding in recovery, Norton has remained a mentor to new nurses and she's also a member on the Pharmacy Committee. Her hard work has garnered attention, as she was nominated for the Florence Nightingale Award and the Jefferson Nurse Excellence Award.
What inspired you to become a nurse?
My grandmother. She was a nurse in the Army.
What's the hardest part about your job?
Since I work on a unit with a quick turnover, it is sometimes a challenge balancing your time between the discharges and admission while providing quality care.
What's the best part?
The satisfaction of knowing that I am teaching people how to function after their shoulder replacement—helping them improve their quality of life.
--------------------------------------------------------------------- Patricia DeHart
RN, Certified Diabetes Educator, Virtua Voorhees
DeHart is taking diabetes care to a whole new level. She's an RN and certified diabetes educator at Virtua Center for Nutrition & Diabetes Care at the Kyle Will Family Health Center in Camden and goes "above and beyond" with her patients by offering educational resources, support and one-on-one meetings to patients. She also curated a healthy meal plan for diabetics inspired by shopping with a limited budget in inner city "food deserts," which was recognized by in the American Association of Diabetes Foundation Educators and is now a meal plan used across the country in inner cities. She also earned Virtua's Nurse of the Year and Superstar Award in 2015 after joining the team in 2013.
What's the best part about your job?
To coach a patient to improve taking care of him or herself and their diabetes. They are so grateful when they start to feel better. Enthusiasm is contagious!
What's the hardest part about your job?
We work hard to reach as many people with diabetes as possible because we are really making a difference in their lives with our program.
What inspired you to become a nurse?
My father was a physician and I worked during high school summers at a nursing home and just loved taking care of the patients.
--------------------------------------------------------------------- Tia Rose
LPN, Brandywine Senior Living at Voorhees
As a Licensed Practical Nurse at Brandywine Senior Living at Voorhees, Rose knows how to come through in the "clutch" during varied situations. Whether it's picking up call-out shifts, being a mentor to new hires, or serving breakfast when the kitchen staff is short, Rose is devoted to her residents, whom she considers family. Since starting at Brandywine in 2013, Rose works predominantly in geriatrics and currently aids patients with dementia. She also doubles as a nurse mentor for her building and is studying for her associate's degree in nursing at Salem Community College full-time.
What's the hardest part about your job?
Losing my residents, not from passing away, but losing them to Alzheimer's/dementia. To me, that's even harder than a resident passing away.
What's the best part?
There are a number of emotions and feelings that the family and the resident [with Dementia] experience when they come to our facility. They feel scared, helpless, overwhelmed and even guilty. I think of it as an accomplishment when we can make a connection, ease those feelings and help them feel comfortable.
What inspired you to become a nurse?
I grew up seeing my mother make a positive difference in so many lives [as an RN] … and I've always admired her for it. … My initial course of study was in Computer Science, [but] as I progressed through school, I started to feel stagnate and unfulfilled. Approximately six years ago, my grandmother became sick and I helped to take care of her. Shortly after, I became pregnant and after I had my daughter, I decided to look into becoming an LPN.
--------------------------------------------------------------------- Marian Wisnyi
RN, Wellness Director, Brandywine Senior Living at Haddonfield
As the current wellness director at Brandywine Senior Living at Haddonfield, Wisnyi operates on 21 years experience working in long-term care and assisted living. She has worked with patients who suffered stroke, traumatic brain injury, amputation and other life-changing incidents. Through it all, she values the lessons she's learned regarding the human spirit. "The strength that comes from learning and listening, crying and laughing and how holding a hand can mean so much," she explains. Wisnyi was previously awarded the Pennsylvania Nursing Association Nurse of the Year in 1990, carries a Wound Care Specialist Certification and since joining Brandywine in 2012, Wisnyi has been chosen as Manager of the Year.
What's the best part about your job?
Being surrounded by co-workers with heart and enthusiasm who all share the best of themselves on a daily basis.
What's the hardest part about your job?
Losing a resident. I know the inevitable is just that but the residents of any Brandywine facility are family. Losing a family member at anytime is the hardest thing for me as well as my fellow staff.
What inspired you to become a nurse?
I had been a "candy-striper" all four years in high school and was impressed by the nurses and staff. Honestly, they were not my inspiration to become a nurse. My father insisted I apply to nursing school because he knew that would be the right path for me—he was right!
--------------------------------------------------------------------- Rosemare Tierney
CALA, RN, WCC, Executive Director, CareOne at Evesham Assisted Living
Tierney started her nursing career in 1989 and graduated from the Helene Fuld School of Nursing in 1992 as a registered nurse. She has clocked in 25 years experience in health care by aiding patients in either hospitals, homes, long-term care or assisted living situations—more than 10 of those years spent as a director of nursing. Today, Tierney works with the aging population at CareOne at Evesham Assisted Living as the executive director, striving to care for the residents while being a mentor to her co-workers. Her credentials include Wound Care Certified (WCC), Certified Assisted Living Administrator (CALA), and she's currently pursuing a bachelor's and master's of science in nursing at Thomas Edison State College.
What inspired you to become a nurse?
My father when he was diagnosed with cardiac cancer at the young age of 44.
What's the hardest part about your job?
Not just enough hours in the day.
What's the best part?
Getting to know the residents, their family and friends and considering them my extended family. Also the staff I work with every day. I am inspired by their compassion and dedication and "can do" attitude.
--------------------------------------------------------------------- Emily Turnure
MSN, RN, NEA, BC, Administrative Director of Education and Accreditation, Inspira Health Network
From ushering new babies into the world to aiding in the development and further education of nurses, Turnure has been a nursing force for over 30 years. Her experience includes being a staff nurse in Maternity, Labor and Delivery, a manager in labor and delivery and director of maternal child health and in education. Today, she's the administrative director of education and accreditation for Inspira's Vineland and Elmer centers and has helped increase the number of nurses with bachelor of science in nursing degrees or higher by 350 percent in just four years. In 2015, she became the third Inspira nurse in the past six years to receive the Nursing Excellence GEM Award in the category of education and mentorship.
What inspired you to become a nurse?
My mother and other members of my extended family were instrumental in guiding me into the profession of nursing. I loved hearing their stories of their nursing education and working in a hospital—especially when they talked of delivering babies. I wanted nothing more than to experience the joy of bringing a new life into the world and to be a support to mothers and their newborns.
What's the hardest part about your job?
Continually staying informed about all of the different state and federal regulatory guidelines that change daily to assure our healthcare organization is compliant.
What's the best part?
Seeing the look of accomplishment on the faces of nurses when they complete their degrees or certifications in their specialities. I love to advance the profession of nursing and I cannot think of a better way than help others increase their knowledge base.
Published (and copyrighted) in South Jersey Magazine, Volume 12, Issue 9 (December, 2015).
For more info on South Jersey Magazine, click here.
To subscribe to South Jersey Magazine, click here.
To advertise in South Jersey Magazine, click here.