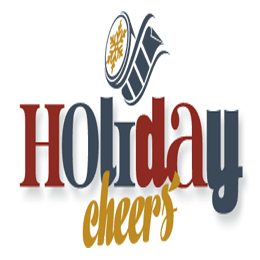 Holiday Cheers
KYW film critic Bill Wine tells us what to watch for at the box office this season.
It's called December.
That's cinema-speak for that portion of the moviegoing calendar that features potential blockbusters, the heating up of Oscar season, and the anticipated appearance on multiplex screens of A-list per- formers with names big enough to create long lines at the box office.
So here are the high-profile, big-screen attractions—a few of them already out there, most still to come—that will be vying for our attendance, attention and affection as December tiptoes toward January. As always, they all get four stars until they actually open. Then they're on their own. And so are you.
Krampus (Dec. 4)?
GENRE AND PLOTLINE: This Christmas- themed horror comedy focuses on a de- mon out of Germanic Christian folklore who is the virtual opposite of Santa Claus, seeking out folks who have been naughty and punishing them at holiday time.
MAJOR PLAYERS: Adam Scott, Toni Colette, Allison Tolman, Emjay Anthony, Conchata Ferrell, David Koechner and Stefania Owen?
BEHIND THE CAMERA: Michael Dougherty, who wrote and directed Trick 'r Treat and wrote the screenplays for two comic book-inspired adventure-fantasy sequels—X-Men 2 and Superman Returns—wrote the script and served as one of the producers.
OSCAR PROSPECTS: Like most Christmas-themed horror comedies, this one is chasing the holiday audience, not a prestigious prize.
COMMERCIAL PROSPECTS: Why do I get the feeling that this oddball item, the only one of its kind on the horizon, will ride social media to a splashy, profitable opening? Stranger things have happened.
REASON TO SEE IT: What's the holiday season without a dash of horror?
In the Heart of the Sea (Dec. 11)
GENRE AND PLOTLINE: An action-ad- venture drama and disaster thriller, based on a nonfiction book of the same name, about a real-life event that took place in 1820, when a whaling ship, its crew stranded at sea for three months thousands of miles from home, was at- tacked by a sperm whale and forced to resort to cannibalism.
MAJOR PLAYERS: Chris Hemsworth, Cillian Murphy, Tom Holland, Charlotte Riley, Brendan Gleeson, Ben Wishaw and Frank Dillane
BEHIND THE CAMERA: Don't call him Opie or Richie Cunningham because ex-actor Ron Howard has directed such estimable films as A Beautiful Mind, Frost/Nixon, Splash, Cocoon, Parent- hood, Apollo 13, Cinderella Man, The Da Vinci Code and Rush.
OSCAR PROSPECTS: Howard can never be completely dismissed at Oscar time, having won as Best Director for 2001's Best Picture, A Beautiful Mind, and been nominated in 2008 as Best Director for Frost/Nixon, which was also nominated as Best Picture.
COMMERCIAL PROSPECTS: For this one to attract a sizable audience between Thanksgiving and Christmas, it will probably take some breakthrough element— a performance or technical achievement, perhaps. Color it unlikely.
REASON TO SEE IT: The cast may not beckon, but Howard's track record with real-life material is remarkably impressive.
Sisters (Dec. 18)?
GENRE AND PLOTLINE: Not to be in any way confused with director Brian De Palma's 1973 psychological horror thriller, this comedy, originally titled The Nest, is about siblings who throw a final party at their family home, which their parents are about to sell.
MAJOR PLAYERS: Tina Fey, Amy Poehler, Maya Rudolph, Samantha Bee, Rachel Dratch, John Leguizamo, Kate McKinnon, James Brolin, Ja Rule, Dianne Wiest, John Cena and Ike Barinholtz
BEHIND THE CAMERA: This is the second feature film to be directed by Jason Moore, also an actor, who made a splashy directorial debut with the musical comedy, Pitch Perfect.
OSCAR PROSPECTS: Slim, given that the accomplished, popular and ubiquitous Fey and Poehler have not yet been part of any serious Oscar discussions.
COMMERCIAL PROSPECTS: Whether they're behind the SNL news desk, co-hosting an awards show or co-starring in a movie, these two draw a crowd. No blockbuster expectations here, but look for this one to register strongly as a counter-program- ming winner.?
REASON TO SEE IT: Hey, it's Poehler and Fey, so get out of their way.
Star Wars: Episode VII - The Force Awakens (Dec. 18)
GENRE AND PLOTLINE: The seventh installment in the popular and influential good-versus-evil space opera originally created in 1977 by George Lucas, kicking off a third trilogy, is set three decades after the events of 1983's Return of the Jedi, as a new generation of heroes continues the fight against an oppressive force.
MAJOR PLAYERS: Oscar Isaac, Adam Driver, Daisy Ridley, Andy Serkis, Domhnall Gleeson, John Boyega, Max von Sydow, and— reprising their roles from previous episodes—Harrison Ford, Mark Hamill, Carrie Fisher, Anthony Daniels, Peter Mayhew and Kenny Baker
BEHIND THE CAMERA: Director J.J. Abrams (Mission: Impossible III, Star Trek, Star Trek Into Darkness), who succeeds Lucas in the director's chair, also co-wrote the screenplay with Lawrence Kasdan (working on his third episode), and served as one of the producers.
OSCAR PROSPECTS: Although Abrams hasn't yet been acknowledged by the Academy, keep in mind that the first Star Wars film released went on to win six technical Oscars in 1977.
COMMERCIAL PROSPECTS: Grab the record books and make room for a new entry or three. This highly anticipated episode should go through the roof.
REASON TO SEE IT: Are you kidding? Folks have been lined up for months, it seems.
Concussion (Dec. 25)
GENRE AND PLOTLINE: A sports-themed drama that tackles the story of the forensic neuropathologist who first discovered the football-related brain trauma and the phenomenon of football players sustaining major head injuries and life-long medical problems stemming from repeated concussions.
MAJOR PLAYERS: Will Smith, Alec Baldwin, Adewale Akinnuoye-Agbaje, Albert Brooks, Eddie Marsan, Gugu Mbatha-Raw, Stephen Moyer, Luke Wilson, David Morse and Paul Reiser
BEHIND THE CAMERA: Writer- director Peter Landesman, previously an investigative journalist, debuted as a moviemaker with 2013's Parkland, a recounting of events at the hospital following the assassination of President John F. Kennedy in 1963.
OSCAR PROSPECTS: Look for the subject matter to attract attention and be taken seriously, and recall that Will Smith has an Oscar record, having been nominated as Best Actor twice— for Ali in 2001 and for The Pursuit of Happyness in 2006.
COMMERCIAL PROSPECTS: If this "It's about time" project catches on as a must-see at- traction, it could open big despite being "important" as opposed to "attractive."
REASON TO SEE IT: The combination of Will Smith and subject matter that screams to be ad- dressed should be more than enough reason.
Daddy's Home (Dec. 25)
GENRE AND PLOTLINE: A comedy about a mild-mannered step- father, whose life is disrupted and undercut when the anything- goes father of his two stepchildren shows up at the door.
MAJOR PLAYERS: Will Ferrell, Mark Wahlberg, Linda Cardellini, Thomas Haden Church, Paul Scheer and Hannibal Buress
BEHIND THE CAMERA: Co-directors Sean Anders and John Morris, who contributed to the story and screenplay by Brian Burns, collaborated previously on That's My Boy and Horrible Bosses 2.
OSCAR PROSPECTS: Remote, despite the fact that Wahlberg has been nominated twice—for Best Supporting Actor in The Departed in 2006 and as one of the producers of The Fighter, nominated for Best Picture in 2010. But those were for dramas, while his collaborations with Ferrell are comedies chasing laughs, not awards.
COMMERCIAL PROSPECTS: This broad romp, featuring the re-teaming of Ferrell and Wahlberg, has huge holiday hit written all over it. ?
REASON TO SEE IT: Anyone who enjoyed Ferrell and Wahlberg in the very funny The Other Guys is already cracking up.
Joy (Dec. 25)?
GENRE AND PLOTLINE: A biographical comedy-drama about a family across four generations, with the focus on the single mother of three who becomes the inventor of the Miracle Mop and the matriarch of a family business dynasty. ?
MAJOR PLAYERS: Jennifer Lawrence, Bradley Cooper, Robert De Niro, Virginia Madsen, Isabella Rossellini, Edgar Ramirez, Dascha Polanco and Diane Ladd
BEHIND THE CAMERA: David O. Russell, Oscar-nominated as Best Director for each of his last three projects (The Fighter, Silver Linings Playbook and American Hustle), not only directed but wrote the screenplay based on the story he co-wrote with Bridesmaids co-writer Annie Mumolo.?
OSCAR PROSPECTS: Strong in- deed. With Russell an automatic Best Director nominee of late and each of his last three films up for Best Picture; Lawrence with an Oscar for Best Actress in Silver Linings Playbook and a nomination for Best Supporting Actress for American Hustle, both under Russell's direction; and Cooper and De Niro with three nominations under Russell's direction between them, Academy members will be paying very close attention.
COMMERCIAL PROSPECTS: Given the recent track record of the director and his principal cast— and perhaps the come-hither title as well—this one should more than hold its own at holiday time.
REASON TO SEE IT: Russell. Lawrence. Cooper. De Niro.
Snowden (Dec. 25)
GENRE AND PLOTLINE: This biographical thriller focuses on the behavior of CIA employee Edward Snowden, who leaked thousands of classified documents to the press.?
MAJOR PLAYERS: Joseph Gordon-Levitt, Zachary Quinto, Scott Eastwood, Shailene Woodley, Nicolas Cage, Timothy Olyphant, Rhys Ifans, Joely Richardson, Melissa Leo and Tom Wilkinson
BEHIND THE CAMERA: Director Oliver Stone (Platoon, Wall Street, Born on the Fourth of July, JFK, Nixon, World Trade Center, W.) co-wrote the screen- play with Kieran Fitzgerald based on the books, The Snowden Files: The Inside Story of the World's Most Wanted Man by Luke Harding and Time of the Octopus by Anatoly Kucherena.
OSCAR PROSPECTS: Consider- able when you consider that writer-director Stone has won three Oscars—for Best Adapted Screenplay for Midnight Express in 1978, for Best Director for Platoon in 1986, and for Best Director for Born on the Fourth of July in 1989—and been nominated as well for Salvador in 1986, JFK in 1991 and Nixon in 1995. Academy members, take note.?
COMMERCIAL PROSPECTS: Modest, but likely to be boosted if it gets serious Oscar consideration.
REASON TO SEE IT: If you're compelled by the timely subject matter or you're an Oliver Stone completist, then chances are you're happy it's being made.
Point Break (Dec. 25)
GENRE AND PLOTLINE: This remake of the Kathryn Bigelow- directed 1991 action-crime-thriller of the same name, which starred Keanu Reeves and Patrick Swayze, involves an FBI agent who infiltrates a group of extreme sports jocks who have pulled off a series of elaborate heists.
MAJOR PLAYERS: Edgar Ramirez, Luke Bracey, Teresa Palmer and Ray Winstone?
BEHIND THE CAMERA: Ex-cinematographer Ericson Core, who debuted as a director in 2006 with Invincible, worked from a screenplay by Kurt Wimmer (The Thomas Crown Affair, Law Abid- ing Citizen, Salt, Total Recall).
OSCAR PROSPECTS: This reboot is likely to be the Oscar behemoth that the original was. Which is to say: not applicable.
COMMERCIAL PROSPECTS: You're not alone if your response to the announcement of this remake was: "Why?"
REASON TO SEE IT: As the old joke says, "I'm thinking, I'm thinking."
The Hateful Eight (Dec. 25)
GENRE AND PLOTLINE: A western set in post-Civil War Wyoming in which a number of bounty hunters, outlaws and fugitives trying to find shelter during a blizzard fight for survival in a stagecoach stopover on a mountain pass.
MAJOR PLAYERS: Channing Tatum, Jennifer Jason Leigh, Samuel L. Jackson, Kurt Russell, Tim Roth, Demian Bichir, Michael Madsen, Bruce Dern, Zoe Bell and Walton Goggins?
BEHIND THE CAMERA: Two-time Oscar winner for his original screenplays (Pulp Fiction, Django Unchained), director Quentin Tarantino (Reservoir Dogs, Jackie Brown, Kill Bill Vols. 1 and 2, In- glourious Basterds) also wrote the screenplay.
OSCAR PROSPECTS: When Tarantino makes a movie, Academy voters notice. His four nominations and two wins will prevent any possibility of his latest offering getting lost in the Oscar shuffle.
COMMERCIAL PROSPECTS: Tarantino's ability to turn each new release into an event for his audience ought to give this one an immediate box-office boost.
REASON TO SEE IT: Tarantino is reason enough.
The Revenant (Dec. 25)
GENRE AND PLOTLINE: A western thriller about a 19th-century frontiersman who seeks revenge against those who left him for dead after he was mauled by a bear.
MAJOR PLAYERS: Leonardo DiCaprio, Tom Hardy, Domhnall Gleeson, Will Poulter, Paul Anderson, Lukas Haas and Brendan Fletcher
BEHINDTHECAMERA: Alejandro Gonzalez Inarritu, who won the Oscar for Best Director last year for Birdman: or (The Unexpected Virtue of Ignorance), also co-wrote the screenplay with Mark L. Smith based in part on the novel The Revenant: A Novel of Revenge by Michael Punke.
OSCAR PROSPECTS: With Inarritu coming off his Oscar win for the audacious Birdman, with its nine nominations (three for acting) and four Oscars, he and his new film are likely in the mix no matter what.
COMMERCIAL PROSPECTS: The collaboration of bankable DiCaprio and Oscar- winning director Inarritu at the helm ought to provide opening-weekend insurance, but it might take Oscar talk to attract a wide audience.
REASON TO SEE IT: The title won't help, but the prospect of Leo and Alejandro together again for the first time should and might be a draw.
Recently Released
These films already in theaters are making a push for attention from the Academy.
CREED
The Rocky franchise of boxing dramas resumes (2006's Rocky Balboa was the sixth) with a seventh installment as former World Heavyweight champ Rocky Balboa mentors and trains Adonis Johnson, the son of his former rival and late friend, Apollo Creed. Sylvester Stallone and Michael B. Jordan star alongside Phylicia Rashad. Stallone also produced the film while Ryan Coogler, who debuted as a director with Fruitvale Station, starring Jordan, co-wrote the screenplay and directed.
VICTOR FRANKENSTEIN
A horror/science fiction fantasy that trots out the Frankenstein myth, based on Mary Shelley's 1818 novel, Frankenstein, and details it from the perspective of the doctor's assistant, Igor, who befriends medical student Viktor Von Frankenstein and then goes to work for him. Daniel Radcliffe, James McAvoy, Charles Dance and Jessica Brown Findlay star in the film.
THE GOOD DINOSAUR
An animated comedy adventure involving the friendship between a human boy and a dinosaur that's based on the premise that Earth was never struck by an asteroid and that therefore dinosaurs never became extinct. The voiceover work comes from the likes of Frances McDor- mand, Jeffrey Wright, Sam Elliott, Anna Paquin, Steve Zahn, Raymond Ochoa and Jack Bright.
Published (and copyrighted) in South Jersey Magazine, Volume 12, Issue 9 (December, 2015).
For more info on South Jersey Magazine, click here.
To subscribe to South Jersey Magazine, click here.
To advertise in South Jersey Magazine, click here.