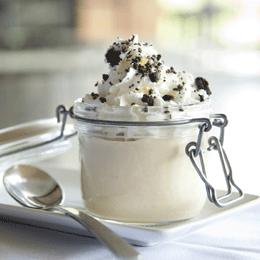 Just Desserts
You don't need a sweet tooth to agree that the dessert course is one of the most anticipated parts of any restaurant meal. Be honest, how many times have you perused a dessert menu only to have your eyes light up and your mouth water? And because it's the encore to your evening, it's a dish that makes a lasting impression.
We visited numerous fine-dining establishments over the past year in search of sweet treats that rise above and beyond. From rich and gooey to lush and creamy, we experienced some of the most delightful desserts we've ever tasted—calorie counts be damned. Our one caveat was that the dishes had to be made on the premises and not outsourced. Thus, allow us to present 30 perfect ways to end any meal.
Pot de crème
The ChopHouse, Gibbsboro
Start with a mini mason jar, and fill it with creamy vanilla custard packed full of flavor from real vanilla bean. Follow that with crumbled chocolate cookies—a delightful bit of crunch to accompany the silky cream—and a dollop of house-made whipped cream, and you've got a perfectly portioned final course.
Ekmek
Estia Greek Taverna, Marlton
If you're looking to steer away from the classic Greek baklava—which is another tasty Estia option—go with this dish. A layer of crispy, shredded phyllo dough gets topped with vanilla custard and followed with pistachio nuts, chopped fine for an extra nutty bite. That gets finished with a final layer of fluffy whipped cream to create a trifle that has us saying Opa with every bite.
Panna Cotta
Nunzio's Ristorante Rustica, Collingswood
Chef Nunzio Patruno goes beyond pastas and artful Italian entrées with his panna cotta, a velvety custard bursting with vanilla flavor. Caramelized orange slices add a fresh, but still sugary, bite and fresh berries provide an extra burst of flavor.
Carrot Cake
Arugula, Washington Township
We used to like carrot cake, then we had Arugula's rendition. Now we love it. It's hard not to when you are treated to three mini cakes covered in a cinnamon whipped cream frosting, served with gingersnap crumbs and a coconut-carrot anglaise. It's a modern take on a classic dessert, a trait that has become this restaurant's calling card.
Ricotta Cheesecake
La Terrazza, Cherry Hill
Head chef David Smith uses ricotta to add an Italian flair to his cake, but the rich cheese also adds a lighter, fluffier texture that keeps La Terrazza's offering from getting too heavy or overwhelming.
Coconut Cream Pie
The Capital Grille, Cherry Hill
This is one of the polished steakhouse's signature desserts and with good reason, as light layers of coconut custard fill a mini tart shell before being finished with a homemade caramel drizzle and served with an oversized lace cookie. There are other desserts on the menu, but we are stuck on this one for the foreseeable future.
El Fuerte
Distrito, Moorestown
This "strong" flourless chocolate cake is overly extravagant, just the way we like it. But the cake is just the beginning. Add espresso mousse, some spiced peanuts and a caramel comprised of Patrón XO and you have a multi-faceted experience in every spoonful. It's designed for two people, if you are into that whole sharing thing.
Warm Butter Cake
Grand Lux Café, Cherry Hill
This rich, buttery vanilla cake comes with fresh fruit and vanilla ice cream, but it's the incredibly creamy center that you'll remember long after the valet has pulled your car around.
Cioccolate Tortino
Sapori, Collingswood
Made with bittersweet chocolate, eggs and sugar, this flourless chocolate torte is the perfect ending to any delicious meal at one of our favorite Italian restaurants. A scoop of fresh gelato and drizzles of chocolate sauce (more chocolate!) make things even more tantalizing.
Fried Cheesecake
Tre Famiglia, Haddonfield
Sure, cheesecake is pretty great on its own, but what if we said you could get it wrapped in a tortilla and deep fried, then rolled in cinnamon sugar and drizzled with caramel? Yeah, we thought you'd like that.
Key Lime Tart
Caffe Aldo Lamberti, Cherry Hill
A cinnamon and sugar cookie crust serves as the foundation for tart, citrusy key lime filling topped with whipped cream. It's an incredibly bright and harmonious dessert with just enough sweetness to cut through the acidity.
Zuppa Inglese
Ristorante Fieni, Voorhees
Ristorante Fieni serves up all kinds of varieties of this traditional Italian dessert, including a recent pumpkin offering, which was seasonally appropriate. The lush layers of custard and sponge cake are the perfect complement for one another, a sweet synergy that will please your taste buds to no end.
Walnut Turtle Pie
Fleming's Prime Steakhouse, Marlton
There's great finesse in this timeless dessert, starting with the chocolate pie crust in which a filling of salty walnuts is counteracted by even more sweet chocolate. The house-made caramel is the finishing touch to a gooey, sumptuous piece of pie that is the perfect fix for any chocoholic.
Tres Leches Cake
Allora by Da Soli, Marlton
Allora sticks to tradition with their tres leches cake, soaking a classic white sheet cake in sweet cream, then topping it with a light and fluffy vanilla whipped cream. It sounds simple, but it's done so well—using just the right amount of sweet cream so that the cake isn't oversaturated but still soaks up every ounce of flavor—that it clearly needs no extra frills.
Triple Layer Mousse Cake
Café Madison, Riverside
Chocolate lovers have met their match in this cake, which includes an Oreo cookie bottom crust, then layers chocolate mousse, chocolate cake, white chocolate mousse and even more cake before finishing everything off with an extra dose of chocolate ganache. The cake gets kissed with a house-made raspberry sauce and finished off with a beautiful, delicate touille cookie.
Maple Crème Brûlée
Trattoria Figaro, Mount Laurel
Pastry chef Candy Penn has crafted an always-enticing selection of seasonal crème brûlées, including a sweet corn summer variety that has us counting the days until corn season. Her fall-winter maple variety uses real maple syrup to complement a vanilla crème brûlée base.
Chocolate Bacon Sundae
Kitchen 519, Glendora
This fully loaded ice cream sundae is the perfect excuse for incorporating bacon into every meal. Fried bacon gets coated in a thick layer of melted chocolate, cooled and diced up to serve as the star of a vanilla bean ice cream and hot fudge sundae. It's a salty-sweet combo that will leave you scraping the bowl.
Fried Green Tea Ice Cream
Yokohama, Maple Shade
Green tea ice cream on its own is a flavor unlike any other; sweet with a naturally earthy flavor from the tea and a hit of vanilla, it could stand on its own any day. But Yokohama takes their ice cream a step further, coating each scoop in their tempura batter before flash frying it and serving it hot and crispy.
Gulab Jamun
Indiya, Collingswood
Chef and owner Vipul Bhasin handcrafts all of his desserts in-house, including these traditional Indian orbs of custard dumplings. Milk solids—similar to a cheese curd, but less stringy—get rolled into bite-sized balls, deep fried, then soaked in an aromatic rosewater syrup that has just the right blend of sweet and natural flavors.
Cappucino Tartufo with Hazelnuts
La Locanda, Voorhees
This icy ball of cappuccino ice cream comes stuffed with chocolate syrup that spills out when split open, like a sticky surprise. The ice cream comes rolled with diced hazelnuts, served with seasonal fruit, and finished off with a light sprinkling of powdered sugar.
Hazelnut Crème Brûlée
Zaffron, Haddonfield
This particular crème brûlée is proof that a close eye on technique and a respect to details can make all the difference. The custard itself comes prepared classically, in a ramekin with a crispy sugar top, finished off with crumbled hazelnuts for an extra bit of crunch.
Chocolate Ganache Cake with Peanut Butter Mousse
The Red Hen, Swedesboro
We know, everything is better with a little peanut butter, but this dessert is unlike any chocolate and peanut butter combo we've had yet. Amazingly rich, dense chocolate comes topped with stick-to-your-mouth creamy peanut butter mousse. It gets finished off with a crunchy peanut brittle, also made in-house.
Tavern Crunch
The Farm and Fisherman Tavern, Cherry Hill
The Farm and Fisherman Tavern's pastry chef Jessica Gaspero tops her luscious peanut butter mousse with a house-made dark chocolate cookie crunch then raises things to the next level with a peanut butter caramel sauce. If you're looking for an extremely indulgent dessert, this is the one for you.
Biancomangiare
Zeppoli, Collingswood
We're certainly suckers for this restaurant's namesake dessert, but we'd be remiss if we ignored this unique—and dairy-free—homerun hitter. Almost identical to a traditional panna cotta, Chef Joey Baldino's biancomangiare uses almond milk as a base for a light-but-satisfying custard, served cold alongside fresh berries, and a smear of caramel sauce.
Rabanadas
Rodizio Grill, Voorhees
It's easy to fill up on meats at Voorhees' No. 1 guilty pleasure/Brazilian steakhouse, but you'll want to show some restraint for these beauties. Balls of pastry get fried until golden, stuffed with a cream center, then tossed in cinnamon and sugar. They're finished off with vanilla ice cream—the perfect partner for piping hot dough balls—and a drizzle of caramel.
Krispy Kreme Bread Pudding
Catelli Duo, Voorhees
Catelli Duo's bread pudding puts other varieties to shame, thanks to their choice to swap out traditional stale bread with chopped, glazed Krispy Kreme doughnuts. If that isn't enough to draw you in then maybe their addition of a warm bourbon crème anglaise—with just enough of a bite—and vanilla gelato will.
Apple Tart
Mannino's Cucina Italiana, Pitman
Mannino's tart comes with a buttery crust that still manages to be flaky and delicate, not the easiest accomplishment for pie crusts. The dough gets packed with diced apples, tossed in cinnamon sugar and baked until gooey and hot and served with a cinnamon gelato that sings with spicy flavor.
Coconut Flan
Fuji, Haddonfield
Japanese cuisine and flan: a combination we never imagined would work as wonderfully as it does. Head chef Matt Ito and his son Jesse have managed to craft a constantly surprising, harmonious menu that includes this traditionally Hispanic custard.
Cannoli
Scarpinato's Cucina, Turnersville
Pastry chef Teresa Scarpinato puts her own special twist on the traditional cannoli by using a handmade pizzelle shell, poured thicker than average and rolled into the standard tube shape. She then fills each shell with house-made chocolate chip cannoli cream, a rich and sweet filling that plays nicely with the anise flavor of the pizzelle.
Chocolate Espresso Log
Robin's Nest Restaurant, Mount Holly
Robin's Nest's new pastry chef Kristin Guerina follows the traditional—and technically impressive—technique of loading a chocolate soufflé cake with house-made coffee liqueur filling, and serving it sliced so you can see the delicate roll the cake creates. And thanks to the punch from the espresso cream, you can skip coffee and opt for something a little stronger; brandy, perhaps?
Published (and copyrighted) in South Jersey Magazine, Volume 12, Issue 9 (December, 2015).
For more info on South Jersey Magazine, click here.
To subscribe to South Jersey Magazine, click here.
To advertise in South Jersey Magazine, click here.