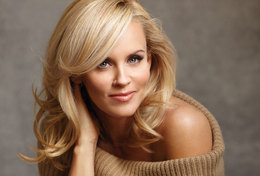 Ready for Anything
After decades in the entertainment business, Jenny McCarthy is nothing if not resilient.
Jenny McCarthy loves to laugh. In fact, it's hard to spend any amount of time talking to her and not crack a smile or two. Her engaging personality is fun-loving and infectious. She comes across as the type of person who has never had a bad day in her life; a bit of a goofball, but in a good way, not nearly as animated as her cousin Melissa McCarthy, the boisterous female comedian who has taken over Hollywood in recent years.
But while McCarthy is many things—actress, best-selling author, radio host, wife, mother—she's emphatic that she is most certainly not a comedian. Despite that distinction, McCarthy has formed a lineup of female stand-ups and is bringing them across the country as part of the latest installment of her Dirty, Sexy, Funny tour which stops at Resorts in Atlantic City on Oct. 17. The tour, a mix of stand-up comedy and videotaped skits, is an extension of a 2013 television special that has also grown into the daily "Dirty, Sexy, Funny with Jenny McCarthy" satellite radio show on Sirius XM.
The show, and to some extent the tour, have proven that the 42-year-old Midwest native has the uncanny ability to reinvent herself. After all, we are talking about a former Playmate who began her TV career co-hosting the MTV dating show Singled Out and eventually ended up co-hosting The View. These days she stars in A&E's Donnie Loves Jenny, a reality show that chronicles her newlywed adventures with her husband, actor/singer Donnie Wahlberg, and their children.
We spoke with McCarthy in a break from her hectic schedule to talk about the tour, her new family and found out which former movie star crossed the line during one of her early auditions.
SOUTH JERSEY MAGAZINE: How are you doing today? How was your summer?
JENNY MCCARTHY: Busy, [my husband and I have been] shooting Donnie Loves Jenny in our spare time so our weekends are gone. But in show business you have to take it as it comes. I have had plenty of dry spots.
SJM: You set the Internet world on fire a bit recently by dying your hair pink. I thought blondes have more fun; what made you decide to do it?
JM: With all the attention I got with the pink, I beg to differ. I always wanted to do it, even when I was at MTV. But they said no, you're supposed to be all-American, corn-fed cute. I just said if I don't do it now, I won't be able to do it when I'm 80. But now I'm back to blonde.
SJM: What can you tell us about this tour that's coming to A.C.?
JM: It's like my baby. It was something I manifested five years ago. I thought, 'Why isn't there an all female comedy troupe?' I spent years scouting the best of the best. When you go to comedy nights, there's always one person who makes you laugh. I wanted one where everyone is the star, the best one, the headliner. It's a strong, really funny group of comedians. I'm not a comedian, but I appreciate the art. I get up there and do my video content. On this particular night [in A.C.], my husband will be joining me and we'll do a little number.
SJM: You brought this tour to A.C. last year. How does the South Jersey crowd compare to the other stops on the tour?
JM: It kind of reminds me of the Southside of Chicago. You know I live in Jersey half the week. They get the raw, real point of view. There's not a stuck-up air about them, they appreciate a woman telling it like it is.
SJM: Is it difficult for you to adjust to tour life? Do you like being on the road like that?
JM: I don't like the traveling part, but I love the stage part. Every time I'm there with the girls, I say this is why I do this. Some of these women do this for 25 years and wait to hit these big stages, and to watch them get the audience they deserve, it's gratifying.
SJM: The whole Dirty, Sexy, Funny thing has become a movement of sorts. It started with the TV special, then last year's tour, now the radio show. Was it important for you to grow this beyond just a one-time thing, especially because it's putting a spotlight directly on females and giving them a platform they don't always get in show business?
JM: That's a really good way of putting it. My ideas are always go big or go home. I put plenty of other ideas forward and they kind of dissipate. This one, in every medium I've had interest. There are more and more comedians that come up to me or send me their tapes. I love knowing it's become a hope for these girls, a dream come true to do this for them. I don't do what they do; they don't want to do what I do. I love that, it's a perfect fit.
SJM: You say you have no interest in becoming a stand-up, but you do come across as quite naturally funny. Have you always been that way, did you always enjoy making people laugh?
JM: When I go back to my [school] reunions, they always say the same thing. 'Who is that person we see on TV?' From kindergarten to eighth grade, I was very shy. By the time I was in high school, instead of getting beat up by the girls, I turned into self deprecating. That's where it was born, as a defense mechanism to survive.
SJM: What's it been like doing the radio show, are you just trying to conquer every form of media out there?
JM: I just asked myself this question the other day. I really like, a weird departure here, but a soul series … new age, self-help Oprah stuff. I would love to find a bridge between self help and a little wink-wink.
SJM: You've been a fixture on people's televisions for decades, from Singled Out to The View to just finishing up the second season of Donnie Loves Jenny and everything in between. And it's allowed you to show different sides of your personality, from fun-loving to more serious. Do you ever think about how rare it is for someone to show the different sides to their life and has that helped you relate to your fans even more?
JM: Absolutely. I remember when I was in L.A. about 3 months and I asked myself the same question. How can I get to show people my personality? And MTV came along. Ever since then, I really enjoyed having people seeing all different sides of who a person is. People get pigeonholed into one thing. I just wanted to show we are a little bit of everything. I'm grateful that I've sort of been forced to discover all these different mediums. Looking back now I can see everything happens for a reason. I love how diverse my career has been thus far.
SJM: Being involved in show business for so long, you must have plenty of great stories. What's a good one that people may not know?
JM: There's so many strange, bizarre ones. Steven Seagal—when he was Steven Seagal back in the day and I was a Playmate—had casting auditions for [Under Seige 2]. He told me he was a very spiritual master and I was told to do more than just read for the part. I took the script and threw it at him and told him to buy my Playmate video. It will never go that direction [for me]. If it takes that I'm in the wrong business. I would never make out with someone for a part or a job. Maybe for a pair of shoes.
SJM: You're a best-selling author and your books are very personal. What made you decide to take that leap?
JM: I never in a million years thought I'd write a book. I wrote [my first book] Belly Laughs with [my son] Evan in one arm and I sent it out, not thinking anyone would buy it. I was rejected by my own agency and one little tiny place gave it a try and it debuted at No. 9 on the best-seller list.
SJM: It seems like writing about these personal subjects is a little therapeutic in a way. Not only are you connecting with your audience, but they are connecting with you. Everyone has a laugh, a cry, etc.
JM: That makes it all worthwhile. It's the rewarding feeling when someone says, 'You got me through something,' or 'Oh my God, I feel normal.' That makes everything worth it.
SJM: People love labels. It's former Playmate Jenny McCarthy, or TV's Jenny McCarthy. But, really you are a mom first. What's the best part about motherhood for you?
JM: There's so many. The capacity to love; I always heard my mom say, 'Have a baby and see what it feels like.' I will do anything, I would go to the ends of the earth, to hell and back, I'd do anything for him. It's just amazing what it feels like to be a mom. The power of love, I get it now. That is how my heart feels, I think about him every two minutes.
SJM: Did you get into trouble a lot as a kid? Do you try and use those experiences to help steer your son in the right direction?
JM: My son has trouble lying. He has to tell me the truth a little too much. I tell him it's OK to keep some things a secret. I don't see him doing the things I did; saying I'm sleeping over at Sarah's house and Sarah saying she is sleeping at my house while we spent the whole night in a park drinking beer.
SJM: What's it been like for you and your husband as you blend your two families together?
JM: We allowed the kids to develop their relationship on their own pace. We really said to each other: 'Let's allow the kids to decide if they like each other and when they like each other.' Right from the start, they were sizing each other up. Are you taking my dad? Are you taking my mom? That kind of thing. They were always very cordial, but had their boundaries. In a few months they wound up falling in love with each other and because we didn't force it.
SJM: Besides this tour, what's next for you? Do you have anything coming up you can tell us about?
JM: I'm currently in the process of talking to Evan about writing a book together. And Donnie and I joined forces in a production company and are developing a few dating shows.
SJM: You were a teenager when New Kids on the Block first took the world by storm. Were you into the group and more importantly was Donnie your favorite?
JM: Donnie scared me initially. I grew up in a rough neighborhood. The boys on the motorcycles were the ones my mom made sure we stayed away from. I didn't have a favorite necessarily, but I was cautious of him [laughs].
Published (and copyrighted) in South Jersey Magazine, Volume 12, Issue 7 (October, 2015).
For more info on South Jersey Magazine, click here.
To subscribe to South Jersey Magazine, click here.
To advertise in South Jersey Magazine, click here.