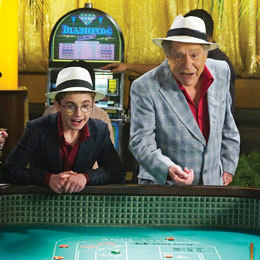 Striking Gold
Adam F. Goldberg, creator of the ABC smash hit The Goldbergs, thrusts Jenkintown—and the often precious, sometimes awkward, warts-and-all memories of his youth—into the limelight
When Jenkintown, Pa. native Adam F. Goldberg first pitched his sitcom about a suburban family growing up in the 1980s, he didn't set out for it to be so … personal. The idea was loosely based on his "nutty family," as he puts it, but wasn't meant to be an autobiography. It was Paul Lee, president of ABC Entertainment Group, who had a vision for The Goldbergs after seeing all of Goldberg's home video footage. The show's characters even bear the same names as their real-life counterparts. Now, already two seasons deep and in the midst of writing season three, Goldberg says it's that autobiographical nature to which fans have responded so fiercely. We recently caught up with Goldberg over the phone during a break from filming the upcoming season to chat about the people, places and experiences that inspired his hit show.
How true are the characters to their real-life counterparts?
As crazy as it seems, I actually tone down my family members for the show. When I began pitching the show, it was going to be an exposé of my crazy family that at the end of the day still loved each other. After I shot the pilot, it was very polarizing; Jewish and Italian families could relate, but others could not. I had to change the tone of the show—it's on ABC, so it's "Disneyfied." There's a lot of love. My dad called us morons and sat in his underwear all the time, and my mom marched down to the school a lot—that's all true—but on the show it's done with a bit more love and always a happy ending.
How involved were you in the casting of the characters?
As the showrunner, all decisions go through me, and that includes casting. I'll admit casting was really hard. There were so many great actors that came through for Murray, Barry, Pops … plus, I had to cast myself! We actually had someone else cast for myself before we found Sean [Giambrone]. But it didn't feel right. Two days before shooting we still didn't have anyone—and then Sean walked in. He'd never been on a set. We gave it a go, and it was perfect.
Because this is based on real life, do you give your family a "heads up" before an episode airs?
They don't get any heads up. They have no idea what's going to be on TV. But I do protect the characters, and I won't sell them out for a funny joke—because these are real people. At the end of the day, I stay true to who they are.
How important is it to you that you fit the local references into the show?
Those references come from me really wanting it to be true to life. If I'm going to write about my experiences, I'm going to write about Jenkintown, Flyers games and Eagles games. Wawa definitely gets a lot of love on the show; it's one of those places where we'd just hang out in the parking lot. I have a lot of great memories just burning time there. Hiway Theater [in Jenkintown] is another one. I saw Star Wars: Return of the Jedi there. I also have great memories of The Vet. We actually recreated Veterans Stadium on a television budget, which was kind of a miracle.
That's the episode where you get lost, right? That really happened?
Yes, I did get lost at The Vet when I went to the bathroom. I got all turned around. I also got lost in Atlantic City while at a casino. The episode ["The Lost Boy"] is a blending of those two experiences. It was a time when people didn't have cell phones and if you got lost, you really got lost.
How do you remember all these experiences so well?
I taped everything so I do have a personal record. But I also have a good photographic memory of certain people and events. I can't remember to take out the garbage, but I can remember these really crazy memories. I'm bad with dates, though. That's why the show takes place in "1980-something."
You're letting people have an inside look at a stage of life that many people would call awkward and uncomfortable. Does it ever feel that way to you?
There have been times when I've been really nervous about an episode being embarrassing. Doing the New Kids on the Block "Hangin' Tough" parody is a great example. I was expecting people on Twitter to be really mean after that episode aired. Instead I found people appreciated outing those painful experiences. Here I am sharing actual videos of myself—embarrassing videos—but making great television out of it. I was so surprised to see how many people had those same experiences.
Is there any sneak peek you can give us into season three?
Well, we're writing it now but I can tell you there is definitely going to be more of Lainey Lewis [Barry's girlfriend]. AJ Michalka became a cast member. I am working a lot on what it was like when Barry fell in love and will be exploring that romance. There will be plenty more of Beverly trying to clamp down on the kids as they grow up—and also figuring out what our big '80s movie will be. Doing a big movie episode each year will be a continuing trend.
Published (and copyrighted) in South Jersey Magazine, Volume 12, Issue 7 (October, 2015).
For more info on South Jersey Magazine, click here.
To subscribe to South Jersey Magazine, click here.
To advertise in South Jersey Magazine, click here.