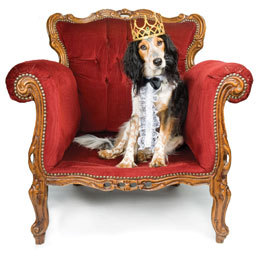 Posh Pets
South Jersey's pet parents go above and beyond.
They don't call them man's best friend for nothing.
More than half of U.S. households report owning a pet; of those, 36.5 percent own a dog—a total of 43.3 million dogs. That's not to say there aren't plenty of cat lovers out there too. From birds to horses, there is no shortage of people willing to shower their pets with love and affection.
But no matter your pet of choice, one thing is clear: Americans are increasingly spending their hard-earned money to keep their furry, feathered or scaled friends happy and healthy. And it goes beyond providing kibble, toys and flea collars. They take it one step further, providing their pets with everything from spa treatments to medical care once only reserved for humans.
South Jerseyans are not to immune to this trend. In fact, we found several local residents who are prime examples of those who treat their pets as bone-ified members of the family.
Canine massage is an area of pet medical care that is gaining traction. Just ask Lisa Madison of Cherry Hill, owner of Contented Canine Massage. Madison completed courses at the Northwest School of Animal Massage, the University of Tennessee's Canine Rehabilitation program, and even studied under experts in the field before taking the national board certification exam for canine massage.
"I want people to know I am serious about my education and doing the best I can for their pets," Madison says.
Madison, who has a regular client list, says that canine massage, which helps alleviate physical discomfort in a dog, can also help with behavior issues.
"Most dogs I work on are older and are slowing down or have some medical condition that has gotten them twisted up physically," she says. "[W]hen dogs are physically compromised it can dramatically alter their behavior. Massage in dogs has the same benefits as massage for people. Every time we hurt one area on ourselves we compensate and create new patterns of use which only leads to discomfort, and massage can help correct that."
Taking your dog to the chiropractor might seem off-the-wall to some, but for Sharon Van Dyke of Berlin, and her daughter Meredith, it was necessary. The Van Dykes' dog Mojo, an 8-year-old Great Dane, was experiencing monthly bouts of severe pain, caused by arthritis in his cervical vertebrae, and suspected arthritis in the rest of his spine.
Meredith, who was a veterinary technician for 10 years, was leery of the long-term side effects of the typical medications used to treat dogs with arthritis, and started looking for other courses of treatment. What—or who—she found was Dr. Ray Derman, a certified canine chiropractor, who works out of practices in Hainesport and Smyrna, Del.
"We began taking [Mojo] about three years ago and noticed a major improvement immediately," Meredith says. "His episodes of intense pain that were occurring once [or] twice monthly reduced to maybe one episode every six to eight months."
As to whether she feels the cost of regular chiropractic care is worth it—it isn't even a question. "I feel the 'expense' of chiropractic care is well worth the cost in comparison to the quality of life Mojo has experienced because of it," Meredith says. "And, if you take into account the cost of medications, [which] can have many side effects, and the cost of routine blood work that is usually required when pets are medicated long term, chiropractic care is probably significantly less expensive than the alternative route."
Showing support for your team of choice is second nature for many South Jersey residents, but for Michael Lalena and his wife Keri of Cherry Hill, it goes a step further. Every year for hockey season, Michael dyes the fur of the couple's 5-year-old lab Diesel orange, in honor of his beloved Flyers.
"I love the Flyers. So usually [I dye his fur] in the beginning of hockey season," he says. "I just go to a beauty supply place, which is a weird thing for a guy to do, I guess. I just get the [store-bought hair dye] and do it in the shower, just like a person would with their own hair."
And as to whether he gets weird looks or comments when people see he dyes his dog's fur, Michael says, "Nobody's upset or anything that I'm dyeing the dog's hair. People just think I'm weird."
But the Lalenas are also committed pet owners in other ways. They also have an 8-month old Australian cattle dog named Shelby, who is deaf. The couple trains her by using hand signals: a fist for the 'sit' command, an open palm for 'stay' and when it's time for bed, they draw a square in the air with two hands, and Shelby knows it's time to head to her crate for the night.
Michael also makes sure his two dogs get the appropriate amount of exercise in each day—on the dogs' treadmill. Yes, the treadmill is meant for the dogs in the family.
"They are both high-energy dogs, so for me to get their energy out and for them to be good dogs, I walk them on the treadmill. At first, you go up on the treadmill with them. But now, I have a leash that I hooked up to the front of the treadmill and they just walk. They get it, even keep the leash loose. They just zone out and walk," he says.
However, he does say that he and his wife try to treat the dogs more like pets, and not like children, at the behest of their trainer. "We used to be super weird about the dogs being our children," he says. "Now after the trainer, it's more like they are our pets. I think that's the way it's supposed to be."
Social media is a prevalent part of life for many, so why not for our pets? For some South Jerseyans, this jump was a natural one.
"We are not dog wackos," says David Graham of Haddonfield, who operates a Facebook page on behalf of his dog, a lab named Max. Graham and his wife Karen adopted Max from the rescue organization Brookline Lab Rescue and started his Facebook page to keep those who aided in Max's rescue updated.
"We use [Facebook] to keep in touch with all his handlers and people that helped him get to us, from the first women who picked him up after the past owners—who abused him and starved him—surrendered him to his foster mom, who nursed him back to health and helped him trust people again," Graham says.
Max's Facebook page—written in Max's own "words"—is updated about once a week, and commemorates special events like holidays or a visit from his foster mom. But Graham and his wife want to make one thing clear: "Just for the record, this is our third dog and he's the first one to have a Facebook page," he says.
And it wouldn't be a story on pet care unless we hit on the obvious—grooming. This aspect of pet care has changed rapidly over the years, from taking your dog to get a quick bath, basic shampoo and trim at your local groomer to today's services, which range from mobile groomers to massaging whirlpools to hot towel wraps, even "pawdicures."
Halo House, which has locations in Deptford, Sickerville and Franklinville, offers many high-end, spa-like services for local pets, such as a pet whirlpool, body wraps, aromatherapy shampoos and conditioners, even massages.
"It's a 'wow' factor, but just like for human beings, especially if you have an older dog, with arthritis, you have dogs that are working dogs, any type of dog that would benefit from it," says owner Denise Rappaport of Halo House's massage services. "We do massage whether dry on the table, or in the Jacuzzi in the nice warm water."
Halo House also uses aromatherapy shampoos and conditioners for their "Tropiclean" treatments. Another popular service at Halo House is the "pawdicure."
"If you're familiar with dogs, you'll notice many times that they have rough, callused, almost sandpaper-like paws; and they get dried out," Rappaport explains. "We use products that [moisturize the paws], we massage it in. And of course, we trim the nails using a Dremmel, which gets further back to the quick. We just work the paws. We also do the same thing with noses. They get dry and cracked, too."
For Rappaport, taking good care of pets is a personal ambition.
"I went away one time and I put my dogs in a kennel and I was on this beautiful beach somewhere, and thought to myself, 'I'm having a great time and my dog's in jail,'" she remembers. "So I thought, why not [start] a place that would be a place where I wanted to be, my dream?"
Mobile grooming is another option for many pet owners, since it can take the stress out of a necessary—but not always easy— aspect of pet care.
"After grooming in a big box store for several years, I decided to go mobile to give my clients more time and attention," says Alisa Kane, owner and stylist at Dog-Gone Stylin' Mobile Pet Grooming, based in Haddonfield. "One of the biggest things I hear from people is that they dislike having to leave their pet for five-plus hours in a salon, where they spend much of their time in a cage. [Meanwhile], I drive up and groom … right in the owner's driveway."
Kane who has about 400 local clients—both dogs and cats—says that she has definitely seen a shift in pet ownership in recent years.
"Pet ownership has changed drastically in the past 10 years," she says. "They are a beloved member of our family. They no longer live outside but in our beds. They travel with us, are in our weddings, a part of our celebrations and are our constant companions. As a result everything in the pet business has boomed. Pet parents have become more informed than ever and demand better nutrition, safer products and better care for their loved one."
Published (and copyrighted) in South Jersey Magazine, Volume 12, Issue 7 (October, 2015).
For more info on South Jersey Magazine, click here.
To subscribe to South Jersey Magazine, click here.
To advertise in South Jersey Magazine, click here.