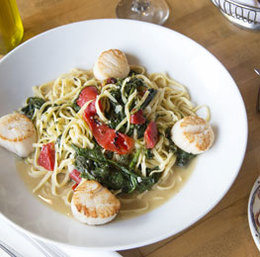 La Terrazza Ristorante
…A Dining Review from the pages of South Jersey Magazine…
A Familiar Face Returns: La Terrazza Ristorante
210 Route 70 E.
Cherry Hill
(856) 354-1888
3 Forks
We had dinner at La Terrazza marked on our calendars for some time, but prior commitments kept getting in the way of actually finding the time to visit and enjoy a meal or two. After all, the former restaurant that occupied the site along Route 70 was always a favorite spot, so I was eager to see what the new tenants were cooking up.
While the décor of the restaurant hasn't changed much over the years, head chef David Smith is making sure the menu shines anew with a sprawling list of creative entrées with fresh, quality ingredients standing at the forefront.
A starter of eggplant mellanzane took seasonal, thin-sliced eggplant and packed it into rolls, with a generous helping of ricotta cheese, diced mushrooms and sliced prosciutto before coating it in house-made marinara sauce and melted mozzarella cheese. The sauce was sweet and benefitted from being freshly prepared, and there was just the right amount of chew in the eggplant, but the overpowering ricotta completely masked the promised mushroom and prosciutto, which would have really set this starter apart from similar dishes available in the area.
If standing out is the goal, the broccoli rabe spring rolls were a perfect way to do it. Just seeing the dish on the menu—which stuffed eggroll wrappers with broccoli rabe, roasted red pepper, sausage and mozzarella cheese—had our table anxious to order. The filling was exactly what I was hoping for—garlicky, with a bit of heat and some salt from the sausage, but the dish came plated with a seemingly strange Asian flair that included teriyaki sauce across the plate. It certainly wasn't the traditional Italian/Philadelphia take on broccoli rabe and pork that I've come to know and love, and that nod to local dining was missed by all.
Entrées came served with soup or salad and your choice of pasta and seasonal vegetables, a local Italian tradition that has fallen by the wayside with new restaurants, but remains a fun—if not overindulgent—perk. Especially when paired with a house-made soup like their pasta e fagiole. All too often, the pasta gets lost or overcooked in this classic soup, but not in this case. And when accompanied by sausage—which shone through even more in the broth—this was one pleasant start to the next course.
Scallops Florentine featured petite sea scallops sautéed and tossed with fresh spinach, peppers and garlic in a white sauce and served over a bed of linguine. The dish suffered from a heaping portion of pasta, rendering the rest of the ingredients as mere bystanders. It's a shame because I wanted to love this dish, but it ultimately fell short of expectations.
The star of the night was far and away a plate of veal and shrimp portabella. Thin filets of veal were tossed with jumbo shrimp, sliced portabella mushrooms and diced sundried tomatoes in a creamy Marsala sauce, then topped with roasted pine nuts. The veal was tender, as was the shrimp, and the sauce was perfectly complemented by the sweetness of the sundried tomato. This is a dish to come back for time and time again.
A plate of chicken Dela Casa didn't achieve food nirvana like the shrimp and veal, but still displayed a nice balance of flavor. Chicken breast was sautéed and cooked with shiitake mushrooms, freshly sliced shallots and spinach in a Sherry tomato sauce that packed plenty of punch from fresh garlic. The tomato sauce was taken to a new level thanks to the addition of the sherry, and the shiitake mushrooms added a nice, earthy touch.
House-made desserts included a ricotta cheesecake, which was lighter and much less sweet than the cream cheese variety you're used to. It was a great option to split over coffee and take in the meal. At the end of the night, it was clear that there were some kinks to still iron out at the new and improved La Terrazza, but the structure and ingredients are there. With an extra push from Smith in the kitchen, this place has all the potential to become a staple in the local dining scene for years to come.
Published (and copyrighted) in South Jersey Magazine, Volume 12, Issue 7 (October, 2015).
For more info on South Jersey Magazine, click here.
To subscribe to South Jersey Magazine, click here.
To advertise in South Jersey Magazine, click here.