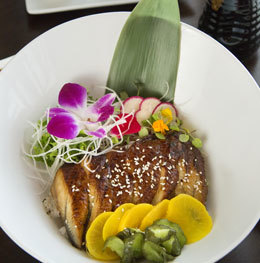 Yokohama
…A Dining Review from the pages of South Jersey Magazine…
Yokohama
300 S. Lenola Road
Maple Shade
(856) 608-8812
Yokohama co-owner Kenneth Sze prides himself on quality. The rising young chef—who operates Yokohama alongside his mother Cindy—spends most of his free time at the local fish markets, sourcing and purchasing unique and beautifully fresh product for his kitchen and sushi bar.
It's a quality and attention to detail that stand out as soon as you walk through the door. You might not expect all that much from a family-owned Japanese restaurant in a Maple Shade strip mall, but in the 15-plus years that Yokohama has been operating, the Sze family has transformed sushi and Japanese cuisine, giving diners a taste of authenticity with a modern touch.
Walk through the front vestibule and you'll be immediately greeted by a bar, almost always filled with guests waiting for a hibachi table or dining reservation, usually with Sze manning the operation. It's a passion project for him, as he takes a step away from the traditional Japanese restaurant to give South Jersey diners the drinks they are looking for. Included on their menu is a selection of Japanese wines—with plenty of sake—and beers, but it's the original cocktails that really catch our eye.
That includes the Señor Miyagi—which blends sake with tequila, coconut milk and a dash of cinnamon for an East-meets-West infusion that is hard to put down—and the Shogun's Mark. Using Maker's Mark whisky, this colorful cocktail comes complete with fruit juice and muddled fresh mint for a sweet, herbaceous drink that still packs a punch.
Yokohama's freshness really stands out in their selection of à la carte sushi and sashimi and specialty rolls. With quality fish coming into the kitchen every day, the focus is less on overpowering sauces and more on the protein itself. The Green Jade roll skips the rice and instead packs delicate soy bean skin full of tuna, salmon, yellowtail, crabmeat, cucumber, avocado and tobiko (fish roe). The plate gets finished with a light drizzling of wasabi mayonnaise sauce which adds a bit of heat without distracting from the individual flavors of the fishes.
Cooked rolls take the same approach to quality, like the King roll, which is stuffed with lobster salad and sliced cucumber, then topped with thinly sliced eel and shrimp. Each bite was rich without being too heavy, and the intense flavor of the lobster was aided by a bright burst from the cucumber.
Hot appetizers come with standard Japanese plates you know and love—like shumai and gyoza—but we suggest taking a walk on the wild side and trying the hama chi kama, or tuna cheek. A generous cut of tuna gets roasted and served with the fins on in a tangy brown sauce. The flaky fish is simple, light and pairs perfectly with the accompanying sauce.
Creativity was on full display in the kitchen entrées as well, like the unagi don. A bowl of seasoned rice comes covered with a filet of broiled eel served cold and pickled vegetables. The balance from the hot rice and cold eel and vegetables was certainly unique, and the eel meat was light and sweet. Meanwhile, the pickled vegetables provided just the right punch of brininess to round out the dish.
A plate of beef yakiniku would have benefited a bit from that creativity featured in the unagi don, however. Thinly sliced beef was sautéed with onions, scallions and mushrooms in a house-made teriyaki sauce and served with rice. A punch of spice, or a little bit of heat, would have taken this dish from simple to satisfying, but without those elements it fell toward the flat side.
Rounding out the night with some sweet mochi—bite-sized balls of strawberry, chocolate, vanilla or green tea ice creams wrapped in a chewy rice paste—is always an easy and light way to go, but in the case of Yokohama you might want to turn your sights back on the bar: Did we mention they have a sake flight? In the case of this Japanese joint, there's simply no way to tackle every enticing bite in one evening. Yokohama remains one of our favorite dining experiences in South Jersey.
Published (and copyrighted) in South Jersey Magazine, Volume 12, Issue 7 (October, 2015).
For more info on South Jersey Magazine, click here.
To subscribe to South Jersey Magazine, click here.
To advertise in South Jersey Magazine, click here.