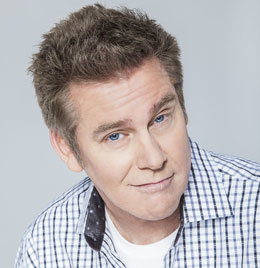 Quite Comical
For Brian Regan, making people laugh comes easy.
Hollywood is filled with performers who started out as stand-up comedians before branching out into television or film work. For Brian Regan—one of the most successful stand-ups working today—that was never the ultimate goal. Being on stage, in front of a live audience, is where he feels most comfortable.
Ever since dropping out of college to follow his dream in the early 1980s, the Florida native has worked consistently in comedy. It didn't take long before he was headlining, and he eventually built a national following, despite never starring in his own sitcom or making it big in movies.
Often billed as the "clean comedian"—because he doesn't use profanity in his act—the real secret to Regan's success is simply making people laugh. His comedy reaches a wide range of fans, and it's not uncommon to see college students sitting next to grandparents at his shows.
He's also popular among other comedians, drawing praise from stars like Chris Rock, David Letterman and Jerry Seinfeld, who once said of Regan, "He is one of my favorite, favorite stand-up comedians."
Regan returns to the area on Oct. 10 for a show at the Borgata in Atlantic City, which comes on the heels of his live stand-up special on Comedy Central in late September. We spoke to him about performing for Jersey crowds, his experiences on the Boardwalk and why the "clean" tag isn't his favorite.
SOUTH JERSEY MAGAZINE: Atlantic City and Philly are pretty regular stops for you. Do you find the crowds here tough to impress, or do you have a good rapport with them?
BRIAN REGAN: I've performed in both Atlantic City and Philadelphia many times over the years. I like the people of the area. They're fair. If you get 'em laughing pretty quickly up front, they'll ride your ride. But if they're not laughing within 30 seconds, they might throw a can of peas at you. I'm joking—and I'm worried I'm giving somebody who doesn't like peas an idea.
SJM: A.C. is obviously a lot different from Vegas, where you live, but the Borgata seems like it would fit in on the strip. What do you like about it?
BR: The Borgata has a cool vibe. The main room is like a big, giant rectangle, so it can be challenging getting the people in the corners to laugh. But the venue has some big screens that help. So if the crowd's not laughing, they play The Three Stooges on the screens.
SJM: Do you ever get to enjoy the cities you visit, or is it all work? For example, will you get to play golf at one of the Shore courses or walk the Boardwalk, anything like that?
BR: Years ago, I was walking on the Boardwalk and came across an arcade. At the arcade, I came across an interesting game. Giant stuffed animals were hanging from the ceiling near a sign that read, 'Throw three balls into the basket and win a large stuffed animal.' I threw three balls into the basket. The arcade worker reached under the counter and threw me a tiny stuffed animal about the size of a prescription pill bottle. I said, 'The signs says I get a large stuffed animal.' The worker said, 'That is large.' Then, pointing to the ones hanging near the sign he said, 'Those are huuuge.'
SJM: How did the idea for the live special on Comedy Central come about and what does it mean to you to be the first one to do that?
BR: I first pitched to Comedy Central a special where I would just be lying face down in the mud for an hour. They didn't like it. So, I proposed the idea of doing a live stand-up comedy special. They did like it. I'm very happy Comedy Central [decided to do it].
SJM: How long did you work on the material for that special?
BR: Well, it's been a few years since I've recorded any of my stuff, but I've been picking and choosing the exact set for the special for about three or four months.
SJM: Does performing still hold the same adrenaline rush as when you first started? What are the final moments like backstage before you head out?
BR: I still love doing stand-up comedy. Being backstage just before the start of a show is always a great time, hearing the murmur of the crowd, etc. I hope I can do this for another two or three months. Then I want to retire and go live down in The Villages [in Florida] or something.
SJM: Do you take pride in the fact that your comedy resonates with a broad range of people?
BR: I'm happy when anybody, anywhere, likes my stuff. But I try to be careful not to come up with jokes to placate crowds; I come up with jokes that amuse me. I just kind of throw them out there and hope that audiences also like the stuff that I like.
SJM: Does making people laugh come from growing up in a big family? Your brother Dennis is also a comedian; did you guys use jokes to stand out in the crowd?
BR: I think growing up in a big family helps someone to be funny. My parents had eight kids—that's a big audience. It was fun to make them laugh. By the way, I'm really proud of Denny Denn Den, and think he's hysterical.
SJM: Is the tag of the 'clean comedian' something you get sick of hearing, or do you see it as a badge of honor?
BR: The 'clean' thing is something I can't avoid. Because so many comedians are not clean, I feel that, by default, I am described as clean. I feel too much attention is paid to it. It would be like somebody coming up to you every day and saying, 'I just love the fact that you wear brown shoes!'
SJM: You're well respected by a lot of your peers, guys like Jerry Seinfeld, Chris Rock, David Letterman. Is that the highest praise for a comedian?
BR: It's a tremendous feeling knowing other comedians like my brown shoes.
SJM: Letterman liked you so much that you appeared on his CBS show a record 28 times.
BR: I always have to be careful to qualify the 'record.' The Late Show was on NBC before it moved to CBS. When you combine both networks, I believe Jake Johanssen holds the total record. He's a fantastic comedian who developed many, many amazing sets over the years. I think I hold the record since the show moved to CBS. Like the arcade story, what I did was big. What Jake did was huuuge.
SJM: You've been able to build a strong following without ever doing a sitcom or much film work, but you did appear in Chris Rock's highly regarded movie Top Five last year. Is that something you'd like to do more of?
BR: I'd love to do another movie. I thought I did a pretty decent job in Top Five. But, for some reason, no Hollywood people ever call me about that. Hollywood confuses me.
SJM: If you do venture more into films, do you see that affecting your stand-up career?
BR: Well, like I mentioned, Hollywood people don't seem to be beating down my door, so I'm perfectly content being a non-Hollywood type. With really cool brown shoes.
Published (and copyrighted) in South Jersey Magazine, Volume 12, Issue 7 (October, 2015).
For more info on South Jersey Magazine, click here.
To subscribe to South Jersey Magazine, click here.
To advertise in South Jersey Magazine, click here.