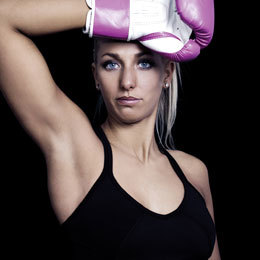 Preparing for the Fight
When it comes to battling breast cancer, early detection saves lives.
Although breast cancer screenings have helped significantly improve the breast cancer survival rate, this is not the time to become complacent. Early detection is only possible if patients are following through with not only regular mammograms but self-checks as well. Breast cancer is a scary diagnosis but with early detection, patients can have an excellent prognosis.
An unexpected diagnosis
Linda Burke knows full-well how important early detection can be. Having worked in radiology for 14 years, the Vineland resident says she has witnessed first-hand how those regular mammograms can save lives. That's why she kept up with her own yearly mammograms and self-checks. When she was diagnosed with breast cancer at the age of 57, she had been "doing everything right," she says. She never missed an annual mammogram. And because she had a fairly aggressive form of cancer, she was grateful she hadn't let those mammograms lapse.
It can be easy to do. We all get busy. But Burke says that finding time for that mammogram is critical.
"I now tell everyone that I practice what I preach," says Burke, who has a strong family history of multiple cancers. She is passionate about early detection.
"It's so important to get those yearly screenings done because early detection is what makes the difference," she adds. "The earlier you can catch something, the better. Some cancers can be pretty aggressive."
New technology
And these days breast cancer is being detected earlier and earlier with the use of new technology. Digital tomosynthesis, which creates a 3-D picture using X-rays, is one of the newest technologies for imaging and detecting cancer.
Dr. Lydia Liao, director of Cooper Breast Imaging Centers (CBIC), says that tomosynthesis is a particularly helpful option for those with dense breast tissue, in which it's often harder to detect masses, as well as those who are young and have a strong family history of breast cancer. This technology is a little more sensitive and Liao says may potentially replace traditional mammography.
Dr. Sherrill Little, co-director of women's imaging at South Jersey Radiology, adds that having dense breasts isn't something to be afraid of, but is definitely something about which patients should be aware.
"Having dense breast tissue does make it harder to detect cancer so it's important that patients are diligent," Little says. "The 3-D technology is very good for those patients, as is ultrasound, which may pick up something traditional mammography missed."
Last year it became state law in New Jersey that women who have dense breasts be notified of the density following their mammogram. The law also mandates that insurance companies cover additional testing, says Little.
Liao has also found contrast-enhanced spectral mammography (CESM) to be incredibly helpful in early detection. The combination of digital mammography with the use of contrast allows the radiologist to discover cancerous lesions that might otherwise be difficult to spot. Of course, Liao adds, sometimes MRI or ultrasound testing may also be warranted.
"With so many modalities available to us, we are detecting cancer sooner and improving the chance of survival," she says.
Remaining diligent
The availability of ever-improving imaging technology is definitely saving lives. But patients still have to do their part. Dr. Alexis Harvey, radiation oncologist and medical director of the New Jersey region of 21st Century Oncology, an affiliate of Lourdes Health System in the delivery of community-based cancer services, says it's critical that women still keep up with their own yearly checks, outside of having annual mammography.
"There's no question there have been great advances in mammography but not all lesions are found on mammography," Harvey says. "Some are still found the traditional self-exam route. It's also important that you're having a yearly physical in which your gynecologist or family physician is performing a breast exam. You cannot give up on those things because you're getting a yearly mammogram. It's all important."
Harvey adds that fear often holds patients back from seeking a physician's attention. But she stresses that the earlier cancer is diagnosed, the more likely it's in an early stage and treatable.
"We have worked with patients who found a lump but didn't do anything about it because they were afraid," Harvey says. "If you find a lump, don't panic. Oftentimes it turns out to be nothing. But if it is cancer, the earlier you treat it, the less involved it will be. Sometimes just removing the lesion is all that's needed if found early enough."
However, even aggressive cancer, when caught early, can be manageable. In Burke's case the aggressiveness of her cancer led to the decision for a total left breast mastectomy. Because one of her nodes also tested positive, she required both chemo and radiation. Burke says that it is admittedly a scary topic.
"Still, you can't let fear stand in your way," Burke adds. "Mammograms can be a little uncomfortable and a little scary, but they can also be lifesaving. The breast cancer survival rate continues to improve but that's only because it's being caught early."
Published (and copyrighted) in South Jersey Magazine, Volume 12, Issue 7 (October, 2015).
For more info on South Jersey Magazine, click here.
To subscribe to South Jersey Magazine, click here.
To advertise in South Jersey Magazine, click here.