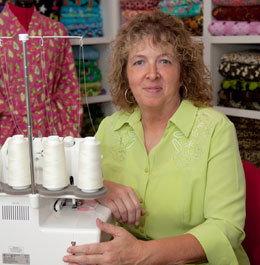 A Thread of Hope
One local woman's cancer battle inspires nonprofit that gives other patients a sense of normalcy.
Southampton's Brenda Jones and her sewing machine are making an impact on the lives of more than 1,400 cancer patients ... and counting.
The 57-year-old is the force behind the nonprofit, Hug Wraps, which offers alternative hospital gowns to cancer patients across the Unites States and surrounding countries. Hug Wraps, as they're called, are kimono-style wraps—made of warm and bright flannel material—which tie in front with a belt made of the same fabric, crafted with no metal, making it safe for X-rays.
They offer patients a warm and fun cover-up while receiving treatment for their respective illnesses—something Brenda didn't have when undergoing radiation for breast cancer.
Jones was first diagnosed with cancer in October 2008, and after an unfortunate bout of complications and surgeries, she received her first round of radiation in January 2009. By that time, she was the "angriest cancer patient [you'd] never want to meet," and after her first treatment with an unwelcoming nurse, she reached her breaking point.
"When I went into the changing room, I saw three stacks of the ugliest, itchiest, wrinkled hospital gowns that were so depressing, and hearing [the nurse] say, 'This is what [you're] going to wear for the next seven weeks,' that to me was the absolute last straw," Jones recalls. "On top of all my other frustrations and anger, that sent me over."
What happened next was what she deems as her very own "Vera Wang moment."
"The strange thing about that is as I'm standing there, tears rolling down my face, I looked at those gowns and I said, 'Oh no, I'm not wearing these, I'm going to design my own!' An image immediately flashed up of exactly what I was going to make to wear, and that's kind of strange because I don't sew. I never made anything in my life."
That vision is now known as a Hug Wrap, which Jones began crafting once she returned home from the hospital. She stitched her start with a used sewing machine and a three-day crash course in sewing.
"I put the Hug Wrap on and put the belt around it and the first thing I [said] was, 'This feels like a nice, warm hug!' That's basically where [the name] Hug Wraps came from," she says of the moment she initially tried on her creation.
Once fellow patients at the hospital saw her Hug Wrap, they all wanted their own, which she agreed to make.
"As angry as I was being a cancer patient, it dawned on me that I now had something else to focus on," she explains. "I had a mission to make something to comfort another patient ... and it started chipping away at my anger. It was the most perfect therapy for me because I was making Hug Wraps for patients who were so much worse off than I was."
Since January 2009, Brenda has sewed more than 1,400 Hug Wraps, mailed to patients everywhere from the United States, Canada, England, Poland and Australia. What's more, Jones has crafted each Hug Wrap with her own two hands—without outsourcing any of the work.
"They're all made by me and I've been on a mission to hug one cancer patient at a time," she says of her product, which individually take about three hours to craft.
But they aren't all the newly minted seamstress makes. She has now grown her business to include wraps for men, women and children, along with pillowcases, IV pole covers, lap blankets and "just anything to brighten up a child's room." Hug Wraps are also doled out to all sorts of hospital patients, including those battling cancer, Alzheimer's, multiple sclerosis and people in nursing homes and hospices.
"I would like to see every hospital replace those gowns and give a patient that dignity. That's my ultimate goal," Jones says of her nonprofit. "The doctors and hospitals need to do something more for their patients; and if it takes a piece of loud, fun material to make someone feel better, do better, have a little better outlook and put a smile on their face, that's what I want."
While Hug Wraps is still a small nonprofit, she's able to make them for patients thanks to donations made through HugWraps.org, various fundraising efforts and sponsorship. However, it's still a bit of a challenge for Jones.
"It's a very slow process and one that I am most patient of, but it's very difficult," she explains. "I compete against the big cancer [organizations] ... and what I need most is donation help and [corporation sponsorship].
"I have so much more to give to so many patients who are going through such a difficult time." Brenda's efforts with Hug Wraps might be taxing, but the outpouring of gratitude from patients certainly outweighs the difficulty of earning donations. "I could sit here and cry just remembering," Brenda lovingly says of the thank yous she's received. "That's why I know the power of what a Hug Wrap can do. The biggest thing people thank me for is the dignity."
Not only has Hug Wraps garnered recognition from countless hospital patients, but the Philadelphia Eagles have taken notice. "At every home game, the Eagles invite two nonprofits to the game to put up a booth and a donation jar at the game, and I'll be going to a game on Oct. 11. This is actually going to be [my] third time," she says. "They are the only [Philly] sports team that's actually reached out and has been continually supporting Hug Wraps."
Brenda has also received a sewing room makeover thanks to NBC's George Oliphant, which was featured on his show George to the Rescue. The episode ultimately garnered her a New York Emmy Award in 2014 for Outstanding Human Interest Program Special.
With all the donations and recognition, the power of a Hug Wrap still comes down to the patient and how it makes them feel. "I knew when I put that Hug Wrap on, I was not that 9:30 a.m. appointment. I was not that patient on a conveyer belt. I was not that chart they couldn't find," Brenda says. "I am someone's sister, mother, aunt, daughter. I am someone; and I matter."
For more information about Hug Wraps, visit HugWraps.org.
Published (and copyrighted) in South Jersey Magazine, Volume 12, Issue 7 (October, 2015).
For more info on South Jersey Magazine, click here.
To subscribe to South Jersey Magazine, click here.
To advertise in South Jersey Magazine, click here.