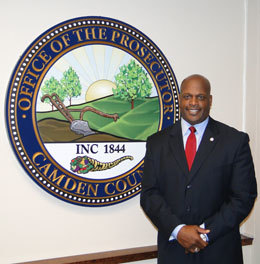 Utility Player
Camden County Chief Ron Moten got his start on a whole different kind of field.
Ron Moten's journey to the Camden County prosecutor's office was far from traditional. It started on the football field: The former star linebacker from the University of Florida was drafted by the Philadelphia Eagles and legendary coach Buddy Ryan in 1987 before completing his degree. His promising NFL career was over fast, however, after injuring his right knee in a preseason game against the Miami Dolphins. After two years on the injured reserve list, Moten returned to play, only to tear his left knee in practice in 1990, ending his football career.
But Moten's professional career was just beginning. From there he would go on to become a very important player of South Jersey—and Camden County—justice. After almost 20 years in the Camden County Prosecutor's Office, Moten was named deputy chief last fall, and was quickly promoted to Chief in the spring, becoming the first African-American to hold the title in the county. We caught up with Moten to hear about his journey from the field to fieldwork, and reflect on his inaugural year.
His final injury…
Essentially that's what ended my career. I knew immediately that I was done. I spent so many years rehabbing, and then I did the exact same thing to my left knee and I knew it was over. Going into the '91 season, I was done; I was released. I had a meeting with coach Buddy Ryan and figured out I had to do something with my life. And this is when my previous college years caught up with me.
Stumbling on the next step…
I was at the University of Florida for five years, and academically I was a kid. I was not as focused on my education as I should have been. For me, my goal was to play professional football and that's what I focused on. Now it was time for me to figure out a different path, and I didn't have my degree. From '91 to '92 I pretty much did nothing. I was broke, was practically homeless, [and might havebeen] had it not been for my best friend, Octavius Reed III, and [my other friend] Ted. We were the same age and graduated from high school together; he had gotten a degree in finance from Rutgers University. He let me crash on his couch in his one-bedroom apartment. I was working the midnight shift at Aluminum Shapes in Pennsauken. It was really a wakeup call.
Catching his stride…
I was able to enroll in Rutgers University in Camden through my friend Ted. He referred me to the director of admissions in 1993 and I remember going in and having a conversation with the director of admissions and begging for the opportunity to finish what I had started 10 years earlier. … Prior to my graduation, I got an internship with the Intensive Supervision Program. It's like a probation program for non-violent offenders, and during that time, I met Judge Isaiah Steinberg, who was a superior court judge in Camden. We hit it off really well; he was a sports fan and remembered me at the University of Florida. When I graduated in '95 with a degree in psychology I had no idea what I was going to do. I called him and asked him if I could use him as a reference; and he called me, asked for my résumé and told me to take it over to the Camden County Prosecutor's Office. I had no ambitions of getting involved in law enforcement; I knew nothing about the prosecutor's office. A week later, I was offered a job as an investigator.
Working as a homicide detective…
I'm not from this area. I grew up in the projects of Clearwater, Fla., and while it was violent there, it was nowhere near the violence here. But it really wasn't a huge transition for me. I know the drug game; I know the devastation that drugs cause a family. I had it impact my family; I've lost friends in Florida to violence because of it. It was easier for me to relate and I never looked at it any different than that.
Becoming chief…
It's a learning process, to be quite honest with you. Now being the chief and part of the administration you have to deal with outside agencies, politicians and freeholders. I try not to get too heavily involved in that. I'm not trying to change the status quo, and I don't play politics, but I always try to maintain a professional attitude and be grateful. I want to work on little things, like the morale in the office, try to do different things for the detectives and the lawyers to show my appreciation for the hard work and dedication that they do [put in]. I expect the newer detectives to be as grateful for the opportunities that I am. I want to maintain an atmosphere that will allow that to happen.
Teaching through experience…
I've not had the opportunity to speak to any college players, but I do get to speak to some of the kids here in Camden. One of the things I try to focus on is not to allow your talent to use you. Utilize your talent so that you can go as far as you can. You can suffer a career-ending injury and then what are you going to do? A lot of these kids had the same goals and aspirations that I did, which was becoming a professional athlete. I always try to encourage kids to focus on the education regardless.
Finding his fandom…
I will always be an Eagles fan, but I'm not a diehard. I root for them, never against them, but I won't stay home and grieve if they lose. Obviously, the University of Florida during my collegiate years had a lasting impact on my life. I learned so much when I was at that university. I follow college football more than I do the NFL; and I'm a Gator for life.
Staying in South Jersey…
I was homeless and a day away from being that individual who was another statistic, which was why I didn't want to go back to Florida; I had nothing to go back to. I didn't want to go back to where I was born and raised with nothing. I truly believe—for me, at least—everything happened for a reason. Had it not been for the fact that I had gotten hurt, I doubt very seriously that I would have gone back and completed my education. It was probably the best thing that ever happened to me. Had I played for 10 or 11 years I don't know what I would have done. It forced me to regroup and here I am. I am without question the most blessed person in the Camden County Prosecutor's Office.
Published (and copyrighted) in South Jersey Magazine, Volume 12, Issue 7 (October, 2015).
For more info on South Jersey Magazine, click here.
To subscribe to South Jersey Magazine, click here.
To advertise in South Jersey Magazine, click here.