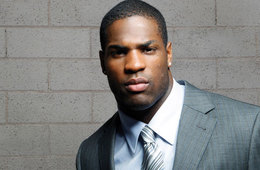 The New Guy
Who's DeMarco Murray? He's a humble, charitable family man who just happens to also be one of football's best players.
No matter how many records he breaks, awards he earns or games he helps his team win, DeMarco Murray would rather let everyone else talk about him.
The All-Pro running back and newest Philadelphia Eagles star is a very private, unselfish player in a league filled with look-at-me types who boast about their accomplishments and talk plenty of trash on the field. In other words, he's exactly the kind of team-first player head coach Chip Kelly reveres.
"I'm not a flashy guy," Murray says. "I don't bring attention to myself. I've always been that kind of guy. That's just how I am."
That's not just lip service coming from Murray. Despite his many endorsement deals, he does not spend frivolously and is calculated in selecting where and when to put his name behind something. His marketing agent Dave Maryles has said that Murray has even declined some deals because of not wanting to be associated with certain parties involved.
In July Murray told Forbes that he's not interested in becoming the next in a long line of athletes who throw away money their whole career and have nothing to show for it:
"I lived my life basically on a college budget, I'm just a frugal guy. Even though I have money, I'm not out there buying cars and jewelry. … You have to be true to yourself and be smart about what you're spending.
"For me, I don't want to be part of that statistic of being broke after you retire. I want to relax, golf, go to Italy and drink a bunch of wine," Murray said in the interview.
Welcome To Philly
Murray spent his first four seasons in the NFL playing for the team Eagles fans love to hate: the Dallas Cowboys. But the same fans who loathed him when he wore that blue star on his helmet are more than happy to have snagged him away from their dreaded archrival.
Fans flocked to Murray during open practices at training camp and chanted his name when he touched the ball. His No. 29 jersey is the top-seller among running backs, according to Dick's Sporting Goods. It doubled the sales of former Eagle LeSean McCoy's new jersey with the Buffalo Bills.
After Kelly traded McCoy to Buffalo, the Eagles tried to sign former San Francisco 49ers star Frank Gore. But he changed his mind and went to Indianapolis. The Eagles then signed former San Diego Chargers star Ryan Mathews. However, Kelly couldn't resist pursuing Murray.
"Obviously, you just look at him statistically in terms of what he did," Kelly says. "You know what kind of workhorse back he is. He has unbelievable patience and vision. There's a toughness to him."
Last year, Murray became the first player to rush for 100 yards in each of the first seven games of the season. He led the league with 1,845 yards rushing, breaking Emmitt Smith's single-season franchise record. Murray also holds the Cowboys single-game record with 253 yards set during his rookie season.
Despite helping the Cowboys take the NFC East division title from the Eagles, Murray was the odd man out in Dallas. Owner Jerry Jones couldn't afford to pay him and star wide receiver Dez Bryant. The Eagles lured Murray away with a $42 million, five-year contract. Murray had better offers from other teams, but wanted to play for Kelly and the Eagles. It also helped that new quarterback Sam Bradford was Murray's college roommate.
"Sam played a huge role in getting me here," Murray says. "Sam is a great friend of mine. He's like a brother to me. We played a lot of great games in Norman [Okla.]. It was a huge influence once he was traded here. I'm excited to play with him again. It wasn't the biggest contract, but this organization has a chance to win the Super Bowl, it has great fans and a great coach."
Leaving Dallas was a difficult decision. Murray had a close relationship with coach Jason Garrett and enjoyed playing for the Cowboys. Many of Murray's former teammates attended his wedding to actress Heidi Mueller in June. The couple has a 2-year-old daughter and announced at their reception that Heidi's pregnant.
"Obviously, Dallas has a special place in my heart," Murray says. "I had an incredible four years there. I grew there as a man, a father, a husband."
What Happens In Vegas
Murray broke records held by Hall of Famers Jim Brown and Emmitt Smith during a phenomenal 2014 season for the Dallas Cowboys. Yet, he's still the same quiet, humble kid who once impressed Oklahoma Sooners football coach Bob Stoops with an acrobatic dunk on the basketball court. Murray was a student at Bishop Gorman High School in Las Vegas when he first crossed paths with Stoops, who was on a recruiting visit to see another player.
"I was walking across the gym with head coach Dave White to go to his office and basketball practice had just finished," Stoops recalls. "The kids were sitting with their backs against the wall and Coach White said: 'Hey DeMarco. Why don't you show Coach Stoops the dunk.' And if you know DeMarco, he's a humble, quiet guy so he says: 'No, Coach. No need to do it.' But Coach White talked him into it and it took three or four times.
"So DeMarco got up reluctantly and he walks to the top of the key and throws the ball off the cinder block wall behind the backboard at an angle and the ball comes bouncing back into the key and he comes running across, catches the ball in the air with one hand as he's jumping up and slams it down and it was on the first try and the backboard rattled and he did it with such ease. I was like: 'Wow!' Being [that] DeMarco was only a junior and I couldn't talk to him, I turned to Coach White and I said: 'I don't know what position or where DeMarco plays and I don't care, but he has a scholarship at Oklahoma. We'll find a place for him.'"
Stoops is so fond of Murray he doesn't hesitate to take a reporter's phone call on a busy Friday afternoon the day before the Sooners hold their first scrimmage.
"He's an absolute prince as a person and was as fun to coach as anybody I ever had when you talk about a guy who was a leader in the weight room, a leader in the way he worked, a great student in the classroom, never missed a class," Stoops said. "He's everything you want. He was an absolute joy to watch. He's respectful of everybody, humble, as hard a worker as you'll ever be around and as tough as anybody you'll ever be around. He just does it in his own way. He's just special in the way he does everything."
Murray led Bishop Gorman to a Nevada state football championship and chose to go play running back for Stoops at Oklahoma instead of defensive back at the University of Southern California. He set a school record with five rushing touchdowns in his first game at Oklahoma and finished his career there as the all-time leader in points scored (390), touchdowns (65), and all-purpose yards (6,718).
Murray graduated with a degree in communications, a surprise to many people who cover his NFL career because he avoids interviews and doesn't seem so communicative. He also had a double minor in business and African-American studies.
"My favorite class was women's studies," Murray offers. "I was one of only three guys in there, so I always got the inside scoop on girls and what they thought about guys."
Murray wasn't just a favorite of Stoops. Everyone who knew him at Oklahoma raves about him.
"He was a joy to work with," says Kenny Mossman, the school's senior associate athletics director. "He was always a fairly understated guy. The other way I would describe him is serious. It wasn't that he never cracked a smile, but his approach to things was always very mature and seemed to be very focused and that was true whether it was football or other aspects of his life. He was a good student, too. His grade point average was good. He was a guy who had uncommon focus in that respect and would lean toward the quiet side."
Though he grew up in Las Vegas, Murray certainly wasn't influenced by the glitz and glamour of Sin City. That's because he spent most of his time playing sports and doing homework.
"My entire 18 years living there I never went to the strip until I was at Oklahoma and then started going to fights in Vegas," Murray says.
Murray became a fan of mixed martial arts during his junior year at Oklahoma. UFC owners Frank and Lorenzo Fertitta went to his high school and invited him to come see a fight. Murray wasn't interested at first, but became hooked after going to his first live event. Now he doesn't just enjoy watching the sport, but he also made it part of his offseason workout routine.
"I started to implement some of the training," he says. "It's a lot of hand-and-eye coordination. It works well for me. I love it."
Murray has trained with numerous MMA stars, including undefeated middleweight champion Chris Weidman. But he doesn't have any desire to step into the Octagon for an actual fight.
"I'd just rather stick to the gridiron," he quips.
Giving Back
Murray formed the DeMarco Murray Foundation in 2013 to help youth in the Dallas area. The foundation's mission "is to better the lives of youth by providing educational support, opportunities and resources. Our goal is to have touched the lives of more than 55,000 children by 2016."
Murray hosts several events each year. He's given backpacks filled with school supplies, clothing and shoes to 250 inner-city, low-income elementary and middle school students to ensure they have the basic items they need. Before the holidays, Murray partnered with a retailer to give 50 children from Big Brothers Big Sisters new bikes and helmets. He also has a literacy program called DeMarco's Reading Rush. It's designed to bring families, schools and communities together to support children's literacy development.
When Murray caught word that a family in the Dallas area had lost their home to fire in late 2014, he decided he wanted to help brighten their spirits. He invited the family's three young sons to be his guests for a red carpet event. He outfitted the kids in autographed jerseys and asked them to join him at his dinner table. He could have donated money; instead he donated his time and gave the kids a memory they won't soon forget.
More recently he joined Men's Warehouse in their National Suit Drive as one of the faces of the campaign which provides at-risk men re-entering the workforce with proper interview attire. For all his work in the community, it's no wonder why he was nominated for the Walter Payton Man of the Year Award in 2014.
"Helping the youth definitely touches my heart, and doing whatever I can for the youth outside of football," Murray says. "I've been blessed and fortunate to do what I love to do, and it's all I can do to help in any way, shape or form."
Published (and copyrighted) in South Jersey Magazine, Volume 12, Issue 6 (September, 2015).
For more info on South Jersey Magazine, click here.
To subscribe to South Jersey Magazine, click here.
To advertise in South Jersey Magazine, click here.