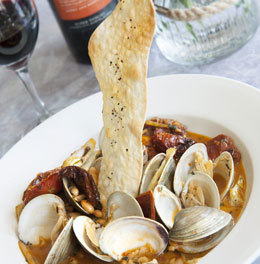 Trattoria Figaro
Unique Approach: Trattoria Figaro
3815 Church Road , Mount Laurel
(856) 778-3663
3 and half forks
We're no strangers to mom-and-pop eateries. In fact, they make up a decent percentage of the restaurants we visit at South Jersey Magazine, and always bring their own original flavor to the table.
The same could be said about Mount Laurel's newest Italian spot. Opened about six months ago, Trattoria Figaro replaces the former Stefano's Ristorante Italiano, a pizza place that was known and loved by locals for decades. The interior could use a bit of a spruce-up, as the dining room style still resembles the pizzeria that used to share the space. Chairs were outdated, with gray linoleum tables of decades past and decorations hanging from hardware store chains on the ceiling. A massive poster of an Elvis impersonator sitting in the front door—a promotion for an upcoming performer—didn't do much to add to the ambiance, either.
A more updated setting would have really highlighted the restaurant's impressive and appealing menu of dishes you can't find everywhere. Seasonal and local ingredients combine with familiar Italian flavors and pastas. Appetizers were fairly traditional but still had a unique twist. In the case of Trattoria Figaro's calamari, the sliced squid rings were flash fried with rice flour, as opposed to the standard deep fry, giving them a much lighter and crisper taste. They were served on a bed of garlic aioli with spiced marinara sauce for dipping, and disappeared rather quickly.
Roasted, stuffed long hots—filled with shredded pork and sharp provolone on a plate of balsamic red onion jam—seemed equally as appealing, but missed the crucial step of de-seeding the long hots. The first bite was instantly overwhelming, and the natural flavor from a smoky, spicy pepper, along with the taste of the pork and cheese was totally lost. And while the balsamic onions helped a bit, eating even closer to the cluster of seeds near the stems proved impossible to tackle.
But a bowl of butternut squash soup—served with a drizzle of crème fraîche on top—was the perfect way to cool off a burning palate. It was smooth, creamy and captured all the sweet and savory beauty that makes butternut squash such a wonderful autumn treat. I can only imagine this dish getting better as the squash season progresses.
More seasonal ingredients came by way of entrées like the pork ragu with tossed sautéed heaps of kale with house-made fusilli—a long, thin spiraled noodle—and a pork, red wine and tomato sauce. Rustic, earthy and rich, this is one plate that was hard to stop eating. The pork was cooked slowly, and practically melted into the red wine and tomato sauce. Meanwhile the kale simply added an extra textural element, and a very subtle bitter flavor that helped awaken all the other flavors in the dish.
Ricotta gnocchi were served in a red sauce with lump crab meat, and were so light that they almost melted right on the fork. Meanwhile the red marinara was hearty and thick, with plenty of fresh tomato pieces and lots of herb flavor. But the addition of lump crab meat was fishy and steered toward overpowering, especially alongside the delicate gnocchi and sauce, but diners have the choice of selecting their own protein to mix in.
A dish of clams and Calabrian hot sausage was fairly small for an entrée and would have benefitted from a helping of pasta, especially because their homemade varieties were so appealing. But the flavors were absolutely captivating: The clams themselves were briny and cooked just right while the sweetness from the tomato blended nicely with the anise flavors of the sliced fennel without being too strong. Garlic burst in every bite, and the sausage was crispy and salty and took the flavors of the dish's broth to a whole new level of complexity. The broth made me long even more for some sort of starch to help sop up all that remained.
Desserts were pleasantly surprising; all house-made with yet another return to local and seasonal ingredients. There was the Love Stout brownie, a cakey variety made with stout beer brewed across the bridge at Yards Brewing Company in Philadelphia and served with salted caramel and a scoop of ice cream, and then there was their seasonal crème brûlèe. A base of sweet corn custard was brûlèed with raw sugar and topped with candied corn kernels. The dish was so innovative, and done just right so that no part was too sweet or overpowering.
To see that much care put into the final course of the evening proved just how hungry this restaurant is to not only succeed, but to shine. There was no part of the menu at Trattoria Figaro that didn't show real promise, and while some of the preparation could use a bit of refinement, the promise of unique, original and appealing plates is not easy to forget.
Published (and copyrighted) in South Jersey Magazine, Volume 12, Issue 6 (September, 2015).
For more info on South Jersey Magazine, click here.
To subscribe to South Jersey Magazine, click here.
To advertise in South Jersey Magazine, click here.