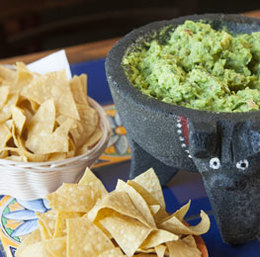 La Esperanza
A Trip to Mexico: La Esperanza
40 E. Gibbsboro Road, Lindenwold
(856) 782-7114
When it comes to La Esperanza, "fan favorite" is a serious understatement. Just walking in for a weeknight meal is proof enough, as every table in the restaurant was full and crowds waiting for their reservation filled the bar. This Lindenwold institution has earned a reputation for all things Mexican, from the classically prepared dishes to the cocktails that are hard not to love.
The guacamole is an all-around crowd pleaser, served up as fresh as can be in a massive, stone mortar bowl with piping hot chips right out of the fryer. The kitchen doesn't skimp on anything, including fresh cilantro and chopped onions. It's the perfect way to start a meal with a large group—emphasis on the large—but if appetizers are more your style the handmade tamales are worth ordering. They come in single orders, so you can mix and match between pork and chicken. Each comes wrapped in the corn husk they were steamed in, filled with masa and packed with shredded meat.
La Esperanza's burrito and taco selections are satisfying, but to really embrace the cuisine they do so well look to the entrées, which take a more traditional Mexican approach. The menu of cactus-based items, or nopales—like nopales a la Mexicana, which pairs fresh cactus with veggies and chicken or beef in a spicy sauce—is an experience in itself.
They do steak really well and in ways you can't find in many other eateries. The bistec a la criolla is particularly memorable. A marinated cut of flank steak gets grilled, then served with a whole, fried plantain, sliced avocado and topped with an over easy egg. It's an odd-sounding combination at first, but the flavors together just find a way to make sense. The sweetness of the plantain, in particular, really played well with the zesty steak marinade, and the avocado and egg yolk helped balance everything out. The addition of house-made rice and beans could have been a meal in itself.
Ready an extra belt loop for their enchiladas de mole Poblano with your choice of meat, pork in this instance. It's a heavy dish, but one that shouldn't be ignored, especially in terms of the house-made mole sauce. It was rich with a chocolate flavor that helped enhance the seasoning of the pork—which is slow-cooked in house, shredded and super tender. The corn tortillas were topped with a melted white cheese to only add to the indulgence.
Then there's the margaritas. We at South Jersey Magazine have come to love their Blue Demon option, which mixes Don Julio Silver tequila with Triple Sec, blue curacao, and a surprising splash of Sprite for some bubbles. It's sweet and indulgent, just like a margarita should be. Then there's the Cucumber Jalapeno margarita, which pairs perfectly with spicier plates. Top shelf Milagro silver tequila gets blended with agave nectar, muddled jalapeno, fresh lime and cucumber. It strays a bit from the sweet flavors and really embraces the fresh flavors from the lime, cucumber and jalapeno. But if a cocktail isn't for you, flip through their extensive tequila menu, or try a flight and go for a variety.
A dessert called El Imposible wasn't necessarily impossible to tackle, but was a bit excessive. House-made flan—which was custardy and creamy on its own—was layered atop a chocolate cake and served as a slice. The flan had so much flavor that it overpowered the cake it was sitting on, making me want more of that traditional Mexican dish instead.
But when "more" is your biggest complaint, there must be plenty that the kitchen is doing right. Between a cocktail list that keeps us coming back over and over and a menu that is undeniably appealing, La Esperanza remains one of the top South Jersey spots for truly authentic Mexican flavor.
Published (and copyrighted) in South Jersey Magazine, Volume 12, Issue 6 (September, 2015).
For more info on South Jersey Magazine, click here.
To subscribe to South Jersey Magazine, click here.
To advertise in South Jersey Magazine, click here.