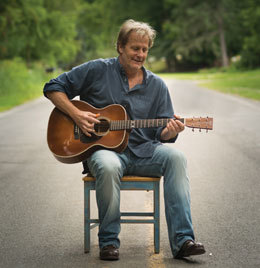 Jeff Daniels' Second Act
Best known for his work in television and film,the Emmy Award-winning actor takes the lead in a role he's spent nearly 40 years perfecting: singer-songwriter.
He has played characters of every rank and file—from an angry and narcissistic novelist, to an incredibly earnest cable-news anchor tortured by a responsibility to "do the right thing" and an overly complicated relationship with his executive producer, to a hapless idiot with the IQ of a stinkbug. For Jeff Daniels, range is the name of the game. He's most comfortable playing the role of outsider, mostly because it comes so naturally.
Daniels has starred in some of Hollywood's most compelling films and TV series, including HBO's The Newsroom, for which he won a 2013 Primetime Emmy Award for Outstanding Lead Actor in a Drama Series. He has shared the spotlight with everyone from Mia Farrow (Woody Allen's The Purple Rose of Cairo) and Reese Witherspoon (Pleasantville), to Jim Carrey (Dumb and Dumber and Dumb and Dumber To) and the late Robin Williams (RV).
Successes aside, he's hardly part of the Hollywood in-crowd. His roots run deep in a small Michigan town named Chelsea, where he serves on the board of directors for the Purple Rose Theatre Co., a small but thriving community theater he founded in 1991. In fact, he and his wife, Kathleen—his high school sweetheart—still live in that neck of the woods, far removed from the glitter and glitz of Los Angeles.
His work in the world of music is yet another example of his odd-man-out distinctiveness. He's spent nearly four decades honing his skills as a songwriter and cultivating his genuine affection for his craft. He's penned "hundreds of songs," he says, more than enough to fill several albums, including last year's release, Days Like These.
Daniels has shared the stage and collaborated with the likes of John Hiatt, Lyle Lovett and Keb' Mo'. He's also on the bill to play Philadelphia-born songwriting legend David Bromberg's "Bucket List Birthday Bash," slated for Sept. 19 at the Town Hall in New York City in honor of Bromberg's 70th. Three days before that gig, on Sept. 16, Daniels will be bringing his brand of jazz-meets-bluegrass-meets-rock to the Sellersville Theater in Bucks County, Pa. He realizes some people will come just to see "Jeff Daniels, the actor," but he's confident those same people will be pleasantly surprised by what they hear.
"The expectations are always low when an actor walks on stage with a guitar," he says. "Maybe it's Newsroom or one of my movies that gets people in the door, but I've been at this for almost 40 years. … If I do anything on a daily basis, I will write something or rewrite something.
"I'm someone who knows what to do on a stage to hold an audience," he continues. "I've been able to do that since high school, and it's why people got excited and said I should pursue acting in the first place. I've worked hard at it amidst making the movies, so if people are expecting an actor and three chords, I'm far north of that."
We spoke with Daniels about his approach to songwriting, the formula behind a good song and how his love of music first took root. (He also touched on his being a "huge disciple" of a certain Jersey-born musician.) Of course, we discussed his acting career, including his role in Steve Jobs, the upcoming film about Apple Inc.'s late co-founder, which also stars Michael Fassbender and Kate Winslet. He also touched on the immense range required to play a character such as Will McAvoy from The Newsroom—a man of considerable grace and intellect—one week and then transition to bringing to life one of cinema's most lovable idiots, otherwise known as Harry Dunne from the Dumb and Dumber franchise.
Starting out in music …
I started out doing musicals in high school and summer theater—that was my ticket onto the stage. I was able to sing, and whatever you pick up in musicals, you take with you. When I went to New York, I was at Circle Repertory Company, and the last thing they would do is a musical, so the music was suddenly, abruptly out of my life. So I bought a guitar—a Guild D-40—and threw it in the back of my car, knowing my time in musicals was over. There was no conscious effort to say, 'I have to keep music in my life.' Usually it was back in my one-room apartment, waiting for the phone to ring. That guitar became my best friend. It was a safe place to go amidst all the rejection and the barrage of thoughts that say, 'Nobody believes in you.'
On the secret to writing a good song …
The trick is to finish the bad ones to get to the good ones. There are some songs you know you will never record and never play for anybody, but you finish it to get on to the next one. Just like playwriting, you write four bad ones to get one good one.
With the new album, I took out the comedy. Some of my older songs have been funny, or they have contained some degree of humor. Lyle [Lovett], Loudon [Wainwright III], John Prine—they all write 'funny' in their own way. It's OK to go away from the serious, important, songwriter thing, because when you're out there on stage, you've got to loosen people up, and a funny song sets up the more serious one. If you make them laugh and they relax, then here comes something else. Then they're more susceptible to the serious stuff. It's basic storytelling.
A fondness for The Boss …
I've gone to the Stone Pony [in Asbury Park], and I'm a huge [Bruce] Springsteen disciple. The arrangements he comes up with, the way he tells a story with every song—I love that. I love what he did with The Seeger Sessions. (Editor's Note: We Shall Overcome: The Seeger Sessions is Springsteen's 14th studio album, featuring Springsteen's interpretations of songs made popular by folk musician Pete Seeger.) I love it when he just sits there with an acoustic guitar and sings. … No one is better at building a song; his openings are other performers' finales. He changed how stadium shows are done.
On The Newsroom …
It was a lot of work. For a TV series, it seemed to me to be very difficult to sustain a character for something like eight seasons. We got three. You almost have to reinvent where the character is going. What got you to Season 1, Season 2, Season 3 has to change and continually get better. I love the fact that I got to work with Aaron [Sorkin] for three years, but it was also a hell of a lot of work. There was no time. Any life away from this, you hit the delete button. Ninety percent of the work was done before you even got on set.
When I was doing Steve Jobs, which Aaron also wrote [the screenplay for]—Fassbender and Kate are in it—and they would say, 'How the hell did you do it?' … I won't miss the weekends of having to learn 40 or 50 pages for the next week and at the same time having to hit the level of excellence you need to live up to the show. To win an Emmy after the first season, you almost have to live up to yourself.
On playing vastly different characters …
Dumb and Dumber was the complete opposite of Newsroom, where 90 percent of the work was done in front of the camera. With Harry Dunne, you just empty your head. I remember hearing that he had an IQ of eight, so I fixated on that number, and I could just feel my brain cells going south—just gone. … I was told that goldfish have no memory, so when a goldfish is in a tank swimming past the same piece of coral day after day, it's always thinking it's seeing that same piece of coral for the first time. That's Harry Dunne—a human goldfish. [With 2014's Dumb and Dumber To], it was fun revisiting those characters 20 years later; we were in middle age, but we were still that stupid, only it was easier because we had not grown an ounce intellectually and we didn't have to fix the back story because we hadn't changed at all. It was great to be with Jim [Carrey] and the Farrellys. To go from Newsroom to Dumb and Dumber and then back to Newsroom, that's the kind of range every actor wants to show.
On his love for community theater …
We always wanted to do something local and community oriented, so we bought a building and had an idea. We wanted to use Michigan theater artists and turn them into pros. We're in our 25th season, which starts in the fall. … It's revitalized the town [of Chelsea], bringing in coffee shops, art galleries, hotels, with all the money those things bring in. We'll have 35,000 to 40,000 people a year buy a ticket, and that's a lot of money walking through this little town that never walked through that little town before.
Life at home …
Aside from picking right and the fact that we're still together, [my marriage] has been a success story in and of itself. I've never been 'of Hollywood,' and I just love it with Kathleen. Most of my life has been spent not acting. That was the discovery of getting married and still having a movie career, because I wasn't married to my career. I'm not even sure I wanted to be an actor for a number of years, but this is reality. Other than acting being an exciting and thrilling thing, and the fact that I love what happens between 'action' and 'cut,' what happens in real life, away from the camera, always just seemed more important to me.
Published (and copyrighted) in South Jersey Magazine, Volume 12, Issue 6 (September, 2015).
For more info on South Jersey Magazine, click here.
To subscribe to South Jersey Magazine, click here.
To advertise in South Jersey Magazine, click here.