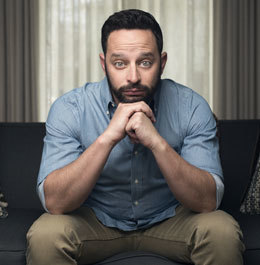 Funny Business
Comedian Nick Kroll finds time in his busy schedule to bring his comedic genius to Camden as part of the Oddball Comedy tour.
Since he has already worked with the likes of Ben Stiller and Steve Carell, counts Amy Schumer and Aziz Ansari as long-time pals and has been dating Amy Poehler for the last two years, Nick Kroll clearly is not intimidated by being around other funny people. That's why the comic and actor leapt at the chance to join this year's Oddball Comedy and Curiosity Festival, an annual tour with a rotating list of some of the best stand-up comedians around.
Now in its third year, the Oddball tour will hit Camden's Susquehanna Bank Center on Sept. 13 with a lineup that includes Kroll, Schumer and Ansari, along with Anthony Jeselnik, Dave Attell, Jay Pharoah and John Mulaney.
We spoke to Kroll about trying to stand out among other comedy superstars, as well as his role as Ruxin on FXX's The League, a show about several friends and their obsession with fantasy football, which enters its seventh and final season this fall.
With Kroll Show—a sketch program that ran on Comedy Central for three seasons—also ending earlier this year, Kroll is transitioning into more movie roles. He gave us insight into his next big part in Seth Rogen's project Sausage Party, which Kroll promises will be unlike any animated film we've ever seen.
SOUTH JERSEY MAGAZINE: This is the third year for the Oddball Comedy Festival. Have you been involved before?
NICK KROLL: No, this is my first year doing it. I've heard great things from comedians who have done it the last couple of years and I thought this was a good time to jump on.
SJM: Obviously, it's work for you, but do you also become a fan being around so many great comedians?
NK: Yeah, it's funny because a bunch of the folks on it are people I came up with. Obviously, Aziz and Amy [Schumer] are two people I've been performing with or around since I basically started. I'm not exactly sure who's on the lineup for that particular show [in Camden], but you've got T.J. [Miller] and John Mulaney, who are other guys I've known for a long time. And then there are people I've always loved, like Jim Norton, [who] is doing some [dates]. It's a great group of folks who are all funny—people I've always admired and/or people I came up with.
SJM: Does there become pressure to stand out when you're in an all-star lineup like this?
NK: Yeah, I think everyone wants to bring their "A" game, partly because you know there are great comedians, and also because you're performing for such a huge crowd. We're all doing fine, but it's not like every day we're all doing shows for 10-15,000 people.
SJM: What changes for you when you're performing in a big outdoor facility like this compared to a smaller club or theater?
NK: It will be somewhat new to me, so I think I'll have to feel it out a little bit. I think you just have to wait a little bit on certain things. When you tell a joke in a small theater or club, the laugh is immediate. In a place like this, I think you have to wait a brief moment to let the laughter come. But honestly, you don't change much. You just do your act and keep it popping and entertaining for everyone.
SJM: You're originally from New York. Is the chance to come back to the East Coast an extra bonus to this tour?
NK: Yeah, it's so fun. I live in California now, but it's always fun coming back to the New York area, the tri-state area. It's familiar and there are some references you can make that people understand. I can't make jokes about 95 when I'm in L.A.
SJM: You had a great Philadelphia character on the Kroll Show skit "Pawnsylvania." What were the origins of that character?
NK: On Kroll Show we had a bunch of writers from the Philly area—like four or five writers from Philly or Delaware. It just felt like there was room to explore, because not many people have done much about the Philly area and that accent is so specific. It was fun to do just because the people from around there—from South Jersey, Philly, Delaware and Baltimore—were like, "Nobody has ever called someone a 'dirt' on TV before."
SJM: The seventh and final season of another one of your shows, The League, is airing this fall. Did you imagine it would last so long and become so popular when you first started?
NK: I didn't know if it would get big, but I felt pretty confident when we started the show that if we got through the pilot and got picked up, we would run for a good amount of time. The show came out just when fantasy football was really starting to grow. It was already a big deal, but all of a sudden it was really starting to grow. The show brought in a bunch of really funny people and the style really served the kind of actor/writers they had hired. I didn't know it would end up resonating the way it has with people, which has been really cool. It's nice to do something you think is funny, with funny people, and have a pretty broad audience embrace it the same way.
SJM: I've been part of the fantasy football world for a long time, and I think the show really captures the camaraderie and everything that goes with it. Was that difficult to do, or did you as a cast have chemistry from the beginning?
NK: I think we just had that chemistry. The funny thing is, in real life we all like each other quite a bit. I think we exercise our hatred through the characters, but in real life we all get along. [It's a] combination of fantasy football—where [trash] talking is so ingrained—and on top of that we get to improvise a lot, and that style lends itself to being able to [trash] talk and find new ways to make fun of people. That combination allowed it to feel natural and real and the way that people who play fantasy sports really screw with each other.
SJM: It seems like a lot of the NFL guys were on board with the show, and many of them made cameos through the years. What are some of the most memorable that stand out to you?
NK: Antonio Gates was the first one on the show and it was me and him in a hot tub. They couldn't turn the heat down, so we were in the hot tub for four hours and I was supposed to take a swing at him. I was genuinely delirious by the end of it, so I feel like I might have actually taken a swing at Antonio Gates. So I remember him because he was the first one to have the [guts] to come on the show. J.J. Watt did the show a couple times, and not only was he a super nice guy, but just really good. It was kind of annoying. You're like, "Come on man, you can jump on tables from a standstill, and you can improvise?" That doesn't seem fair.
I wasn't in the Marshawn Lynch stuff, but having Marshawn in the opening scene this year, where he talks about [the Super Bowl and] running the ball versus throwing it—or running the beer over to Kevin versus throwing it—that's pretty cool. It's one of the biggest moments in football over the last few years, and to have the guy who doesn't talk to the press come in and do our show … to me is a pretty cool sign of how far we've come as a show.
SJM: You had never played fantasy football until starting the show, right?
NK: Yeah, that's right.
SJM: Do you play every year now?
NK: Yeah, all the guys on the show and the creators are in a league together. I think we'll keep playing once the show is done. I remember we shot the pilot and then went in to start the series. A day or two before we started the series was right around when you do your draft. We did the draft and I was like, "Oh, I get it now. I see why people ruin their families over this." It's really fun. I look at fantasy as one of three things to do when you're on the toilet. You check your email, you check Facebook and then you check fantasy, and by that time you're about done.
SJM: Have you won the league?
NK: I have won once, and I've been in the playoffs most years. I take after Ruxin, or Ruxin takes after me, in that I'm a bit of a tinkerer. … I make some late-night, rash decisions. But you have to throw caution to the wind sometimes.
SJM: Did you feel like you got everything you could out of Kroll Show and were you ready to move on from that?
NK: Yeah, we did three seasons and I think we did some really funny stuff. It was a pretty weird, complicated story that we eventually wove with all of these different characters and worlds and they all started to entangle within one another. … It's different from something like The League, where you have these characters and they have this league, and you're just playing different versions of it and find new stuff. With my show, we just kept pushing and pushing new stuff out, and it just felt like the natural time to put it to bed and focus on new stuff.
SJM: One of the new things you're doing is a voice role for the Seth Rogen animated movie Sausage Party. You've done that before with the HBO series The Life & Times of Tim. Do you enjoy that type of work?
NK: Yeah, I love doing animated stuff. You can play anybody—it's not limited to what you look like or anything like that. You're in a booth, you don't have to get in makeup. You keep perfecting the process. You record, they'll animate it, they'll see how it looks, you go back in. Sometimes when you're doing live action, you get one shot at it and maybe you get to do some reshoots on one or two things. But really, if you get it the first time around, that's it. In animation, you can keep perfecting it and getting it down. That movie, Sausage Party, it's not gonna be like any animated movie. The only thing I can even come close to equating it to is Team America. You're used to animation being somewhat PG. I think this movie is as far in opposition to PG as you can imagine. It's really dirty and really funny and the cast is insane. Seth and Evan [Goldberg] and their whole crew are so funny and love to push the envelope.
Published (and copyrighted) in South Jersey Magazine, Volume 12, Issue 6 (September, 2015).
For more info on South Jersey Magazine, click here.
To subscribe to South Jersey Magazine, click here.
To advertise in South Jersey Magazine, click here.