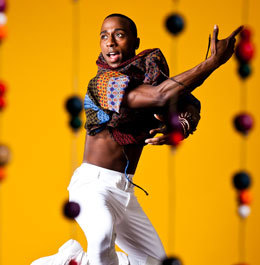 Center Stage
How one local man landed himself in the biggest Broadway show of all time.
The fact that LaMar Baylor didn't begin serious dance training until he was 15 years old makes his recent success all the more notable—especially in a field where serious students start training when they're barely of school age.
But the Camden native—an ensemble member of the Broadway cast of The Lion King—isn't one to brag. In fact, he almost didn't audition for the part, thinking he "would probably never get to Broadway," he remembers.
But today, the 29-year-old is a seasoned veteran of one of Broadway's most acclaimed, longest-running shows and most commercially successful ever.
"It is incredible to be part of it," Baylor says. "I feel like whenever I'm out on that stage, I have the potential to impact someone's life."
A 2008 graduate of the Creative Arts High School in Camden—Baylor was a member of the school's second graduating class—he got into dance somewhat by chance. Naturally athletic but not particularly interested in sports, his aunt, who was only a year older than Baylor and herself a dancer, suggested that he give it a try. Baylor began with tap dance, and took an immediate liking to the ease and rhythm. From there, he moved into modern and jazz dance.
Before long, Baylor was garnering a lot of attention for his natural dancing ability. Still, he didn't know for sure it was something he wanted to pursue—not initially, anyway. In fact, when he auditioned for the Creative Arts High School, it was for drama. He didn't make the cut, but was accepted as a sophomore—this time, as a dancer.
"I knew dance was the career for me after I saw a performance of Philadelphia Dance Company," Baylor says. "The strength of the men in the company, their technical abilities, various styles of dance, and the fact that they looked like me let me know that this was for me."
Angela Wright-Yelverton, a Camden special education teacher, was one of Baylor's first dance instructors in high school. Her relationship with him goes back even further; she worked with him when he was just out of eighth grade and taking part in a six-week summer dramatic arts program.
"He was very apprehensive and shy at that age, but the raw talent was there," Wright-Yelverton remembers. As Baylor progressed through high school, his dancing ability—and his discipline for the art form—flourished.
"Once his mind got focused, the raw talent took off," she says. "He had an internal desire that was very strong. The year he graduated, there were five male dancers in that class ... and LaMar was probably the most disciplined."
Baylor started teaching at a local dance studio, and after graduating, auditioned to be accepted at Philadelphia's University of the Arts.
"I wasn't sure at first if I wanted to be a drama major or dance major," Baylor, a natural onstage, says. Dance won out, and soon he was training more than eight hours each day. "High school had gotten me the basic level of training, but I had to play some catch-up once I got to the college level. Remember, I started later than a lot of the other dancers."
Needing to declare a major during his junior year of college, Baylor found himself torn between ballet, modern and jazz dance. He decided on jazz for practical reasons: "From everything I'd seen and heard, jazz dancers have the highest success rate of actually practicing their art as a career."
The training was hard, but totally worth it, Baylor says. "What I love most about dance is the ability to express myself with my body without saying any words; using my physicality to evoke emotions in another individual through movement."
During college, Baylor joined two Philadelphia-based dance troupes: Rebecca Davis Dance and the Eleone Dance Theatre. He worked as an assistant rehearsal director for both, and after graduation, was accepted into the prestigious Philadanco Dance Troupe, where he was a member for more than four years.
"I was dancing with Philadanco, and also working as an instructor there, and eventually I knew I wanted to further my career," Baylor says. The troupe's artistic director fully supported his aspirations to move beyond the local dance scene, but urged Baylor to stay on until he landed another job.
In the summer of 2012, he traveled to New York to try out for two parts: that of an ensemble member of The Lion King cast and for the touring cast of the Radio City Christmas show. He recalls the details with razor-sharp clarity: 82 male dancers tried out for The Lion King; the number was whittled down to 26 and then eventually only four were finalists—Baylor among them. For the Radio City show, 175 dancers tried out; that number was whittled down to 30. Then came the waiting game, which ended up being a "relatively short wait," as Baylor recalls. He got offered the Radio City touring gig first and leapt at the opportunity.
"I had it all figured out. The show would start in August in Chicago and then travel to Dallas and St. Louis," Baylor says. "After the run ended, I planned to move to Los Angeles in January and look for work out there."
But a few days later, he got another call. He'd landed a part in The Lion King. "I screamed and hollered I was so excited," he remembers. "It was a surreal experience." And one that changed Baylor's life quickly. He auditioned in June, landed the gig at the end of July and moved to Manhattan to begin rehearsals in August.
"One of my best friends at the time let me stay with him until I could get my bearings and find a place in this big city," he says. Baylor rehearsed for his ensemble part six hours a day, six days a week for four weeks straight. He also learned to sing for the role.
"It was intense, but I was ready," he says. "It was the opportunity of a lifetime." For the past three years, Baylor has taken to the stage of the Minskoff Theatre eight—and occasionally nine—times a week in his ensemble role, which has him changing costumes almost as often as the scenes change: he plays a zebra, a hyena, an ostrich, a wildebeest, a kite flyer, an African dancer and—as if for good measure—two pieces of grass.
"They keep me busy," he jokes. And while it might seem grueling to play the same part week after week, Baylor never fails to remember that he's performing for that "one person out in the audience who's coming to the theater for the first time."
"It can end up being their first or their last time, actually, depending on their experience," he says. "I want them coming back and seeing the arts again and loving them as much as I do. So, in that sense, I feel I have a responsibility to put my heart and soul into each performance."
Published (and copyrighted) in South Jersey Magazine, Volume 12, Issue 6 (September, 2015).
For more info on South Jersey Magazine, click here.
To subscribe to South Jersey Magazine, click here.
To advertise in South Jersey Magazine, click here.