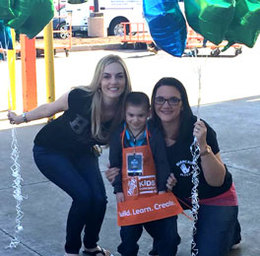 Making Wishes Come True
Bianca's Kids turns a tragic loss into hope for thousands of children in need.
Experiencing the sudden loss of a loved one can raise more questions than answers, leaving many to wonder how they can ever recover from such a tragedy. That was the question on the mind of Williamstown's Debbie Savigliano when she lost her niece in 2010.
Bianca Yodice was just 21 years old when she was struck and killed while crossing a busy highway in Edison on her way to work at a daycare center. Savigliano says Yodice had a passion for working with children and wanted to pursue it as a career after college. "She cared for all children and had a special interest in helping children with separation anxiety. She knew how to make them feel safe," Savigliano says.
Inspired by her niece's passion for children and motivated by her grief, Savigliano decided to take this sad event and turn it into something positive for others. "I wanted her name to be associated with something besides the accident, a way to celebrate the girl who loved kids," she says. Later that year, Savigliano joined with family members Vanessa Andricola and Gabriella Michael to found Bianca's Kids, an organization that grants wishes to children in South Jersey and beyond.
"In the beginning, we used our relationships with resource development offices to help children in need receive Christmas gifts, things they really wanted," says Savigliano. "The first year, we provided for 120 children; the second year it was 1,200. Eventually, it evolved from Christmas gifts to prom dresses, Easter baskets and granting wishes."
To date, Bianca's Kids has helped over 12,000 children in and around New Jersey. They have been recognized as a 2015 top-rated nonprofit by GreatNonprofits.org, which is based solely on user reviews.
No matter the size of the wish, Bianca's Kids does their best to grant it. "Every child wants something different," Savigliano says. "Sometimes it's as small as uniforms for school, or an iPad to keep them entertained during chemotherapy treatments."
All wishes are reviewed by Savigliano and the board of Bianca's Kids. "We look at every aspect of their need, their circumstances, the financial need," she says. "We don't wait for a child to be dying to grant a wish."
Wishes have included celebrity meet and greets, providing school supplies, bikes for kids battling cancer, and even a prom for a girl named Tiffany, for whom Bianca's Kids provided the dress, wig, makeup and transportation. Sadly, Tiffany passed a few weeks after having her wish granted.
One of the most impactful wishes granted by Bianca's Kids involved the family of 12-year-old Autumn Pasquale, who was murdered in 2012. Bianca's Kids assisted the family by helping to organize volunteers to search for Pasquale, raising money for the Autumn Pasquale Memorial Fund, providing all of the Christmas gifts on Pasquale's siblings' lists, and later sent A.J. Pasquale to spend a day at Eagles training camp and Natalie Pasquale to a Justin Bieber concert.
Savigliano says Anthony Pasquale, Autumn's father, and his children made a wish to Bianca's Kids to have the park Autumn frequented renamed in her memory. Bianca's Kids granted that wish and on the one-year anniversary of Autumn's death, conducted a dedication ceremony of the new Autumn Pasquale Memorial Park.
Bianca's Kids often relies on its hometown connections to support the wishes it receives. "We have vendors who have offered their services for free if a wish comes in that suits them," Savigliano says. "We have a gym vendor who has offered free cheerleading classes, and an auto body shop that will fix cars. ... It's great to have those connections because we know we can immediately grant those wishes."
Savigliano says the organization is always looking for vendor partners who can give their time or offer a service. "No matter who you are or what you do, there are ways to help. You could tutor for free, provide manicures for foster children going to prom," she says. "Everyone in this life has an opportunity to become someone's hero."
Bianca's Kids is a volunteer organization and receives no government grants. Board members make time for the organization in between raising families, working or going to school.
"We raise donations one dollar at a time all through private donations, and every dollar goes to the children," says Savigliano, a fact she publicizes on their website. "I want our supporters to feel confident in where their money is going. Through our website and Facebook page we're able to share the wishes we're granting so donors can see their donation dollars at work."
Savigliano doesn't think about how much money is being raised on a daily basis. "We don't set any minimum goals. We feel the numbers that matter are the number of lives we touch, the number of kids we can bring joy to," she says.
Now, the organization has an opportunity to reach a wider audience and share its mission. Recently, Bianca's Kids was offered its own 30-minute weekly talk show on RadioVisionNetwork.com. Episodes are available via streaming video or podcast. Savigliano says the talk show is a chance to tell the stories of the wishes Bianca's Kids has granted and how their lives have changed because of it. The first episode's guest was Anthony Pasquale. For an idea that came about over a single text message between family, Savigliano says she never would have dreamed Bianca's Kids would become what it is today.
"When you lose someone in the manner we lost Bianca—a vibrant, healthy 21-year-old who was just walking to work—your life changes," she says. "Few things can pull you from that abyss of grief. It would be easy to live an angry and painful life. She's never coming back and there is a hole in my heart, but with every wish we grant, that hole fills up a little bit, healing more and more. There is euphoria in creating hope for others, and I hope through our work we inspire others to find healing."
For more information about Bianca's Kids, visit BiancasKids.org or follow them on Facebook.
Published (and copyrighted) in South Jersey Magazine, Volume 12, Issue 6 (September, 2015).
For more info on South Jersey Magazine, click here.
To subscribe to South Jersey Magazine, click here.
To advertise in South Jersey Magazine, click here.