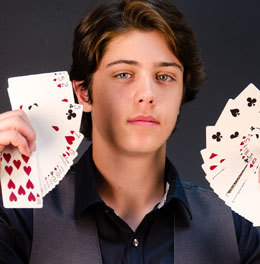 Southern Exposure
Go Figure
9: Ranking of Haddonfield Memorial High School in Niche.com's list of high schools with the best teachers in the state of New Jersey.
90: Number of retail stores at the recently-opened Gloucester Premium Outlets.
TWO: Age (or once they reach 30 pounds) that babies and toddlers are required to sit in a rear-facing car seat in New Jersey, due to a new law that goes into effect this month.
$442,639: Amount of a winning Jersey Cash 5 ticket sold at Shop & Go in Turnersville.
TWENTY-SEVEN: Percent of New Jersey residents still experiencing moderate to severe mental health distress three years after Superstorm Sandy, according to the recently released Sandy Child and Family Study.
$74,000,000: Cost of the recently completed 220 Rowan Building, part of the ongoing redevelopment of Rowan Boulevard, a project totaling $350 million
two-thirds: Amount of New Jersey residents who support automatic registration at the Motor Vehicle Commission or in-person early voting, according to Rutgers University's Eagleton Center for Public Interest Polling.
45: Percent drop of bicycle-related deaths in New Jersey from 1975 to 2012, according to the U.S. Centers for Disease Control and Prevention.
Hit or miss
A waitress at the Route 130 Diner in Delran paid the bill of two firefighters who had been battling a blaze in North Brunswick for 12 hours. The firefighters are now helping raise funds for the waitress' father, who is paralyzed, and gifted him with Phillies tickets.
Rowan College at Burlington County plans to move its main campus to Mount Laurel from its current Pemberton location.
Both Cherry Hill public high schools are getting artificial turf next year, due to joint efforts between the school board and the township. The fields will be used for football, lacrosse, soccer and field hockey.
Medford residents with a quarter of an acre of land or more are now allowed to raise female chickens in their backyard, according to an ordinance adopted by the township council.
A Gloucester Township woman had a unique request in her obituary: "In lieu of flowers, please do not vote for Hillary Clinton."
A 20-year-old Sicklerville man was arrested for allegedly growing marijuana plants in an abandoned backyard near the home he shares with his parents after neighbors complained, and police found photos of the plants on several of his social media accounts.
A Gloucester Township woman became ill after returning from a visit to West Africa, and was diagnosed with malaria—not Ebola.
Datebook
9/12 – 9/13
Experience the culinary offerings of Atlantic City at the 4th annual Atlantic City Seafood Festival, where you can sample seafood from more than 50 restaurants and culinary personalities. 11 a.m.-7 p.m. Saturday and 11 a.m.-6 p.m. Sunday, Bader Field, 600 Albany Ave., Atlantic City, ACSeafoodFest.com, free
9/27
Ring in fall—and its cooler temps—at the Fall Festival at JCC Camps at Medford. There will be hayrides, food, games, prizes, arts and crafts, among others. 11 a.m-3p.m., 400 Tuckerton Road, Medford, JCCCampsAtMedford.org, free
10/3
Walk for a cause at the 2015 Walk for Brain Injury Awareness, hosted by the Brain Injury Alliance of New Jersey (BIANJ). 9 a.m. registration, walk begins at 10 a.m., Cooper River Park, Pennsauken, BIANJ.org/walk.
Things You'll learn
Actor Jeff Daniels has embarked on a new career—playing music. Page 22
Comedian Nick Kroll spent four hours in a tub with NFL?player Antonio Gates shooting a scene for his show The League. Page 26
New Eagles running back DeMarco Murray's favorite class in college was Women's Studies. Page 46
Did You Hear?
"He's a friend of mine, but he missed his time."
—Businessman and Republican Presidential candidate Donald Trump on Gov. Chris Christie's presidential run.
Street Level
Burlington County: Evesham
An Evesham man was charged with theft for allegedly stealing his roommate's engagement ring worth $5,000 and selling it to a pawn shop for $110.
Camden County: Haddonfield
A semi-pro wrestler who allegedly robbed a Rite Aid and carjacked a priest in Haddonfield was arrested and charged with robbery, carjacking, aggravated assault and weapons offenses.
Gloucester County: East Greenwich Township
Two people were arrested and 29 hypodermic needles were confiscated after a street fight on the 500 block of Kings Highway, police say.
Voice & Vent
This month, on Page 52, we take a look at how our area public high schools shape up in various areas including testing scores and graduation rates. Share your opinion by visiting SouthJersey.com's Voice and Vent section and answering:
"Are you happy with the academic approach at your child's school?"
Click on "Submit" to make your vote count. Next month, we'll report back on what our readers are thinking.
Last month, we asked:
"Do you think a transformed waterfront would make Burlington City a destination for those across South Jersey?"
71% of you said "Yes"
29% of you said "No"
People: Magic Mitchell
Mitchell Rothstein (pictured)—or Magic Mitchell—discovered his love of magic via chance: on a fogged-in trip to Nantucket to be exact. It was love at first sleight (of hand, if you will), and he's been performing for crowds big and small ever since. The 16-year-old Haddonfield Memorial High School student sat down with South Jersey Magazine, sounding off on why he prefers sleight of hand over big-ticket tricks and an upcoming appearance on the National Geographic Channel.
Tell me a bit about how you got into magic.
I was in Nantucket, and we were fogged in, and I asked my dad, 'Will you teach me a magic trick, so I can do one for my friends?' He taught me a trick, and I was practicing it. ... Then he told me a place where I can find any magic trick in the world—the library. So I checked out like 15 magic books from the Nantucket library, and it took off from there.
Tell me about the type of magic you do.
My specialty is close up, sleight of hand, where everything is right in front of your face. I don't like to do big stage tricks. I have smaller tricks with still big effects. … I don't use any trick decks or anything like that, so it's all sleight of hand. That's kind of my forte.
Tell me about your upcoming appearance on the National Geographic Channel.
I'll be on a show where I'm showing how to get out of the straightjacket, something I've been doing since I was 9 or 10 years old. I'll be explaining why my method is the best of the other methods. It will air sometime in the fall or winter.
Names to Know
Local people making a difference in South Jersey and beyond
Elizabeth Culver
A lifelong dog lover, Culver created an off-leash dog park in her hometown of Clayton by gaining town approval, fundraising and designing the park, which served as her Girl Scout Gold Award Project, the most prestigious achievement in the Girl Scouts. The park opened last month. Culver, who will attend Widener University to study mechanical engineering in the fall, has been involved in Girl Scouts for 12 years.
Mary Byatt
A fifth-grade teacher at Birches Elementary School and 22-year veteran of the Washington Township Public Schools, Byatt was named the 2014-15 New Jersey Elementary Social Studies Teacher of the Year by the New Jersey Council for the Social Studies. In past years, she was named New Jersey History Teacher of the Year, Gloucester County Teacher of the Year and received the Christa McAuliffe Reach for the Stars Award.
Kennedy Hubbard
Hubbard, a Moorestown native, was born with a rare condition called Lymphatic Malformation. As a result, she was unable to play sports, except volleyball, which she was able to play all four years of high school. To raise awareness about LM, for which there is no cure and limited treatment options, Hubbard formed the nonprofit Kennedy's Cause. Hubbard, 18, will attend Stockton University in the fall and will play volleyball.
Timothy Farrow, Esq.
Collingswood resident Farrow was recently named board chair of the Rutgers University Alumni Association. Farrow, a criminal defense attorney, is co-founder of the Moorestown-based law firm Dash Farrow, LLP. At the helm of the board, he will strive to keep alumni engaged with the university.
Julie Lyons and Christopher Spina
Lyons and Spina, both Washington Township Public School teachers, were recently invited to attend the South Jersey Summer Institute for Educators facilitated through the Chamber of Commerce of Southern New Jersey and other local companies. Lyons, a science teacher at Bunker Hill Middle School, and Spina, a social studies teacher at Orchard Valley Middle School, were two of only 15 educators invited to attend.
Maggie McIntyre
McIntyre, a senior at Gloucester Catholic High School, recently made a verbal commitment to continue her basketball career at Niagara University, a Division I program in New York. The Mantua resident received a full scholarship to play for the Purple Eagles, who compete in the Metro Atlantic Athletic Conference. McIntyre should hit the 1,000-point milestone for her career this winter.
Published (and copyrighted) in South Jersey Magazine, Volume 12, Issue 6 (September, 2015).
For more info on South Jersey Magazine, click here.
To subscribe to South Jersey Magazine, click here.
To advertise in South Jersey Magazine, click here.