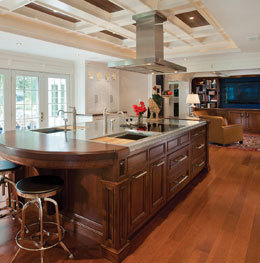 Best of Home & Garden 2015
Owning a home is one of life's proudest accomplishments. It's where we raise families and make memories, but keeping up with the responsibilities of home ownership can also be a challenge.
Fortunately, our area is filled with seasoned professionals who can handle any task. We asked our readers to nominate and vote on SouthJersey.com for the home and garden companies that have proven to be reliable providers time and again. No matter if you're renovating a kitchen or bathroom, adding a deck, redecorating the living room or installing a new roof, this comprehensive list will provide you with the names you need to know for your next project to make your house feel even more like home.
APPLIANCES
ABC Discount Appliances
Pennsauken
(856) 665-0711
ABCDiscountAppliance.com
The Original Lakes Appliance & TV
Mount Holly
Medford
(609) 265-8888
TheOriginalLakesAppliance.com
BASEMENT WATERPROOFING
South Jersey Waterproofing
Serving South Jersey
(856) 275-4823
SouthJerseyWaterproofing.com
Affordable Waterproofing
Serving South Jersey
(856) 461-1500
AffordableWaterproof¬ingLLC.com
BATHS & BATHROOM REMODELING
Bathfitter
Serving South Jersey
(800) 594-8776
BathFitter.com
Bradley J. Winkler
Serving South Jersey
(856) 637-7077
BradleyWinkler.com
C&S Kitchen & Bath
Mount Laurel
(856) 222-0855
CAndSKitchen.com
JT Joseph Construction
Marlton
(888) 694-5808
JTJoseph.com
StoneShop
Cherry Hill
(856) 428-2424
StoneShop.com
BUILDERS
Addison Quinn Development
Haddonfield
(609) 961- 1273
AddisonQuinnDevelopment.com
Amiano and Son Construction
Tabernacle
(609) 268-5923
AmianoAndSon.com
Bob Meyer Communities
Medford
(609) 654-4030
BobMeyer.com
Canton Custom Homes
Moorestown
(856) 235-7582
CantonCustomHomes.com
Cipriani Remodeling Solutions
Woodbury
(856) 853-8398
CiprianiRemodelingSolutions.com
R Craig Lord Construction
Moorestown
(856) 235-4237
RCraigLord.com
Ryan Homes
Somerdale
(856) 346-0680
RyanHomes.com
CARPET CLEANING
AllBrite Carpet Cleaning
Serving South Jersey
(856) 783-3637
MyAllBriteFloors.com
DECK/WOOD RESTORATION
Deck Restoration Plus
Serving South Jersey
(609) 268-3436
DeckRestorationPlus.com
ELECTRICIANS
Arden Electrical Solutions
Berlin
(856) 767-2800
ArdenElectric.com
Bradshaw Electric Inc.
Palmyra
(856) 829-6142
BradshawElectric.com
Colosimo Electric
Serving South Jersey
(856) 829-0309
David M. Riebel Electrical Contractor
Mantua
(856) 464-2540
RiebelElectric.com
FENCING
Amechi Fence Company
Marlton
(856) 988-8118
AmechiFenceCo.com
FenceMax
Serving South Jersey
(856) 845-5570
FenceMaxNJ.com
FIREPLACES
Rettinger Fireplace Systems Inc.
Voorhees
(856) 783-5501
RettingerFireplace.com
The Fireplace People
West Berlin
(856) 768-0009
TheFireplacePeople.com
FLOORING & CARPET
A&J Carpet
Sewell
(856) 227-1753
AJCarpet.com
Dynamic Carpet, Tile, Flooring and Design Center
Medford
(609) 654-0500
DynamicFlooringSJ.com
Family Carpets
Mount Laurel
(856) 596-3355
Family-Carpets.com
Quality Carpets Inc.
Glassboro
(856) 881-6911
QualityCarpetsInc.com
Tortu's Tile & Flooring
West Berlin
(856) 753-1140
TortusTileAndFlooring.com
GARAGE DOORS
Hunter Door
Serving South Jersey
(856) 482-2325
HunterDoor.com
Merchantville Overhead Door
Camden
(856) 338-1314
MerchantvilleOverheadDoor.com
Lomonaco's Iron Concepts
Sewell
(866) 798-6249
LICRailSupplies.com
GARDEN CENTER
Bloomer's Garden Center
Sewell
(856) 589-0200
Bloomers.com
Dambly's Garden Center
Berlin
(856) 767-6883
DamblysGardenCenter.com
Green Lea Garden Center & Patio Furniture
Voorhees
(856) 767-4413
GreenLeaGardens.com
Mr. Green Jeans Garden Center
Hammonton
(609) 567-5786
MrGreenJeansNJ.com
Platt's Farm Market
Clarksboro
(856) 423-7995
GUTTER SERVICES
Gutter Helmet
Serving South Jersey
(877) 281-7233
HarryHelmet.com
Gutter Guys
Moorestown
(800) 488-8371
TheGutterGuys.com
HARDSCAPE PRODUCTS
Brida Stone
Glassboro
(856) 881-1700
BridaStone.net
HVAC CONTRACTOR
Hutchinson Plumbing Heating Cooling
Serving South Jersey
(856) 429-5807
HutchBiz.com
Fante's Plumbing Heating & Air Inc.
Willingboro
(609) 835-1512
Fantes.RheemTeam.net
Sal Rosado Heating and Air Conditioning
Atco
(856) 767-9172
TJ Eckhardt
Berlin
(856) 767-4111
TJEckhardt.com
HOME REMODELING
JPM Carpentry & General Contracting
West Berlin
(856) 924-3417
JPMCarpentryAndGeneralContracting.com
Archer Exteriors
Pittsgrove
(856) 636-7000
ArcherExteriors.com
Under Construction Builders
Gibbsboro
(856) 354-0831
UCBuildersNJ.com
Cambridge Exteriors
Berlin
(856) 988-3880
CambridgeExteriors.com
INTERIOR DESIGN/ WINDOW TREATMENTS
Bella Home Interiors
Sewell
(856) 468-4400
BellaHomeInteriors.com
Pasquarello Interiors
Stratford
(856) 784-2864
PasquarelloInteriors.com
INTERIOR FURNISHINGS
Ethan Allen
Maple Shade
(856) 667-7333
EthanAllen.com
Unique Interiors
Cherry Hill
(856) 665-1911
UniqueInteriors.com
KITCHEN & BATH FIXTURES
Ace Plumbing, Heating and Lighting Design Center
Vineland
(856) 692-9374
TeamAce.com
Ferguson Bath, Kitchen & Lighting
Cherry Hill
(856) 489-5620
Ferguson.com
Weinstein's Bath and Kitchen Showroom
Collingswood
(856) 833-1576
WeinsteinSupply.com
KITCHEN CABINETS
Buzzetta's Kitchen Gallery
Cherry Hill
(856) 489-9797
BuzzettasKitchens.com
Cabinet Gallery
Medford
(609) 654-7555
CabinetGallery.com
Cabinets N' More
Blackwood
(856) 401-8177
CNMKitchens.com
Main Street Cabinet Co.
Moorestown
(856) 234-3400
MainStreetCabinet.com
Matteo Kitchens & Flooring Inc.
Woodstown
(856) 769-2490
MatteoKitchens.com
LANDSCAPING/HARDSCAPING
A&M Landscape Management
Serving South Jersey
(856) 264-1663
AandMLandscaping.com
Branco Hardscaping LLC
Franklinville
(856) 697-6800 BrancoHardscaping.com
Creative Pavers Inc.
Paulsboro
(856) 848-7400
CreativePaversInc.com
Eaise Design and Landscaping
Serving South Jersey
(856) 428-7769 Eaise.com
Elite Landscaping
Serving South Jersey
(856) 753-1944
EliteLandscaping.com
Eric's Nursery and Garden Center
Mount Laurel
(856) 231-0444
EricsNursery.com
Gill's Landscaping Inc.
Serving South Jersey
(856) 223-9770
GillsLandscaping.com
Young's Landscape Management Inc.
Serving South Jersey
(609) 654-5441
(856) 303-2828 YoungsLandscape.com
LIGHTING (INDOOR/OUTDOOR)
Billows Electric Supply
Serving South Jersey
(856) 767-4490
Billows.com
Genie Lighting
Medford
(609) 654-8303
GenieLighting.com
MARBLE & GRANITE & TILE
Colonial Marble & Granite
Serving South Jersey
(610) 994-2222
ColonialMarble.com
KOL Marble and Granite Cherry Hill
(856) 857-1430
KOLGranite.com
OUTDOOR EQUIPMENT
Eckert's Service Center and Outdoor Power Equipment
Southampton
(609) 859-2009
PAINTING CONTRACTORS
Ahern Painting
Serving South Jersey
(856) 665-1131
AhernPaintingNJ.com
Iannacone Painting
Washington Township
(856) 256-7900
Repairs and Paints
Marlton
(856) 912-1614
RepairsAndPaints.com
TJ's Painting Company
Serving South Jersey
(856) 912-2594
TJsPaintingCompany.com
PAVING CONTRACTORS
W.J. Wallace
Delanco
(856) 461-4343
WJWallacePaving.com
PEST CONTROL
Viking Pest Control
Audubon
(856) 323-9020
VikingPest.com
AB-Con Termite Specialist
Serving South Jersey
(609) 267-0560
ABCon1.com
PLUMBING CONTRACTORS
Filan and Conner Plumbing & HVAC Contractor
West Berlin
(856) 667-3334
PlumberHVAC.com
Joe Hitchens Plumbing
Cinnaminson
(856) 829-7806
JoeHitchensPlumbing.com
POOLS/SPAS
Budd's Pools & Spas
(856) 845-9000
BuddsPools.com
Carlton Pools
Serving South Jersey
(215) 674-8185
CarltonPools.com
Del Val Pools
Serving South Jersey
(856) 629-2999
DelValPoolsAndSpas.com
The Pool Store
Sewell
(856) 286-3300
(856) 728-2010
West Berlin
(856) 767-8900
ThePoolStore.com
Swim-Mor Pools and Spas
Serving South Jersey
(856) 456-3332
SwimMor.com
ROOFING/SIDING
Breen Roofing
Sewell
(856) 228-0444
Fletcher Brothers Roofing and Siding
Pennsauken
(856) 667-3933
FletcherRoofing.com
M. Rosenblatt Roofing
Serving South Jersey
(856) 751-8656
Since1929.com
Only the Best Builder
Medford
(609) 389-9003
OnlyTheBestBuilder.com
TREE SERVICE
Hyperion Tree Service
Serving South Jersey
(856) 866-8600
HyperionTree.com
Stanch's Tree Service
Sewell
(856) 589-1335
StanchTree.com
TRIMWORK/MOLDING
Home Trimwork (ICS Inc.)
Serving South Jersey
(609) 206-8621
HomeTrimwork.com
WINDOWS & DOORS
Castle Windows
Mount Laurel
(800) 360-4400
CastleWindows.com
Champion Windows
Serving South Jersey
(856) 324-1441
GetChampion.com/Philadelphia
Global Home Improvement
Serving South Jersey
(877) 711-9850
GlobalHomeInc.com
EXPERT ADVICE: 5 trends in bathroom remodeling
1. Ditch the tub. Homeowners are ditching the bathtub and opting for a spacious shower instead. One bathtub in the home is enough for children and re-sale value, but in master bathrooms, homeowners are almost always choosing to have a large shower.
2. Gray tones. The traditional beige bathroom is on its way out as homeowners are looking for a cool, crisp color palette in gray tones. "Greige" is another trending color being requested to create a warm space.
3. Marble. This stone is in high demand thanks to its soft, sweeping veins and timeless appeal. Carrara or Calacata marble are two popular types that fit in with the gray color trend. The vast majority of clients are interested in marble these days, and who wouldn't be?
4. Natural light. Homeowners want bathrooms to be light and bright, letting natural light in and selecting tiles on the pale side with a dark floor or vice versa.
5. Blue and white. The combination of blue and white has emerged in popularity, especially in Shore homes. The blue creates a refreshing pop of color on the bright and airy white.
—Linda Stelmaszyk, Owner/President, Stoneshop
EXPERT ADVICE: 5 tips for a greener lawn
1. Have a soil test done to determine the nutrient content and the pH of your soil. This allows for a custom treatment program rather than a blanket/standard application of lime, nitrogen and other nutrients. More people are following this direction as they become more aware of offsite runoff and its effects on our fresh water supplies.
2. Treat pests (weeds, fungus and insects) only if they cross the aesthetic and plant health thresholds.
3. Water at the correct time of day. Leaving a lawn saturated overnight only adds to disease problems.
4. Mow at a height that is healthy for your type of lawn turf. Cutting too low or removing a large portion of the grass blade are cultural practices which will harm your lawn.
5. Aerate, thatch and seed as needed. For a thick, healthy lawn, some type of seeding is required to fill in those bare spots caused by pest damage or shade. Without a healthy stand of turf, the weeds will fill in those areas.
—Joe Ehrenreich, CLP, General Manager, Young's Landscape Management
EXPERT ADVICE: 5 trends in kitchen countertops
1. Leathered finishes. This adds texture to a stone countertop, closing the pores and retaining the color, resulting in a softer, less reflective surface than polished stone.
2. Quartzite. A durable, natural stone, quartzite is a popular style today. It's harder than granite and generally found in white and gray.
3. Quartz. Not to be confused with quartzite, quartz is a man-made product that is less prone to chipping than natural stone and comes in a wider range of colors.
4. Cultured Marble. This option blends natural stone materials with man-made materials which can be molded into a one-piece vanity top. It's a cost-effective alternative.
5. Beveled Edge. For hard surfaces in your kitchen or bathroom, a beveled edge adds detail and customization to complete the look.
—Ron Buzzetta, President, R. Buzzetta Builders and Buzzetta's Kitchen Gallery
EXPERT ADVICE: 5 reasons why a pool is a good investment
1. When you build a pool, you're actually creating a fun and relaxing space for your children and family to spend time together without ever leaving the backyard. You'll make lasting memories as you teach your kids to swim, play with them in the pool and barbecue by the water.
2. A well-designed swimming pool isn't just a bunch of water. It can turn your backyard into an elegant outdoor oasis. With waterfalls, vanishing edges and other unique amenities, a pool can serve as a relaxing and inviting centerpiece in your own backyard. 3. The health benefits alone are worth owning a pool. Swimming works your entire body with low risk of injury. You get the benefits of im¬proving your cardiovascular system, increas¬ing your muscle strength and improving your flexibility all at the same time.
4. Your happiness is just as important as your health. In fact, studies have shown that if you are happy and satisfied with your life, you are more likely to be healthy in the future. Health and happiness truly go hand in hand.
5. Save Some Money. A pool is easier to finance and maintain than most people think. And in the long run, pools are less expensive than big family vacations and other entertainment options and they last longer. Building a pool is a great investment that will reap rewards for a lifetime.
—Michael P. McCool Jr., General Manager, Swim-Mor Pools And Spas
EXPERT ADVICE: 5 reasons why Energy Star-certified windows and doors are the right choice
1. Save money on energy bills. Save about a third on your energy bills by replacing windows and doors with double- or triple-pane windows, with a Low-E coating, Argon or Krypton gas, and energy-efficient spacer systems.
2. Increase home value. According to a recent report, the average consumer recoups up to 72.9 percent of their investment on replacing windows with energy-efficient vinyl options.
3. Enjoy enhanced comfort and style. No more painting and staining. With vinyl replacement windows, an exterior PVC-coated aluminum wrap covers the wood, making it easy to clean and maintain the look.
4. Help protect the environment. Reducing your utility bills with new replacement windows also helps protect the environment and reduces your carbon footprint. Since 1992, families and businesses have saved over $300 billion on utility bills and prevented more than 2.5 billion metric tons of greenhouse gas emissions [by replacing their windows].
5. Update your home's entrance. An old entry door may let in more cold air than three windows. With all the different color, glass and style options a new entry door adds a great look to your home. The homeowner can recoup up to 72 percent of their investment, according to the 2015 national average.
—Tony Cardillo, General Sales Manager, Castle Windows
Published (and copyrighted) in South Jersey Magazine, Volume 12, Issue 6 (September, 2015).
For more info on South Jersey Magazine, click here.
To subscribe to South Jersey Magazine, click here.
To advertise in South Jersey Magazine, click here.