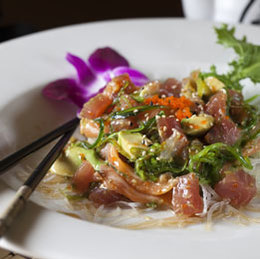 Side Dish
Quick Bite: Treasure Island
Umi Sushi
Somerdale
Guard your treasure—this plate is one you won't want to share. White fish, fresh tuna and salmon get diced into nibble-sized cubes and marinated in sonomono sauce, then tossed with fresh lemon, seaweed and chopped avocado. Each bite practically melts in your mouth, and the fatty, acidic and salty flavors are hard to forget.
Key Ingredient: Pears
Summer isn't completely over, so save your apples for next season. We're sticking with pears—a milder, brighter flavor that keeps us feeling the spirit of the season. Check out these pear dishes and drinks for some inspiration.
Grilled Pear Salad
Scaturro's, Marlton
Pear Tree Martini
Caffe Aldo Lamberti, Cherry Hill
Summer Flatbread with Bleu Cheese, Caramelized Onion and Pear
The Red Hen, Swedesboro
Lunch Under $15: Stokes Road in Medford
Looking for a quick lunch escape that won't eat up your bank account? Take a drive down Medford's Stokes Road. There's more than enough variety to break up your day and leave you feeling satisfied and ready to tackle the afternoon shift.
?Chicken Delight
Looking for something light? Try this salad topped with grilled, marinated chicken, crumbles of cottage cheese and chunks of fruit, all drizzled with pineapple dressing. $8.95 at L. B. Daniels, 640 Stokes Road
? Filet Mignon Sandwich
Your typical steak sandwich gets taken to the next level with two slices of tender filet mignon, pepper crusted and served on a toasted garlic roll and served with chips. $14.99 at Ott's, 656 Stokes Road
? Sushi Lunch Box
Take your pick between sushi or sashimi, which gets paired up in a lunch box complete with miso soup, fresh salad, an additional California roll and your choice of gyoza or shumai. $10.95 at Kanamizu, 560 Stokes Road
? Primavera Pizza
Looking for a Meatless Monday option? This 14-inch brick oven pizza comes complete with eggplant, zucchini, artichoke hearts and fresh diced tomatoes, all roasted with mozzarella and served piping hot. $10 at Femmina Italian Grill, 408 Stokes Road
? Grilled Cheese
This sandwich gets a grown-up makeover thanks to the additions of sharp gruyere and chevre—or goat cheese. The ooey, gooey cheeses are nestled between roasted tomato and Dijon mustard, and you can add Applewood smoked bacon or avocado for some added protein. $7 at Zinc Café, 679 Stokes Rd. —Brianna Howarth
Fast Food
Riverton's BYOB District Riverton Bistro—the formerly short-lived District 611 which was taken over by restaurateur Ken Merriman two years ago—has closed its doors.
Cherry Hill seafood restaurant Blue2O Seafood Grill + Bar has also closed, and is offering patrons an opportunity to redeem unused gift cards on their website.
Brewer Eli Facchinei—who helped spark interest in a brewery in Collingswood earlier this year—has begun work on his Oaklyn microbrewery. Tonewood Brewing is expected to open its doors in May 2016.
Iconic Philadelphia bakery Amoroso's Baking Company has announced plans to close their city location and re-open in Bellmawr, teaming up with Ginsburg Bakery Inc.—originally out of Atlantic City—on a new company called 151 Foods. The partnership was obtained with the help of $20.7 million in Grow New Jersey tax incentives over the next 10 years.
Sabrina's Café—the formerly all Philadelphia-based diner—has announced that they will move their business headquarters down the street from their future location in Collingswood. The headquarters will open up at The Factory on Fern Avenue.
Iron Hill Maple Shade has named Josh Ervine as their new head brewer. Ervine previously served as head brewer at Philadelphia Brewing Company and Yards Brewing Company.
Extra Plate: Bricco Bricco may be new to Haddon Township, but it's already making a name for itself. It's a small space, but there's plenty of room for a crowd, with booths lining the walls and tables constantly full of BYOB diners. You're instantly greeted by the coal fired oven when you walk in, a bustling, glass-enclosed space where cooks are throwing pizzas and watching the flames. Other attendants, meanwhile, are constantly watching the oven itself, rushing back and forth with pallets of aged pizza dough or more wood to keep it at 1,000 degrees throughout the evening.
It's a lot of work for a simple pizza pie, but the results are worth it. These flash-baked pies come out crispy on the outside, soft on the inside, with a truly addicting crust that highlights the kitchen's hard work. Classic pies come with a variety of hearty toppings like the Rabe, which gets dressed with—you guessed it—broccoli rabe, garlic and sweet Italian sausage and finished with smoked mozzarella. It's a garlic-lover's dream, with so much fresh flavor from the broccoli rabe and a burst of salty flavor from the crumbled sausage. Meanwhile, the Tratto pie piles Parma ham, eggplant, oven-dried tomatoes and more smoked mozzarella together for a more rustic—but equally as appealing—pie.
But there's more than just quality artisan pizzas here. It's a crime to overlook their coal-fired chicken wings. Ten perfectly portioned wings get tossed in rosemary and olive oil, seasoned with salt and pepper and roasted with sliced sweet onions. They're meaty and smoky, and the onions are good enough to eat on their own. Salads are a meal in themselves, like the Market variety which mixes al dente orzo with Bibb lettuce, sliced chicken breast, oven-dried tomatoes, mozzarella and roasted peppers before tossing everything with white balsamic vinaigrette made in-house. Portions are big enough for sharing pre-pizza or digging into as an entrée and stand out as an extra reason to stop into this up-and-coming Westmont hot spot.
Published (and copyrighted) in South Jersey Magazine, Volume 12, Issue 6 (September, 2015).
For more info on South Jersey Magazine, click here.
To subscribe to South Jersey Magazine, click here.
To advertise in South Jersey Magazine, click here.