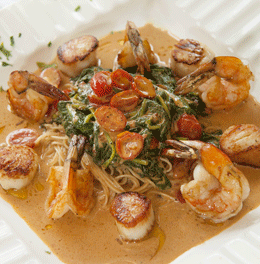 An Eye on Tradition: Mannino's Cucina Italiana
…A Dining Review from the pages of South Jersey Magazine…
An Eye on Tradition: Mannino's Cucina Italiana
126 S. Broadway Ave.
Pitman
(856) 270-2352
3 forks
People love Italian cuisine. It has remained at the forefront of South Jersey dining for decades and doesn't look to be going anywhere any time soon. So while the opening of a new Italian restaurant in the area every few months never surprises us, it does leave us anxious, excited and, of course, hungry.
Located at the space of the former Barcelona Bistro, the redesigned dining room is built for a crowd, with more than enough tables and plenty of space to seat larger and smaller parties comfortably. Since opening this past winter, Mannino's has worked to bring in a crowd off Pitman's quaint main drag, with an Italian menu focused on familiar dishes most people know by name.
Like the appetizers, which list the always-popular mussels in red and white sauce, eggplant rollatinis and, of course, calamari, amongst other dishes you've certainly tried before. The starters do steer slightly from tradition, however with their jumbo shrimp Diavolino, which get filleted, breaded and fried before being tossed in Buffalo sauce and served with blue cheese and gorgonzola dressing. The crispy, Buffalo breading was a great touch, though the deep fryer overcooked the shrimp and left them fairly chewy.
An appetizer of salsiccia roasted peppers a'rosto was a nice take on sausage and peppers. Sweet fennel sausage was sautéed, sliced and tossed with roasted red peppers, caramelized onions and garlic, and San Marzano pomodoro sauce, then topped with fresh basil. The sausage had tons of flavor, with a nice anise note from the fennel, and really stood out amongst the sautéed vegetables. Meanwhile, the roasted red peppers and pomodoro sauce added a nice touch of extra sweetness and the basil burst with freshness without being too overpowering.
The restaurant's signature dish is the Merryman, a plate of pasta loaded with jumbo shrimp and scallops tossed with burst grape tomatoes, spinach and a house-made brandy rose sauce. The signature sauce was creamy, flavorful and still packed a light punch from the brandy, but the seafood would have benefited from a hit of salt or seasoning to truly elevate the plate even further.
Rigatoni Bolognese was prepared classically, and the beef ragu was brought to life by a touch of red wine. It was that extra touch that took this dish from being just another Bolognese to one that was hard to stop eating, and the perfectly cooked rigatoni and chunks of ground beef were almost a side dish to the red sauce they were swimming in.
Chicken Francese was one of several classic chicken or veal options available, as was the standard cacciatore, parmigiana and piccata varieties. A cut of Francese chicken was deep fried and then sautéed with lemon, white wine and butter, and tossed with sundried tomatoes and crimini mushrooms. I would have liked to taste a bit more lemon, as the butter was the star of this preparation, but it was an overall appealing plate. The chicken was cooked perfectly, as were the mushrooms, and the sundried tomatoes were a thoughtful addition that added their own special touch to each bite.
Desserts are prepared out-of-shop and also in-house, and our pleasant and energetic waitress steered us straight towards the apple tart with gelato. The tart is a homemade creation, with a soft and chewy dough piled high with cinnamon sugar apples and served alongside an equally appealing cinnamon gelato. It was different from most flaky, pie-style tarts you'll find anywhere else, and was a nice end that didn't overpower.
There's nothing wrong with classic Italian eating: It's familiar, warm and inviting when done truly right. I experienced a taste of that warmth in some of Mannino's plates, and certainly in the service and dining room, but to really shine as something special in South Jersey, Mannino's will have to continue to evolve so that it may get all the attention it deserves.
Published (and copyrighted) in South Jersey Magazine, Volume 12, Issue 5 (August, 2015).
For more info on South Jersey Magazine, click here.
To subscribe to South Jersey Magazine, click here.
To advertise in South Jersey Magazine, click here.