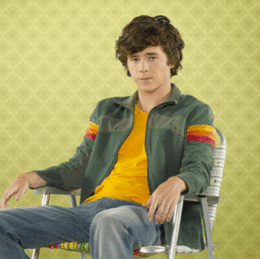 Leading Man
Currently starring in ABC's The Middle, West Chester native Charlie McDermott reaps the rewards of his work on both sides of the camera.
While he's best-known for his role playing Axl Heck, the eldest son on ABC's The Middle, Charlie McDermott actually began his career on the big screen. As a 14-year-old with a passion for filmmaking, McDermott went to a casting call he read about in the local paper and wound up with a role in M. Night Shyamalan's 2004 hit, The Village. Since then he's had other big-screen roles, including one in Hot Tub Time Machine and another in Frozen River, an indie film that netted two Academy Award nominations.
But it's been the role of Axl—the rowdy, often clueless student—upon which the 25-year-old West Chester native has truly built his fame. We recently caught up with McDermott while on a break from filming. He talked about his role on The Middle, directing and his love for the Jersey Shore.
Do you consider The Village your big break into an acting career?
Absolutely. It's actually the first thing I ever did. M. Night Shyamalan had become an idol for me and was the only person I knew that was doing big work in Philadelphia. I really looked up to him. When I saw there was an open casting call, I went, mostly just trying to see him but never actually believing I'd be cast. But I ended up being cast as an extra. Then I got asked to read lines and ended up with a speaking role. From there I feel like things took off. I got an agent and a manager and moved to New York City for a couple years before eventually moving out to California.
Did you always know you wanted to be an actor?
I started making short movies with my friends when I was younger, and in seventh grade I substituted a paper with a short video project I'd made. I was surprised how receptive the teacher was to it at the time.
You wrote, directed and starred in the film ImagiGARY and did a lot of the filming in our area. Do you get back here often?
That's right; we shot that film in West Chester, and it's currently still in post-production. The last six years I've been able to get home every summer, but it's getting to be less and less. I have a lot of fond memories of the area. Growing up, I loved going to Phillies games. And when I'm home I still have to stop into Wawa; it's just one of a kind.
You've been known to vacation at the Jersey Shore. Did you have a chance to visit yet this summer?
I'm actually in Cape May [now] sitting on a porch watching the moon over the ocean. I've been spending my summers here every year since I was born. I have many fond memories, mostly spending time with my cousins. The whole family gets together for a couple of weeks and heads down. We've stayed in many towns over the years: Avalon, Sea Isle, Cape May, Wildwood. My only experiences in South Jersey are on the beaches. I look forward to them every year.
You're obviously well known for your current role, playing Axl Heck on The Middle.
He's kind of a crazy character. Do you relate to him at all? Not really. He's a fun guy, but he can also be a total jerk—and he gets away with it. That's fun when you're acting, but honestly he's the kind of guy I probably would have hated in school. But it's been a lot of fun to play him for the last six years. It's nice when you enjoy going to work every day.
What would you say is next for you?
I would definitely love to do more film work and someday hope to do more work behind the camera.
Published (and copyrighted) in South Jersey Magazine, Volume 12, Issue 5 (August, 2015).
For more info on South Jersey Magazine, click here.
To subscribe to South Jersey Magazine, click here.
To advertise in South Jersey Magazine, click here.