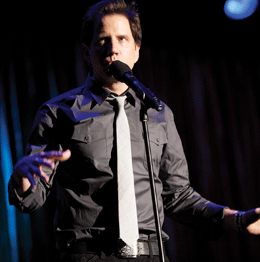 Pure Comedy
Area native Jamie Kennedy speaks on coming back home, the different levels of fame and getting into trouble at the Shore.
It is said that actor and comedian Jamie Kennedy grew up in the Philadelphia area, but that's not entirely accurate. In fact, Kennedy, who kicked off this summer by celebrating his 45th birthday, will tell you himself that he's still not acting his age. In many ways, he's the same kid who used to root for the Phillies at Veterans Stadium, get into trouble at the Jersey Shore every summer and dream of a life in Hollywood.
"I'm in my 40s, but I've never grown up," Kennedy admits with a laugh. "I'm a man-child, that's my persona."
It's been almost 20 years since Kennedy started cultivating that image in front of a national audience with a memorable supporting role in the hit film Scream. He's worked steadily in show business ever since, appearing alongside heavy hitters like George Clooney, Will Smith and Vin Diesel on film; hosting his own comedic television show for three years on The WB; creating and producing the well-regarded documentary Heckler; and touring the country as a stand-up comedian.
His current stand-up tour hits his hometown from Aug. 6-9 for six shows at Helium Comedy Club. We spoke to Kennedy about performing for the hometown crowd, his favorite spots in the city, his Shore memories and found out why a normal night out at Olive Garden doesn't always end well.
SOUTH JERSEY MAGAZINE: Do you always make sure to put Philly on the schedule when you're touring?
JAMIE KENNEDY: I've never played this room before. I've played other places, like the Trocadero. I go to Philly every few months to see my parents, but I've never played this room, so I'm excited.
SJM: Do you still have a lot of family and friends in the area? Will you get to see a lot of people when you're here?
JK: I'll get to see some, yeah. I have a good amount of people that I grew up with that I'll see.
SJM: You're the youngest of six children in your family—did you enjoy growing up in a big family?
JK: Yep, I'm the last one, the runt. It was kind of hard because you're the last one to get the food, the last one to get the shower. It's a lot of lasts. I think that's why I became an actor, so I could get some hot water.
SJM: Does your act change at all when you're here? Do you incorporate local references that wouldn't play in other parts of the country?
JK: I don't know, we'll see. I guess there are certain things I know about the city that I can definitely comment on. I have that advantage.
SJM: What else can people expect from your stand-up set?
JK: I wouldn't say I'm dirty, but I'm definitely an adult show. I like to push buttons. … Don't go there expecting to go to church. Come to laugh and have a good time.
SJM: You have a lot going on with television and movies, but do you still enjoy the energy from a live audience?
JK: Yeah. I'm working on my new [one-hour special], and I'm excited because I think I just about have it. Doing a real show, a live show, is always the best barometer to tell you if something is good or not. If it bombs, the audience will tell you. So I do like it, but it does get a little tiring. I'm starting a new show for NBC called Heartbreaker; it's a medical drama. And I'm also touring, so I get a little tired.
SJM: Of course you addressed the issues of performing live in 2007 with your documentary Heckler. Have you ever thought about updating that for the Twitter age?
JK: You know, I thought about it, but it's a lot of work. People really loved that movie, but it wasn't a huge moneymaker. But I think it will stand the test of time. I tried to interview Phil Jackson for the movie and he told me no, but he told me why—and I think it's a smart philosophy. He said, "If you make a movie about hecklers and haters … you're shining a light on it." Everywhere on social media, people are so negative. Not all the time, but a lot of the time. If I see somebody being negative to me, it's too much work, because then I have to comment, and they comment back, and we're in a battle all day. I don't have 10 hours to go back and forth and back and forth. So I don't think I will do [a sequel]. There's something there, but I don't want to give people the power. Then I'm propagating the myth. By talking about it, it will keep happening. Sometimes at my shows there are hecklers, but I don't mind them. I have fun [with them].
SJM: Getting back to your local roots, do you still consider yourself a Philly guy, or are you more of a California guy now?
JK: I've lived in California longer now; I've been here for 25 years. I was only in Philly for 18 years, so that's crazy. But I would probably say I'm a mix of both. My formative years were all Philly. I love L.A., but I love to come to Philly too. That's home.
SJM: What are some spots you have to hit when you come back?
JK: Sometimes I'll go to a Phillies game, that's always fun. I get my steaks and chicken cheesesteaks on South Street. There's a lot of good food in Philly now. There always has been, but there are a lot of new spots. There's a pizza place in Manayunk I always go to that's really good. But for the most part I'm really low-key when I'm there. I always hit my favorite Dunkin' Donuts on Broad Street. You can't go wrong with Dunkin'.
SJM: You're a big sports fan, particularly the NBA. What are your thoughts on how the Sixers are trying to become a championship team by purposely losing right now?
JK: They're a couple years out. They're working on it and totally rebuilding their team. … I think they have to do it that way right now. Are they totally tanking, though? I thought they were trying to win some of those games [laughs]. I don't think the league will totally let you tank. But they're in a rebuilding process. I think the Eagles are pretty exciting. They're just trying to make a great team, no matter what happens. They're a national presence, they're on [national] TV almost every week. It's pretty cool, and Philly should be proud of that.
SJM: Did you spend a lot of time at the Jersey Shore as a kid?
JK: There's a lot of stuff that happened to me in Jersey, but I'm not sure you can put it in a magazine [laughs]. Every year, we'd go down the Shore. Junior and senior year in high school, you'd get a job so you could have a summer house. One year I worked at Carmen's Crabs, I think it was called. I was the crab boiler; that was the worst job, because it was 150 degrees back there.
None of us were 21; we were 17 or 18. And one time these cops came [into our house]. This was way before Paul Blart, but they were rent-a-cops. They weren't real cops. I don't know why, but we were so cocky. They came in and tried to write us a citation for the noise. And I said, "You can't write us a citation, you're not real cops." And they said, "Yes we are, we're Shore cops." I was wasted, and I was making ramen noodle soup. I remember ripping up the citation and putting it in the soup and saying, "Here you go, it's citation stew." The cops just laughed and wrote us another citation and left with our beer. I probably should've been arrested. But we had the house for three months and we ended up getting kicked out after six weeks. We were wild animals. That was in Sea Isle. I also went to Wildwood a lot, starting when I was 14 years old. Cigarette butt beach, that's what we called it. Sea Isle would hurt your feet because of all the shells. Wildwood had all the cigarette butts, but at least it didn't hurt your feet.
SJM: I know you're not getting to Atlantic City on the current tour, but do you ever do stand-up down there?
JK: I go down there with my parents. I've played the Borgata, that was fun. I've played Trump Marina (now the Golden Nugget). I've been to that whole section on the pier with the Continental restaurant. I played at the Revel. I'd like to see Atlantic City come back. It's tough right now with the economy. … I love that city and I wish I got to go there more. I used to go to South Jersey all the time: Ocean City, Sea Isle; I'd go to see Lucy the Elephant.
SJM: Let's talk about some of your other projects. You mentioned Heartbreaker, the TV show starring Melissa George coming this fall. Tell me about your role as Dr. Callahan.
JK: I get to play a doctor who is very un-PC. He's a brilliant surgeon, but he's very dirty, he never showers. He's one of those type of guys. It's a really good script and I'm really excited to do it. Hopefully people are gonna like it. It's about a real person, a real heart surgeon, and all the crazy stuff that's happened to her. We get to say a lot of things you don't normally say on TV, which is cool.
SJM: You also completed several films recently. What can you tell me about those movies?
JK: I did a movie that came out [in July] on VOD called Rivers 9. It co-stars Elisabeth Rohm, who was in American Hustle playing Jeremy Renner's wife. It's a pretty funny comedy, a casino heist movie. I would love if people watched that. I also did a part in the new Tremors movie … and that's coming out around Halloween, so I'm excited about that. I just saw a rough cut yesterday and it looks really crazy. And Other Plans is a movie I did two years ago in New York that is out now too. It's weird promoting something that's on Amazon and Google Play, but that's where it is right now. That's really good and it co-stars Rebecca Blumhagen and Malik Yoba. It's kind of like Cinderella. It's about a guy who meets a girl who works for a publishing company, and she mistakes him for a billionaire, and then they fall in love. It's real cute. It's like a chick movie but told from the dude's point of view.
SJM: What were your thoughts on the new Scream TV show on MTV?
JK: I got to watch [the premiere episode] and I live-Tweeted it. I think it's cool and I'm really into it. When the first Scream came out, it took the world by storm. This is a different version, it's a TV show, but that doesn't mean it can't still be good.
SJM: Do you still get lines from that movie recited to you?
JK: Every day. People say, "There are certain rules," or "Never say 'I'll be right back.'" People come up to me and rap to me because of [Malibu's Most Wanted.] People come up to me and say, "Is this your bush?" I hear that one a lot from Harold and Kumar. I hear a lot of movie lines, and also people just yell right in my face. I'll be sitting there and they'll say, "Hey Jamie Kennedy, what are you doing at Olive Garden? Are you broke dude? Oh, you're just having a bottomless pasta bowl, OK." There are two types of fame. There's whisper fame, where people whisper when they see George Clooney eating falafel. Then there's my type of fame, where people shout directly in my face.
Published (and copyrighted) in South Jersey Magazine, Volume 12, Issue 5 (August, 2015).
For more info on South Jersey Magazine, click here.
To subscribe to South Jersey Magazine, click here.
To advertise in South Jersey Magazine, click here.