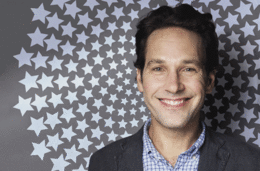 A Hero's Welcome
How Paul Rudd made the transition from comedic actor to comic superhero with ease.
Best known for his comedic gifts, Paul Rudd might be considered an odd choice to play a comic book superhero. But in the case of Ant-Man, Marvel's new action film, Rudd brings the requisite amount of vulnerability to an atypical crime fighter. There's a touch of Tony Stark and Peter Parker in Scott Lang, aka Ant-Man's personality, and it takes a skilled comic to convey both the serious and wry sides to this subtler kind of superhero.
"There's more humor to Ant-Man than you would find in the other (Marvel) films but there's also a lot of action," Rudd says. "We wanted to invest a lot more time in creating interesting characters and relationships and allow that to give the film a more distinct and unique vibe. You have a mixture of serious and funny moments and I hope people will really enjoy it."
Directed by Peyton Reed and produced by Kevin Feige, Ant-Man sees a buffed-up Rudd play master thief Scott Lang, who is enlisted by the original Ant-Man, Dr. Hank Pym (Michael Douglas), to protect the secret behind the high-powered body suit and prevent it from being used for evil purposes. Pym and Lang then join forces to stage a plan that will rescue Earth from destruction.
The 46-year-old Rudd is regarded as one of Hollywood's top comic actors, a true box office draw, having previously appeared in films including The 40-Year-Old Virgin, I Love You, Man, Anchorman, and This is 40.
And he's no stranger to television either, having had a recurring role on Friends, serving as producer on the cult hit Party Down and even lending his voice to the Dr. Zander character on The Simpsons. He also played Bobby Newport on Parks and Recreation and has recently reprised his role from the film Wet Hot American Summer for a new Netflix series.
Born in Passaic, Rudd spent part of his childhood in New Jersey before his family moved to Kansas City. Today he lives in Los Angeles with his wife of 12 years, Julia Yeaeger, and their two children Jack, 9, and Darby, 5. In the weeks leading up to Ant-Man's release, Rudd was honored with a star on the Hollywood Walk of Fame.
Despite his busy schedule, Rudd found time to chat with us about his foray into the comic book world, life at home and how being funny helped him survive high school.
Do you feel a lot of pressure in taking on the lead role in a potential comic-book franchise?
I try not to think about that. The idea is to make a good film and everything else will take care of itself. I loved the writing and I have enormous respect for (Marvel President) Kevin Feige who understands the elements needed to put together this kind of a movie. I was in very good hands.
Is this a different kind of Marvel film?
It has its own identity but it still very much belongs to the Marvel Universe and the kind of world that audiences who have seen The Avengers and Iron Man films will be very familiar with.
How did you feel about all the training that went into getting fit to play a superhero?
I'm glad that I didn't need to bulk up because I don't have the kind of build where I could have packed on the kind of muscle that some of the other actors who are playing Thor and Captain America needed for those kinds of characters. My character is Ant-Man so there's a suggestion that he's supposed to be slim and sinewy, although very strong and toned. That was my goal when I was training and dieting and I've never been in better shape in my life. My wife was kind of shocked. I was shocked, too.
Do you think your comic reputation will precede you in your role as Ant-Man?
I don't think audiences will pay any attention to that. It might bring some people to see the film who know me from my other work, but this is a very different kind of genre and role. I hope people will appreciate my humor because there is a lot of wit in places, but otherwise audiences are going to judge the film on its merits and I doubt whether anyone will be confusing me with any of my comic roles.
You've done a lot of serious roles on stage apart from being best known for your comedies. Did you originally set out to become a comic actor?
No, that happened later in my career. I had trouble when I was trying to get the part because people thought of me as very bland and too All-American, which is very frustrating. But when I started to do comedy I could see that it came pretty easily to me and audiences seemed to like the characters I was playing. So I kind of stuck with what was working for me.
Most people are probably unaware of it but your parents are both from England and even though you grew up in the States, you were raised with some very British traditions?
Yes. My parents loved their tea and those kinds of traditions were a huge part of my upbringing. I went to Oxford for one semester to study Jacobean drama and I never would have done that unless I had this sensibility of being English in some way. That was also one of the happiest times of my life and I love England.
Where do you think you derived your comic sensibility from?
It was my way of avoiding getting beaten up in school and fitting in with the crowd. My parents are both Jewish. I grew up as a Jewish kid in Kansas City, where my father was based while working for TWA (Trans-World Airlines, whose U.S. hub was in Kansas City).
There weren't a lot of Jewish kids in school or in my neighborhood and obviously kids would pick on you or make fun of you because you're considered weird or a kind of alien species. My parents had a European Jewish sensibility and growing up I felt like that was my tribe and I identified with that. But it also made me feel like an outsider in school.
So telling jokes was a matter of survival for you in high school?
It was the easiest way to get people to like me, although I still cringe at the fact that I would often tell these awful Jewish jokes and turn myself into the object of laughter. But once you develop those kinds of skills they never leave you and it was probably a natural evolution for me to start doing comedies and getting recognized for those kinds of roles.
This is 40 is one of the key films of your career. What was it like when you yourself turned 40?
It was a difficult time for me. My father had died and I was still grieving over losing him and it took me a long while before I recovered from that. You become aware of your own mortality and it probably makes you think more deeply about your life and your relationship with your wife and your children. There's a sense that this is your life and you better be very alive and in touch with your world because life can also be very fragile.
Do your children brighten your world?
Yeah, because they wake you up so early in the morning. You also find so much happiness in simply being able to go to bed and feeling exhausted and satisfied at the same time because your kids are asleep.
Is there any one actor who has particularly influenced or impressed you while working with them?
Jack Nicholson. He played my dad [in How Do You Know] and I thought that he probably looked at me at times the way his character was kind of disappointed with mine in the film.
He's a very charismatic guy and I'm not, and even though we got along very well I still felt kind of overwhelmed by his presence. Jack is the coolest and most confident guy I've ever met.
Published (and copyrighted) in South Jersey Magazine, Volume 12, Issue 5 (August, 2015).
For more info on South Jersey Magazine, click here.
To subscribe to South Jersey Magazine, click here.
To advertise in South Jersey Magazine, click here.