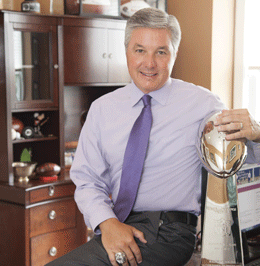 Official Business
For nine years, Evesham Mayor Randy Brown has been dedicated to serving the town where he was born and raised. But are his accomplishments being overshadowed by what some consider an insatiable ego?
Seventeen days after she scored three goals in the women's World Cup final and powered the United States squad to a triumphant victory, Carli Lloyd returned to the Blue Barn in Evesham. It was familiar ground for the Delran native and Mount Laurel resident, who has spent season after season training in the recreation center.
But this summer day—"Carli Lloyd Day" as declared by the township—was different, as the soccer star was greeted by hundreds of cheering kids who chanted "USA" and gave her a hero's welcome.
Standing next to Lloyd at the ceremony and beaming with pride was Evesham Mayor Randy Brown. Introducing her earlier, he called Lloyd someone who "epitomizes a hero for today's youth and in today's society." He gave her a key to the facility and pulled down the curtain which revealed a banner in the rafters with the words "Carli Lloyd Court."
The moment was about Lloyd, but it represented so much of what Brown can point to with pride during his nine years as mayor of Evesham. There were the cheering kids in their soccer uniforms, who have received multiple new sports complexes to play on as part of a townwide push toward athletic participation. And there was the sense of shared celebration, those moments that help unite a community. "I'm most proud of the way that Evesham is a community again," Brown told South Jersey Magazine in an interview on the morning of Lloyd's celebration. "It was a community when I was growing up as a kid here—I was born and raised and lived my whole life in Evesham. And now if you ask any residents, is Evesham a better community today than it was a decade ago, and you will get absolutely 100 percent [agreement]."
Brown's biography falls neatly within that narrative. The son of a town councilman, he was a football and baseball star at Cherokee High School. After college he started and ran a successful local title insurance company with his father Richard. Raising a son on his own, he met and married the child's fifth-grade teacher; the couple today has two young daughters. Meanwhile, he latched on as an NFL kicking coach for three different franchises, including the Eagles and currently the Baltimore Ravens for the last eight seasons.
No other mayor can say they are a kicking coach in the NFL; not in South Jersey, not in the entire country. But that's because there is only one—Randy Brown. And because the Ravens won Super Bowl XLVII behind an MVP performance from Audubon's Joe Flacco, no other mayor can brandish a Super Bowl ring, which he'll gladly point out to anyone within earshot. While most folks would keep the hefty piece of jewelry in a display case or perhaps locked away for safe keeping, Brown wears the ring for all to see.
What he considers a sense of pride, others may see as unnecessary braggadocio. There's even a faux Twitter account dedicated to Brown's perceived ego with posts like "Only Mayor to win a Super Bowl" and #KisstheRing. For what it's worth, Brown did join Twitter with an official account at the beginning of May. He announced his arrival to the social media hub in a way only he could: "Hello Twitter, America's Mayor is now on board."
For all the good he does, Brown can't escape the notion by some that the confidence he portrays is nothing more than the act of a self-centered politician known for his combative side and his zeal to defend his views. He's been called disrespectful, unprofessional, intolerant and power hungry. Perhaps it's the price to pay for being the only Super Bowl-winning mayor, but it won't dull the shine on the Lombardi Trophy in his home office.
As Brown tells it, politics was never really in his future, even as he looked up to his father, who served on council from 1983 to 1991. Before the 2006 election, "I saw a void, which was that Evesham lacked direction and lacked leadership," Brown recalls. "So me, [former council members] John McKenna and Chris Brown, three guys in our 30s, all decided, 'You know what, let's go make change.' Cause the same people had been running town for the last 20 years."
The win was a surprise and the margin was small, "but as we say in the NFL, a win's a win," Brown remarks. Since then, Evesham continues to experience encouraging growth on a number of fronts. The township recorded $30 million in construction activity last year, the first positive growth since the recession. Significant developments continue to pop up, including redeveloping the old Tri-Towne strip mall on Route 70 into a mixed-use space of residential and shopping. The township now operates at a surplus as part of a $10 million swing. And the community holds several major celebrations a year, including Fourth of July festivities with fireworks that Brown says attract 35,000 people.
Even opponents from the most recent election concede Brown's tenure has been prosperous. "I agree with a lot of the direction our town is going in," says Phil Warren, a Democratic challenger for the town's council. The majority of voters in Evesham felt the same—Brown won re-election in 2010 even after changing parties and becoming a Republican. (He cited a philosophical disagreement with the local Democrats.) Last fall he was comfortably elected to his third term with over 60 percent of the vote. The mayor's success fueled buzz that he had aspirations for a higher office, and Brown himself had previously floated the idea of running for governor in 2017.
Eight months later, it remains to be seen how much of that goodwill evaporated. It started with a council meeting on Dec. 16, when Brown got into heated exchanges (others used the terms bullying) with two residents during the public comments section of the meeting. By the next meeting in February, Brown and the elected officials declared that public comments would remain exactly that—comments—and that the council wouldn't immediately respond to questions. (Though it had the right to respond during the council comments portion of meetings at the end.)
The policy wasn't exactly new. At the beginning of public comments in the December meeting, when Rosemary Bernardi (a former school board member and frequent combatant at meetings with Brown) asked the mayor about abstaining from items on the agenda, Brown responded "I abstained," and then added "Public comment, not question-and-answer. How many times must we go down this road, you and I?" The mayor insisted the unofficial policy had been in place since he took office, even if it wasn't closely enforced until then.
Nevertheless, the announcement quickly became a flashpoint of controversy. Multiple media outlets picked up the story, and the newspapers turned it into front page news. The audio recording from the December meeting became a popular share around the township. Detractors scrutinized the tiniest of Brown's actions in the meetings, including a pair of tribal figurines that sit on the dais (Brown says they are Native American and honor his heritage), which the mayor was accused of hiding behind. It was at the very least, strange behavior that left many in attendance puzzled.
"I think he was embarrassed [about the December meeting]," says Warren, "and he was trying to find a way out and a way to avoid that. He struck hard. Instead of doing it kind of the diplomatic way, they just said OK, we'll just eliminate the opportunity for this to happen again. And that riled people up."
Brown held his ground at first, telling NJ Advance Media at the time that the back-and-forths weren't "healthy" and that the goal was "to make the meetings more efficient." The controversy attracted a larger-than-normal crowd to the March 19 township council meeting—a contentious proceeding that saw the council abandon the policy and respond to questions, but also had Brown deliver some choice words in closing remarks. A month later, Brown struck a more peaceable tact and apologized for some of his actions. The controversy has died down since.
A couple months later, Brown is quick to downplay the whole situation as "much ado about nothing, " saying "it's still disappointing that a small, small vocal minority of people who constantly lost elections in Evesham got articles written by a local newspaper." The mayor adds that over nine years his administration has improved its communication with residents, including email, Facebook and his personal Twitter account. "They don't need to wait once a month," Brown says, "to show up in a meeting to tell me that the tree in their front yard is down."
Brown emphasizes that council meetings "are business meetings," a point underscored by John Weingart, associate director of Rutgers' Eagleton Institute of Politics and a longtime former committee member of New Jersey's Department of Environmental Protection. "To be effective at what their work really is, council members have to put limits on when the public can speak," Weingart says. "I've been in situations where I try to be responsive if someone asks a question, and then they want to engage in a debate. That's not really fair to everybody in the room and the taxpayers that are paying you to work on specific issues." Weingart does state that the public should have the opportunity to comment, but it's a "fine line" to determine how much time and interaction the public should be afforded.
Warren, the chair of the Evesham Township Democratic Committee, says that while Brown's policy was legally allowable, "it was more or less very disrespectful, and against tradition. Frankly, most people just thought it was ridiculous, and unnecessary too." He adds that since the spring, Brown has been more conciliatory and is trying to win people back: "He's not dumb. He realized what he was doing to himself."
The incident cast in sharp relief Brown's big personality—both building up and complicating the "America's Mayor" personal image he has perpetuated. "Part of the problem with Randy is that he's so passionate about the things he does, sometimes that may come off as arrogance," says Larry Steinberg, a 35-year plus resident of Marlton and realtor who originally met Brown through business.
Steinberg notes that, "Not everybody is going to like Randy," but it's clear a lot of voters in Evesham do. He is regarded as charismatic and approachable, a skilled campaigner who can interact effortlessly with voters. His dedication to his town is beyond question. And he is a compelling figure—an enthusiastic local mayor who coaches at the NFL level and yet still manages to coach his two daughters' softball and soccer teams.
It raises the question: How far can Brown's political ambition take him? Past reports indicated he investigated a congressional run, but backed off at the GOP's request; now Tom McArthur seems firmly ensconced in New Jersey's 3rd district. A gubernatorial run would be considered a long shot for a number of reasons, such as the sizable leap from town mayor to Trenton and the difficulty in the past for South Jersey candidates to secure a statewide base. But you can't count him out completely, says Matt Rooney, founder of the conservative blog Save Jersey.
"Depending on how the field shapes up, he can actually add something to the race," Rooney says. "Right now, most of the candidates who have been talked about have a legislative pedigree. In politics, it's all about the contrast. Will he be able to stand out? ...That's something Randy Brown will be able to do. He'll be able to stand out a little bit with his track record and personality."
When asked about his future plans, Brown makes it clear he wants to be working in politics and/or the NFL. But just months into his third term, he says he doesn't know what's next, citing the drain on his family from the last election. "If they didn't want me to do this stuff, I wouldn't," he says. He acknowledges the sacrifices that have been made so he can juggle his various roles, and the fact he can't be there for his daughters all the time. "The support I get from my family is the only reason I can do it," he adds. For now, he says, he just wants to make Evesham a better place.
America's Mayor is still at work.
Photo: Evesham Mayor Randy Brown at home in his office.
Published (and copyrighted) in South Jersey Magazine, Volume 12, Issue 5 (August, 2015).
For more info on South Jersey Magazine, click here.
To subscribe to South Jersey Magazine, click here.
To advertise in South Jersey Magazine, click here.