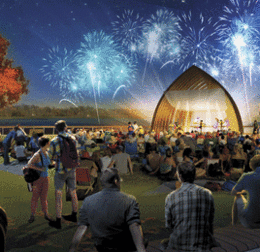 Big Plans, Big Dreams
Burlington's proposed $7 million waterfront design is bringing much-needed buzz to the historic city, but will it attract people?
The city of Burlington is known for its charming historical roots, many of which are still celebrated today through tours and events. But located beyond the colonial-era buildings and cobblestone roads is perhaps Burlington's greatest asset: the waterfront.
With picturesque and calming views of the Delaware River, Burlington's waterfront is a place where onlookers can watch boats sail by, walk along the riverside, play on the recreation fields or take in one of the town's hosted summer concerts or festivals. But the city has struggled to make the 17-acre expanse more inviting for outsiders.
"The space feels disconnected," says John Alexander, Burlington's public affairs director. "If a person is coming from High Street (the town's main drag), there is nothing to guide them to the waterfront. They have to cross another street and a parking lot. It's not inviting."
The city hopes to change that, however, with the help of a sweeping $7 million makeover of its waterfront promenade, a catalyst that is helping to spur development across Burlington, from restaurants to housing. The excitement is palpable, but how long will South Jersey have to wait for the plans to become a reality?
The $7M design
The plan, designed by Philadelphia-based landscape architecture firm OLIN Group, is an idyllic vision of everything the waterfront could be. It incorporates open space, walking paths, a playground, shaded areas and a section for potential entertainment events.
According to Richard Newton, partner at OLIN, and landscape architect Sally Reynolds, they saw the waterfront space as a rare opportunity. Having completed riverside improvement projects around the country such as Alexandria, Va., and in New York City's Battery Park, OLIN was especially in-tune to the desire for there to be a more compelling connection between the people and the water.
"It was unique to have such a raw, publicly owned expanse of waterfront so close to this historic, residential community and main street," says Newton of Burlington.
"The expanse of river with the dense, historic district and an urban main street was a remarkable combination."
OLIN took special care to include the community's wants into the design. "This is a public park so it [has] to satisfy the needs of the public," says Newton. "We looked for an understanding of how the community uses the space and what they want to be able to do there."
Community input was gathered initially through an online survey, which Reynolds says had over 400 responses. Questions were broad, asking participants to highlight what they felt was special about the promenade and what they envisioned being there. Those responses guided OLIN on their design, which was later presented at a public meeting.
"Through the responses we learned that people clearly love this city and love living here. But they also realize it could be so much better and more interesting," Newton says. "They see the waterfront promenade as an opportunity to bring the community together through events, but also as a place to just hang out, take in the views and be near the water. We had to consider adding restrooms, lighting, shade and some elements to attract nature."
There are several important features to note regarding the planned space. Newton says first and foremost the space needed to retain its every-day, multi-use for recreation. Reynolds says over 100 new trees will be planted, placed strategically for shade in seating areas. "The trees form an edge to the park and they frame the views of the river rather than block them," she says.
There is also an extensive path system to connect the street to the promenade and beyond. Newton says each path will have its own destination, whether it's the children's play area, the overlook or Sunset Park, a particularly romantic space that OLIN wanted to preserve and chose to accentuate with down-lighting to keep the sky dark at night.
One of the renderings from OLIN also shows a community lawn space and stage, which Newton says could hold around 700 people. "We thought the band shell stage would help connect the space with the city's boat history and would be ideal for small- scale, intimate events," says Newton. "There is also space in the middle of the park that could potentially hold thousands of people for a large event."
Judging from the response from the community, the plan seems to have satisfied the great majority.
"I feel they are really giving everyone everything they asked for," says Alexander. "It was a painstaking survey process and the outcome shows how they really understood our psyche here."
Other developments
Efforts to bring new life and business to the city of Burlington are not only focused on the promenade area. In other parts of town new businesses and developments are underway.
One of the most prominent and highly anticipated projects is Pearl Pointe, a 180-unit apartment community slated to be built on vacant lots at High Street and Pearl Boulevard. Peron Development, based in Philipsburg, Pa., purchased the site for $1.8 million and anticipates breaking ground in September.
According to John Callahan, director of business development for Florio, Perrucci, Steinhardt & Fader, the law firm representing Peron, Pearl Pointe will include luxury apartment units as well as 8,000 square feet of retail space facing High Street. "Burlington is a community with great bones, but it's missing people," says Callahan.
"Pearl Pointe is an opportunity to do a successful project and revitalize the downtown and bring discretionary income to the businesses in town."
Callahan is uniquely familiar with witnessing how a city can transform with a few key developments. As mayor of Bethlehem, Pa., for 10 years (until January 2014), he helped redevelop the largest privately owned brownfields site in the U.S. When he first visited Burlington, he couldn't help but be reminded of the challenges he faced in Bethlehem.
"I remember walking down High Street and being reminded of Main Street in Bethlehem," he says. "The structures, the history, the sidewalks … there was the idea of blending the old with the new and it's a challenge but it can be done well."
Peron has incorporated some of those historic elements into Pearl Pointe's design, using brick and stone, dormer windows and a vertical townhouse feel, Callahan says.
"We wanted to be respectful of the elements of High Street and made any attempts to reduce the scale of it, so it's more like smaller, interconnected buildings, which we feel blend well with the surroundings."
It's also interesting to note that Peron and OLIN are intimately connected when it comes to their commitment to Burlington. Peron will be picking up the cost of OLIN's waterfront design plan, meaning taxpayers aren't footing the bill.
"Our success is linked to each other," says Callahan. "I'm excited to see how these two projects will bring revitalization to Burlington."
Alexander notes, "We probably would not have gotten Pearl Pointe if the waterfront promenade plan was not something they saw happening."
In addition to housing, another sign of life is the buzz around some new restaurants in the works. Junior's Cheesecake, a well-known bakery formerly located in Brooklyn, relocated its entire operation to Burlington earlier this year and is putting out at least 10,000 cakes a day. There are plans for Brickwall Tavern—a popular bar in Asbury Park—to open in the coming months, but perhaps one of the closely watched openings is Riverview Restaurant, where Café Gallery formerly stood.
Owners Adrian Thomas and Phillip Stone have a long history in hospitality. They co-founded a vineyard in Australia and have two restaurants in the London area and they also operate a coffee roasting business.
Stone, who works for a Fortune 500 company, and Thomas, a former cardiologist, fell in love with Burlington when they were invited to visit with friends. As residents of New Hope, Pa., they had never heard of the city until then, but they had lunch at Café Gallery before it closed.
"When we heard it closed I made some inquiries and decided we'd bring back this dining icon to Burlington and be a part of its revival," says Thomas.
They purchased the building in 2014 and Thomas says it has been a longer process to get the doors open than they originally thought, but progress is being made. Once it is up and running, diners can expect a relaxed atmosphere with high-quality food.
"The cuisine will be modern American—ranging from comfort foods through to more elaborate options—sustainable and locally sourced where possible," says Thomas. "Sit-down dining will be on the ground floor and we will have an upstairs space for private functions."
One of the first things Riverview's owners did was launch a social media presence to keep the community updated. "We've been posting progress photos and we've had hundreds of comments. People really want us to open. We get the sense that this space was really the heart of the town where people liked to gather and they want us to finish as fast as possible," says Thomas.
Making it happen
All of these plans sound promising, but in the end, it comes down to making them a reality. One of the biggest hurdles the city needs to overcome is the actual cost of developing OLIN's design.
"People want to know how soon this can come to life," says Alexander. "I've never received so many calls from people about a project. But the nitty gritty is figuring out how to pay for it."
Alexander says the plan will happen in phases, and the hope is for developers to pick up the costs or seek potential grants. "Best case is that it does not cost the taxpayers anything," he says. "I think the funding will be there as developers see all of the exciting things happening in the city."
Thomas says he sees a lot of potential for Burlington to become a regional hub for dining and commends the city and planners. "They are taking a brave step in attempting to change the trajectory of the town," he says.
Beyond attracting developers, the question remains whether or not these well-laid plans will bring in the people they need to thrive. Alexander says there's no question.
"There is no other riverfront area like this in our county. People will come," he says, noting the major transportation hubs that funnel into and through Burlington and the free parking. "The open space on the waterfront leaves us with the infrastructure to host major events, such as LiveNation clients. We could command an audience up to 10,000 people."
"I'm already seeing increased foot traffic," says Callahan. "There's a buzz about the town and I think it's all going to have a positive impact on the downtown. The city council has set up the right environment to encourage outside investment and residents are going to be important to keep the day-to-day businesses alive."
Alexander concludes, "These plans are not just some pretty picture. It's coming to reality."
Published (and copyrighted) in South Jersey Magazine, Volume 12, Issue 5 (August, 2015).
For more info on South Jersey Magazine, click here.
To subscribe to South Jersey Magazine, click here.
To advertise in South Jersey Magazine, click here.