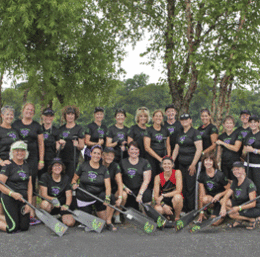 A Tight-Knit Crew
Local cancer survivors find support in each other, solace on the water.
One of the first things a doctor will tell you after a traumatic event has touched your life is to join a support group. Being around people who have been in a similar situation helps you to cope with everything you went through and helps you understand you're not alone with your struggles.
After being diagnosed with breast cancer in 2007, Jini Errichetti found herself seeking the support of women like her. "There's a whole cancer community out there that you don't really know about until you become a member," the Cherry Hill resident says. "I had gone to a couple of support groups. There was an emotional support group and there was another one for nutrition."
Though the groups were helpful, it wasn't until a chance meeting when she was introduced to a group of women offering a different kind of support—support she didn't realize she was looking for. It's when she met a dragon boat team by the name of the River Sirens, a team that would eventually form an offshoot called the River Sisters. But this was more than just a group of women rowing for exercise; they would become extended members of Errichetti's family.
"It's been great [being a part of the River Sisters]," Errichetti says. "Besides the exercise, we're there to support each other. And it's fun."
A relatively obscure activity until recently, dragon boat racing is one of the fastest growing sports in the world, due in part to the fact that people of all ages and skill levels can participate; and it is also a good team-building exercise.
Utilizing an ancient Chinese human-powered watercraft, which is propelled through the water like a canoe, only longer, there are 20 paddlers in the boat, along with a drummer—or caller—and a steer person.
While many dragon boat teams have a certain aspect that unifies them—they're a corporate team, or a group of friends—the River Sisters are unique in that all of the participants are cancer survivors. Armed with the motto, "Fighting Cancer One Stroke at a Time," not only do the women get to be a part of a team that competes in races, but they are around other women who understand what they've been through.
"The women are just incredibly supportive and the talk is not cancer unless it needs to be, and I think that's one of the things I like best about it," says Michelle Baldino, a two-time breast cancer survivor from Gloucester Township who has been with the team since 2013. "We've all been down that road—some of us are still dealing with it. And we offer support in every way possible."
The River Sisters practice two times a week to prepare for their competitions. They compete in several events during their season, and while performing well is a goal, just being healthy enough to get out on the water is an even bigger one.
"I love being on the water, so that for me made being a part of the team a natural fit," says Jerry Milavsky, a Medford resident who was diagnosed with breast cancer in 2006 and has been with the team almost since its inception. "I love the camaraderie and the fact that we're a part of a team, and yes, we've had cancer and that's our bond, but we're doing something healthy and moving on with this core support group."
Baldino says along with having a core support group, seeing the other women participate in the sport gave her the optimism she was looking for after her second diagnosis. "My mindset was I didn't want to give up on life—I really wanted to participate in many things," she says. "Seeing the women do what they do offered me a lot of hope. What is really cool is that they're all different ages, body sizes, types—all different walks of life—but on the water, we're all sisters. It is definitely a sport that is accessible to all and the fact that we're all survivors is so empowering."
Cancer is still a disease that takes the lives of many, and the River Sisters do their best to acknowledge those who have lost their battles. At many of the festivals they attend, there is a remembrance ceremony where they throw carnations on the water and call out the names of those they have lost. The team also recently participated in Paddle for Pink, a race designed to support those recovering from breast cancer as well as breast cancer research.
In addition to boating, the River Sisters do other events together, including an end of the season picnic and a Christmas party, says Errichetti. They also started a project in October 2011 called Blankets of Hope, where the team purchases materials to make blankets they deliver to cancer patients undergoing chemotherapy at local hospitals.
"You get cold sometimes during chemo, so we give them the blankets to stay warm," says Milavsky. "We also want them to see that we're survivors and we're here; it's hard, but there's an end and you'll get there. There's a light at the end of the tunnel." "We're here for anybody that has had cancer," says Baldino. "Should they choose to come and find us, they can come on down to the river. We'll be there."
On the Water
After competing in Dragon Boat events throughout the area since 2005, the River Sirens, together with the River Sisters, finally brought the sport to their home river, with the inaugural Cooper River Dragon Boat Festival on July 18. Teams from the tri-state area, as well as Maryland and New York, competed in a day that excited and intrigued those unfamiliar with the sport.
The inaugural event attracted 29 teams that competed in four divisions, and the River Sirens and River Sisters hope to capitalize on the event's success next year.
Photo: The River Sisters Dragon Boat Team
Published (and copyrighted) in South Jersey Magazine, Volume 12, Issue 5 (August, 2015).
For more info on South Jersey Magazine, click here.
To subscribe to South Jersey Magazine, click here.
To advertise in South Jersey Magazine, click here.