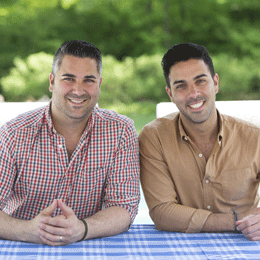 Family Food
Two local brothers take their gourmand sensibilities to Food Network.
Brothers Adam and Andrew Erace share more than just a last name. They also share a deep passion for good food. So much so, that in November of 2009 the food journalist and real estate consultant turned a tiny storefront on South Philadelphia's burgeoning East Passyunk Avenue into their very own boutique grocery store, Green Aisle Grocery.
The store carried not only fresh products from area farms, but also unique items from nearby restaurants like freshly made hummus straight from Michael Solomonov's kitchen at Zahav. Early success allowed them to extend their footprint, first with a second store in Philly's Graduate Hospital neighborhood, and now a third location ready to swing open its doors in Fishtown.
As the store has grown, so has their product line. While still featuring plenty of local epicurean goods, the Eraces have expanded to include items from their many travels across the country. Meeting new purveyors and bringing artisanal products not found elsewhere in this area has become their calling card.
And for those who don't make it to the city to check out the store, you can find Andrew every week at the Collingswood Farmers Market, and Adam—a former restaurant reviewer for South Jersey Magazine—is constantly eating his way across South Jersey, including down the Shore where the Erace family has a home in Ventnor.
The duo recently caught the eye of Food Network, which cast the brothers in the new show Great American Food Finds debuting Aug. 3 at 9:30 p.m. The travelogue program follows the well-kept brothers as they trek across the country in search of delectable bites and other hidden gems they can stock Green Aisle's shelves with.
It's nothing they weren't already doing; now there's just cameras involved.
On a sunny Monday morning in Ventnor, the Erace brothers told us what it's like to go from local store owners to national TV personalities and why these two Philly natives have plenty of brotherly love between them.
How the show captures what they do in real life…
Adam: That is what I love so much about the show. When we got the casting email, it said a network—we didn't know which one—was looking for two guys [to travel and find interesting food]. Andrew and I do that already.
Andrew: I'm more of a business guy; my background is in real estate. I worked in small business development and in the show, you get to see that window of how our business operates. There are elements of us debating products. That is where I come into the show.
What makes their travelogue show different from so many others…
Adam: What makes our show different is you're going to get a real look at how a retail food business works. Everything you'll see from us debating products, arguing over the price, what the packaging should be like, what the shelf life is like. These are real things we debate on a daily basis.
Andrew: What's special about us is that Adam and I have a great dynamic. That is not at all fake, it's very natural and authentic.
Favorite place visited so far…
Adam: So far, we've stayed to mainly Pennsylvania, New Jersey and Connecticut. But my favorite place so far has been Atlantic City. We grew up going to the Shore and it's so near and dear to our hearts. Our family house is in Ventnor. Our parents went to A.C., our grandparents went to A.C.
Andrew: I would say the A.C. episode as well because of our connection to the Shore.
Adam: Also, we spent some time in the Catskills [in New York]. I had never been there before.
On being in front of the camera…
Adam: It was definitely something I had to grapple with. As we decided to be involved with the show, the opportunity was really worth it for me. In terms of being in front of the camera, I spent so much time avoiding the camera [due to being a restaurant reviewer], but I feel very natural.
Finding the right places…
Andrew: It was a little bit of a mix. The casting department found most, but we suggested some purveyors. This opportunity was great to showcase the local artisans.
Where else in Jersey would make for a good episode…
Andrew: I work the Collingswood Farmers Market and I've seen so many unique purveyors coming out of South Jersey. The small town connection of Collingswood and Westmont are filled with dedicated purveyors.
Adam: For me, I would love to explore more of the Shore. One episode we were in Jersey City, there's a lot of cool stuff happening there, a lot of interesting food and businesses. I'd like to go to Hoboken, too.
On where their passion for food comes from…
Adam: Food in our family is very interesting. Food has always been important; we always had this foundation of food. Local food, organic food, small purveyors, that has really grown from my writing about it and writing about restaurants and from opening Green Aisle. It made us so immersed in that scene. Now Andrew and I are changing how the rest of our family looks at food.
Andrew: We had some doubters when we opened six years ago, and to think we converted some family members is a big success. We had the foundation from our family. We've become so cognizant of that, because we always liked to support small businesses and eat at local restaurants, so now it's much more part of our lives.
Published (and copyrighted) in South Jersey Magazine, Volume 12, Issue 5 (August, 2015).
For more info on South Jersey Magazine, click here.
To subscribe to South Jersey Magazine, click here.
To advertise in South Jersey Magazine, click here.