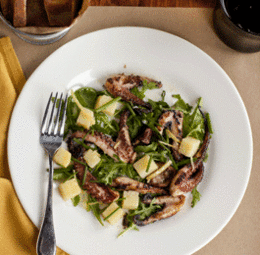 Side Dish
Quick Bite: Wood Grilled Octopus
Osteria
Moorestown
Tender, buttery octopus gets grilled, chopped and rested on a bed of peppery arugula, dressed lightly in a house-made vinaigrette (pictured). It comes plated with cubed potatoes and drizzled with fresh lemon juice that provides a bright and fresh bite that pairs perfectly with the octopus.
Key Ingredient: Peaches
Summer may be wrapping up but that doesn't mean local produce is disappearing any time soon. For proof, look to our beautiful, local peaches: These sweet and juicy fruits can be used to take any meal to the next level. Check out these dishes from local restaurants for inspiration.
Caramelized Peach Salad,
California Pizza Kitchen,
Cherry Hill
Holtzhausser Peach Pizza,
Blueplate,
Mullica Hill
Raspberry PeachMargarita,
Firebirds Wood Fired Grill,
Moorestown
Lunch Under $15: Marlton Crossing
There's no shortage of dining options in the Marlton area, and some of the most enjoyable eateries can be found in the heart of the Marlton Crossing Shopping Center. Here are a few lunch options to consider the next time you're looking for a bite during your shopping trip.
?Chow Kwai Dil
Chow fun noodles are stir-fried with shrimp before being lathered in curry, giving you the extra midday kick you need. $8.50 at Joe's Peking Duck House.
? The Mediterranean
Step aside, sandwiches. This crepe is loaded with grilled chicken, bell peppers, onions, Kalamata olives, feta cheese, and finished off with a helping of creamy tzatziki sauce. $9.95 at Le Café Creperie
? St. Denis Bagel
Who says bagels are just for breakfast? Grilled chicken, roasted peppers, sautéed spinach and provolone cheese are piled onto a Montreal-style bagel made fresh in-house and drizzled with pesto sauce. $7.95 at Mount Royal Bagel Company
? Tandoori Chicken with Chilies
This classic Indian dish is marinated with some super-spicy chilies, then flash-cooked in a hotter than hot tandoori oven and served alongside rice and naan. $11.99 at Paradise Biryani Point
? Grown-Up Grilled Cheese
Two slices of Texas toast get stuffed with American and cheddar cheeses, crispy bacon, ham, tomato and a fried egg, then buttered and grilled. It's an ooey, gooey lunch that takes your childhood favorite to the next level. $9.50 at Champps
Fast Food
Moorestown BYOB Al Dente Italiana has closed its doors.
Cherry Hill's Coastline Restaurant has announced its bankruptcy. The restaurant—which has been in operation since the late '70s—has sold their liquor license to Woodcrest Country Club and will sell the land to a Philadelphia-based development firm.
Chef Nunzio Patruno, owner of Nunzio Ristorante Rustico in Collingswood, is offering an end of summer menu focused on cuisine from Italy's Puglia region. The menu—running from August until Labor Day—will offer local produce and seafood like Mediterranean sea bass.
Camden soup kitchen and culinary training center Cathedral Kitchen has opened the CK Café, an eatery serving up soup, sandwiches and salads on Camden's Federal Street.
The owners of the former Di Vello's Deli in Cherry Hill have opened a new location in Haddonfield called Larry's Deli.
Extra Plate: Iron Hill Brewery &?Restaurant
With craft beer becoming more popular than ever, the search for a great pint and a meal to match is always on our minds. Enter Iron Hill, the Delaware Valley brewpub that has exploded onto the scene, with plenty to drink and more than enough on the menu.
Iron Hill's Maple Shade location has become a go-to spot for beer lovers over the course of the last several years, but their newer Voorhees Town Center outpost has also emerged as a tasty alternative. Both menus are extensive, to say the least, with pages of options ranging from small plates and shared appetizers to salads, pizzas, burgers and entrées.
You can't go wrong with their spring roll varieties to start with, like the salmon spring rolls stuffed with flaky salmon, spinach and red onion and served with pickled ginger, wasabi and sesame-soy sauce. Each bite is like a crispy, decadent piece of sushi. And their pizzas are always a best seller, and come with the option of malted barley dough to pair with your drink.
But when we're really hungry and looking to dive into a full-sized meal we go for the Jaegerschnitzel, a massive, pan-fried pork cutlet served with egg noodles and haricot verts and smothered in a roasted mushroom sauce. It's a German-style meal that simply calls for the biggest beer possible.
Which brings us to Iron Hill's main event: the suds. Each location comes complete with their own brew house and team of brewers, and each location brews both Iron Hill classics and their own specialty beers. Iron Hill beers have taken home international awards at The Great America Beer Festival, the World Beer Cup and the Real Ale Festival and can be paired to match any dish on the menu.
Be it bar snacks and a sampler or a pint and pizzas, the plates at Iron Hill are aimed at pleasing all palates. And with a constantly rotating tap list—including those fast-approaching pumpkin varieties—there's always an excuse to stop in and try something new.
Published (and copyrighted) in South Jersey Magazine, Volume 12, Issue 5 (August, 2015).
For more info on South Jersey Magazine, click here.
To subscribe to South Jersey Magazine, click here.
To advertise in South Jersey Magazine, click here.