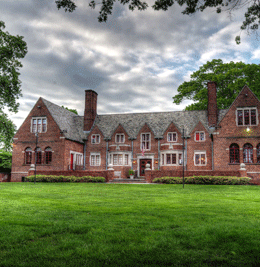 Merging Old and New
Moorestown honors its past while focusing on its future
There is a hill on East Main Street in Moorestown that for generations has been a popular sledding spot. In fact, legend has it Samuel Allen, designer of the Flexible Flyer—the iconic wooden sled with metal runners—tested his prototype there.
Moorestown Mayor Victoria Napolitano says though the testing may just be a rumor, it's a rumor the town is honored to go along with.
"We now have a permanent exhibit between the library and town hall of Flexible sleds," she says. "It's a big part of the history of our town. … [Allen] didn't invent [the sled] in Moorestown, but there's a rumor he tested it on Stokes Hill, and we're not sure how true it is, but it's a longstanding point of pride in Moorestown. The whole collection was donated by a former resident."
If you've ever visited Moorestown, you know it is a town that is deeply rooted in its history, so it's not unusual that it would embrace the Flexible Flyer and its story. In addition to supporting Allen's story, there are a number of buildings in town that have been preserved and repurposed—including Breidenhart, the mansion built in 1894 by none other than Allen that is now a senior care facility—and residents take great pride in maintaining Moorestown's historic feel.
Of course, Moorestown is not so firmly rooted in its history that it is not without change, as evidenced by its newly constructed library and town hall. The 45,000-square-foot structure replaced the former town hall, which burned in a fire in 2007, and Napolitano says the new building has reinvigorated the town center.
"The library has really become a gathering place," she says. "All these events are going on there and people are always in there. It's really great."
With the new construction, Moores-town's old library is slated to be demolished, with the hope that it will open up the space around it a bit more and re-center it as a community area. Napolitano says there are also plans to redo the municipal parking lot, which will maintain the current lot's footprint but increase its capacity by 25 percent. "It's going to be a big improvement for shoppers, and allow them to get onto Main Street much easier," she says.
In addition to its reinvigorating Main Street projects, Napolitano says the township is hoping to come up with a similar plan for its Lenola Road shopping district, which she says is a project residents have been looking forward to. "I think the mall [which is on Lenola] has really turned things around there and we have a lot of positive momentum right now," she notes.
The Moorestown Mall has been a major attraction for residents and visitors in recent years, and was a point of contention in 2011 when a vote—which passed—was put forth to allow liquor sales at the location. Moorestown is an otherwise dry town.
The mall has attracted the attention of well-known chefs Marc Vetri and Jose Garces, whose respective Osteria and Distrito restaurants are doing well, along with Magrogan Group's Dave Magrogan, who opened Harvest Seasonal Grill and Wine Bar next to Distrito, as well as celebrity stylist Frank Rizzieri, who relocated one of his salons there. Other South Jersey mainstays, including fashion boutique Erdon and Mediterranean accessory shop Zeyzani also now call the mall home, along with New York Times acclaimed fitness studio Orangetheory Fitness.
"The [mall] parking lot is always full now and people love it," Napolitano says. "I'm really happy to see that being so successful."
There is also a strong arts culture in town, with multiple theater companies and the Perkins Center for the Arts.
While the focus is often on the town's infrastructure, Napolitano says it is also important to recognize there are a number of great parks and open spaces in Moorestown. "We're known for the mall and Main Street, but we've done a really great job of protecting our open spaces," she says. "There's Boundary Creek Park, and Strawbridge Lake, and we've been doing a lot to improve the quality of the lake. All around town you can find open spaces that are there for the enjoyment of the public."
Napolitano, who has lived in Moorestown for five years now, was just named mayor at the start of the year. At 26, she is the youngest mayor in township history, and she says she is looking forward to having the opportunity to have a bigger role in taking care of the town, and what she considers its biggest commodity—the people of Moorestown themselves.
"I always hear such great things about Moorestown—about everything that's been going on here and how much they enjoy visiting. But all that really has to do with our people," she says. "Our community is about our people. They're what make Moorestown great. They're not just neighborly, but they put the time and effort back into where they live. There are so many organizations here. The people in Moorestown are passionate. If there is something they want to get done, they'll form a club or an organization and they'll get it done."
Published (and copyrighted) in South Jersey Magazine, Volume 12, Issue 4 (July, 2015).
For more info on South Jersey Magazine, click here.
To subscribe to South Jersey Magazine, click here.
To advertise in South Jersey Magazine, click here.