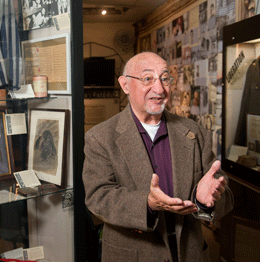 'I am a Witness'
As one of only four family members to survive the Holocaust, Charles Middleberg's story is an important one.
Most call him a survivor, but 85-year-old Marlton resident Charles Middleberg considers himself more of a witness. Beginning as a 9-year-old Jewish boy in Paris, Middleberg witnessed German occupation and many of the horrors that came with the Holocaust, including both parents being sent off to Auschwitz, years in hiding and losing almost all of his family.
Middleberg—a retired engineer and father of four—is one of 21 local men and women who work with the Jewish Community Relations Council (JCRC) Goodwin Holocaust Museum and Education Center, and travel across the area sharing their personal accounts of life during the Holocaust. And he stresses that while childhood wasn't easy, his story remains a happy one. He shared his life with us, and explains why it's so important to speak to local schools and groups about such a dark part of history.
Signs of trouble…
My story starts when I'm 9 years old. I lived at that time with my mom, my dad and my younger brother—who was four years younger than me—in Paris, France. To start off with, all adult Jews must register at the local city hall, and have their IDs stamped in great, big red letters "Jew." … Then it followed up shortly after that [that] Jews were no longer allowed to be in business. … Then shortly after that a new rule: Jews were not allowed to travel. … And then, very shortly after that, the next rule came: Jewish children were no longer allowed to go to school. As time went on, things became more and more difficult. As a child we started feeling it. We started getting singled out, and I'm sure my parents were very, very worried.
A family divided…
In early 1941 my dad gets a summons in the mail to present himself on a specific date and time at City Hall. The summons says to bring a change of clothes; you'll be working for the German military. If you don't show up on the date and time specified, the punishment will be very severe. For the first time we started hearing about punishment for the Jews. My father didn't want to put the family in jeopardy, [so he] packed up a suitcase and presented himself in front of City Hall on the time and date specified. [It] turned out that 9,000 Jewish men received exactly the same summons. They took the 9,000 Jewish men and bused them about 120 miles south of the city of Paris into a camp.
Escaping the Nazis…
The janitor to our apartment was a veteran [who] had lost a leg to World War I and hated the Germans. He [wore] a wooden [peg] leg with a rubber tip on the bottom.
My mom turned to the janitor, she said, "I heard about this massive raid throughout the city, I don't know what to do." He took us all the way up to the seventh floor, and when we got there he opened up the door to a small room and there were tools there for maintenance. He said, "Open the trap door, climb in there, close the trap door; they'll never find you. What I'll do is take the rubber tip off my peg leg and as we come up the steps [with the soldiers] I'm going to start banging my leg on the wooden steps. When you hear that noise get out of your apartment, come up here and they'll never find you." Well, lo and behold, the night of July 16, 1942, we heard the noise in the steps. My mom, my brother and I came up the steps, climbed to the roof, closed the trap door and we just laid there.
Leaving Paris…
We lay there all day, and then my mom whispered to me, "We've got to get out of here." … When I got to the street it was unbelievable mayhem. They were pulling people out of the buildings, men, women, children; they were pushing them into trucks, cutting them away. It was unbelievable what was going on … The next few days there was no point in getting back in the apartment because we knew they'd be back; they'd be looking for us. So we slept in doorways, we ate the best way we could, but it only took a few days. And then my mom tells my little brother and me that … that she has a way of placing children on the countryside on farms. You can imagine that immediately we objected, but she had made up her mind … and we kissed Mom goodbye.
Finding his father…
Exactly one year from the liberation of Paris, my brother and I got reunited with my dad. The day that we kissed my mom goodbye was the last time we ever saw her. She never made it back. We had a huge family in Paris: When we took a look as to who survived, it turned out that my father, one of my father's cousins, my brother and I had survived. Four people, that's it.
Coming to America…
In November of 1949 my dad came home and said, "Guess what? I just got a letter from the American embassy, come and pick up your visas." And for him that was it. The nightmare of France was over; he didn't want to stay in Europe at all. Not me, because you've got to understand, by then I'm 19 years old. At school I met this lovely young lady, and I fell in love with her, and apparently she fell in love with me. And now my dad says we're going to America. But he knew why I didn't want to go, so he said, "If a year from now you're just as much in love with her as you are today … I promise you we will do everything we can to bring her to the United States." So I went with my father and my brother, and my dad kept his word. We arrived in the United States in March of 1950, in June of 1951, she came. We got married here. …[My wife Mathilde and I] had 57 beautiful, romantic years [before] she passed away seven years ago of breast cancer.
Revisiting the past…
I am always introduced as a survivor; I prefer to be called a witness. … It's true, I'm alive; I survived what happened. But more important I am a witness. It didn't happen to somebody else, it happened to me. … Five years ago, I went on the March of the Living. I went to those camps, I went to the camp where my mother was gassed and killed. I walked into the gas chamber.
Working with the Goodwin Center…
We average, in a year, about 20,000 children that we communicate with. The kids' questions are more important to me than whatever I say. Believe me, the kids are fabulous; I just love them. For the last 18 years, I've spoken hundreds and hundreds of times.
Fighting hate…
Essentially I am preaching tolerance. The worst thing that can happen in your life is to hate someone else, because the only aim of hatred is to do harm. No one can tell me there is another aim for hate. We all belong to the same human race. It doesn't matter if you're yellow, red, blue, whatever. When you cut yourself, everybody bleeds the same red blood. I'm not a preacher, but I try to convince the children that there are better ways to live, that there are ways to live in harmony with other people.
Leaving a legacy…
In spite of everything that happened in my life when I was much younger, I've had a wonderful life. I married a woman that turned out to be the most beautiful romance that any man could possibly wish for. And she gave me four great children; my four children are all college grads, educated. They have given me 12 beautiful grandchildren that I'm awfully proud of. … It's a beautiful life.
Published (and copyrighted) in South Jersey Magazine, Volume 12, Issue 4 (July, 2015).
For more info on South Jersey Magazine, click here.
To subscribe to South Jersey Magazine, click here.
To advertise in South Jersey Magazine, click here.