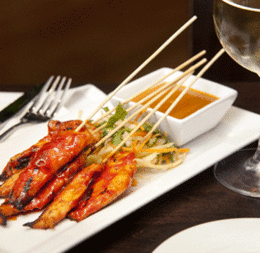 Harvest Seasonal Grill & Wine Bar
…A Dining Review from the pages of South Jersey Magazine…
With the Seasons: Harvest Seasonal Grill & Wine Bar
400 Route 38
Moorestown
(856) 581-0044
3 and half forks
Chiropractor-turned-restaurateur Dave Magrogan has become one of the newest names to know in the Delaware Valley restaurant empire. With five different restaurants splitting up 17 chains across the area—and more on the way—Magrogan chose the Moorestown Mall as his first New Jersey location, opening up his fifth Harvest Seasonal Grill & Wine Bar in March, neighboring Jose Garces' Distrito and Marc Vetri's Osteria.
To settle in alongside such heavy hitters is a brave undertaking, but Magrogan is proving that he's got some serious staying power. Harvest focuses its attention on super-local ingredients, paying homage to the area's farmers, livestock and artisans through a health-conscious menu. So health-conscious, in fact, that more than 75 percent of the plates offered are under 500 calories; all other options over 500 calories are marked on the menu.
Appetizers could have used more refinement, but still managed to embrace area ingredients in as many ways as possible. The quesadilla, for example, promised local, grass-fed Angus beef and cheddar cheese from Hope Springs Farm in Downingtown, Pa., just about an hour's drive from the Moorestown Mall. Those two ingredients were exciting enough on their own, but the heavy-handed addition of black beans masked any of the fresh flavors.
A starter of Asian BBQ chicken skewers were missing the Asian flavors in the chicken that they advertised, but were juicy and came in a generous-sized portion. They were best when eaten alongside the accompanying salad of diced carrot, daikon and baby bok choy, all drizzled with a light miso vinaigrette that added a nice bite of salt and acid.
The entire menu is seasonal, so the spring menu you may have sampled earlier in the year is gone, replaced by summer entrées with fresh, new ingredients. The short rib plate was a spring dish that has gone into hibernation, but is still worth mentioning. Slow-cooked, tender short rib was swimming in a sweet and tangy mango, pineapple barbecue sauce, served with a mild and creamy jicama slaw and jalapeno cornbread made with locally farmed honey. The flavors came together so delicately, and the cornbread—which is also available as a side throughout the year—was just an added perk that took everything up a step.
Organic lemon thyme chicken—roasted and served with fingerling potatoes and sautéed fennel, tomato, artichoke leaves and baby arugula in a lemon thyme vinaigrette—is a classic summer dish, and rightfully so. The lemon itself is so bright and has a summery feel to it, and the meat is tender, juicy and done just right. It was light and flavorful, but still managed to have that Sunday dinner, home-roasted feel to it that makes a chicken platter so easy to love.
The chicken was made only better by a handful of side dishes available, particularly the grilled miso and mustard asparagus. Who would have thought that asparagus could have so much potential, but when paired with slightly spicy mustard and the salty miso, along with the slight char from roasting in the oven, this ordinary veggie was turned into something totally new, and completely irresistible.
Basil and white bean ravioli is another menu regular, appearing along with a selection of other vegetarian items. Pillowy raviolis were sautéed with artichoke hearts, shiitake mushrooms, burst cherry tomatoes, chopped asparagus and a blend of basil pesto, Meyer lemon oil and roasted red pepper sauce. For a vegetarian plate, there were more than enough strong and hearty components, and the freshness of the accompanying veggies and sauces turned what is traditionally a heavy pasta dish into something balanced and clean.
Desserts vary, and all come hand-crafted in shotglass-sized portions, so you can finish the night off guilt-free (or just go crazy and order the full spread). There are plenty of fun cakes, parfaits and mousses to pick from; like the bourbon peach cheesecake variety, which stacked creamy cheesecake filling onto diced peaches in a sweet sauce with a hit from the bourbon. The chocolate and peanut butter mousse was another playful variety—that reminded me of my favorite childhood snack, the Funny Bone—and layered creamy peanut butter mousse between rich chocolate cake.
Farm-to-table is one of the biggest buzz terms in modern dining, representing a concept that could really lead to an impactful restaurant experience. Harvest is on top of the trend with a truly exceptional menu that surprises, entices and leaves diners with a happy, full feeling that doesn't push the limit into gluttony.
Published (and copyrighted) in South Jersey Magazine, Volume 12, Issue 4 (July, 2015).
For more info on South Jersey Magazine, click here.
To subscribe to South Jersey Magazine, click here.
To advertise in South Jersey Magazine, click here.