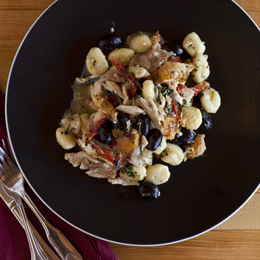 Side Dish
…From the pages of South Jersey Magazine…
Quick Bite: Rosemary Gnocchi
Café BellaVita
Merchantville
This family-run eatery is putting out artfully crafted plates under the direction of chef Carlo Finazzo, who adds a bit of performance to every dish. Pillows of pasta get tossed with shredded chicken in a white wine sauce, complemented by plump whole grapes that absolutely burst with flavor.
Key Ingredient: Eggplant
'Tis the season for tasty eggplant. It's great for grilling, frying and baking, and works as a hearty meat substitute. Get your fill of eggplant around the area with a few of these local plates.
Roasted Eggplant Salad
Black Olive, Voorhees
Tempura Eggplant Roll
Tokyo Tasty, Sewell
Siciliana with Sliced Eggplant in Garlic White Wine Sauce
Illiano Cucina Mediterranea, Medford
Lunch Under $15: Dearborn Circle, Mount Laurel
Mount Laurel may not have a centralized downtown, but that doesn't mean it's short on stellar food. Only five minutes off Route 38 in Mount Laurel, Dearborn Circle gives hungry lunch-goers their pick from every inch of the spectrum, ranging from fresh sushi to deliciously hot pizza.
Grandfather's Chicken
This lunch special is Tres Yan & Wu's version of the traditional General Tso's entrée. Take your pick of either chicken or tofu in a sweet, but slightly spicy brown sauce, served as a lunch portion over jasmine rice. $10 at Tres Yan & Wu, 3133 Route 38
Palek Paneer
Flavors of India sticks to tradition with this vegetarian staple. Chopped veggies and cubed paneer—an Indian cheese curd similar in texture to tofu—gets stewed in a garlicky spinach puree and served with plenty of naan bread. $10.95 at Flavors of India, 3111 Route 38
Pad Thai
The perfect combination of stir fried noodles with egg, peanuts, bean curds and bean sprouts. A hefty serving will fill you right up, especially if paired with your choice of chicken, steak or shrimp. $8.95 at Bhan Thai, 4330 Dearborn Circle
Philly Cheesesteak Pizza
Pronto combines two of our loves into one beautiful bite: cheesesteaks and pizza. Fresh dough is covered with chopped steak, mozzarella cheese, onions, green peppers, and pizza sauce. $12 at Pronto, 4040 Dearborn Circle
Tonno Hoagie
This specialty pairs Italian tuna—which tosses the fish in spices and olive oil—with fresh, crispy Romaine on a 10-inch Italian roll. Add your choice of cheese, including freshly-sliced mozzarella, for a nominal fee. $6.95 at Abruzzi & Giunta's Italian Market & Catering, 3211 Route 38
Fast Food
After more than 90 years in business, Summit City Farms has added a winery to their Glassboro location. The winery features 23 varieties of wine made from locally grown fruits, all available to sample in the new tasting room.
Dubh Linn Square in Bordentown has closed, citing financial issues. The owners are working on a deal with a new buyer.
The 2nd Annual PREIT South Jersey Restaurant Week is set for July 12-19. Restaurants at the Cherry Hill Mall, Moorestown Mall and Voorhees Town Center will offer special menus and/or pricing throughout the week.
Heritage Vineyards in Mullica Hill recently took home 26 awards at the Garden State Wine Growers Association's New Jersey Wine Competition. Among the accolades, Heritage was given the New Jersey Winery of the Year for the second year in a row.
Collingswood has announced plans to introduce a new ordinance that would allow craft breweries to brew in the borough. The dry town's new ordinance will allow people to brew and distribute locally, as long as no food is sold on the premises.
Extra Plate: Zinburger
Booze and burgers: it's a simple, beautiful combination. But up until recently, the idea of diving into a greasy, juicy patty and sipping a fine Merlot never made much sense—until Zinburger showed up, that is. The Cherry Hill outpost of this chain has quickly become a leading name in burger greatness, with a reasonably priced wine list to match.
The burgers start simple and build up to crazy combinations like the Breakfast Burger, which tops a beef patty with fried egg, bacon, avocado, American cheese and mayo. But you can't go wrong with the namesake Zinburger, an upscale twist with Manchego cheese and Zinfandel-braised onions. Guests have the option of upgrading all burgers to Kobe beef, and it's all served à la carte, giving guests the opportunity to pick from their separately priced sides. Take a look at other diners and you'll find plates and plates of housemade onion rings, and with good reason. They're simple, served with barbecue sauce for dipping, but so crunchy and flavorful you can't help but dive right in.
The Zinburger kitchen turns out one of the best veggie burgers in the area, as well; a bean burger that gets topped with smoky mozzarella cheese, sliced avocado and crispy bean sprouts. It's flavorful and rich, but still gets a nice fresh bite from the extra toppings. Then there's the sandwich selection, which includes a crispy, juicy fried Buffalo chicken sandwich, a seared ahi tuna sandwich glazed in Tamari and served with avocado and cole slaw, and a West Coast chicken sandwich with Havarti cheese and avocado.
The Chinese chicken salad is their most creative, featuring mixed greens and Napa cabbage tossed with red peppers, oranges and crispy won ton chips.
There's also plenty of wine, craft beer and signature cocktails to quench your thirst, but they also serve up something a little sweeter. The milkshake menu has earned a pretty solid reputation in its own right with flavors like crème brulee, salted caramel and strawberry cheesecake. And you can't go wrong with a classic, like the Black Cow Float, which mixes creamy vanilla ice cream with Stewart's Root Beer.
Published (and copyrighted) in South Jersey Magazine, Volume 12, Issue 4 (July, 2015).
For more info on South Jersey Magazine, click here.
To subscribe to South Jersey Magazine, click here.
To advertise in South Jersey Magazine, click here.