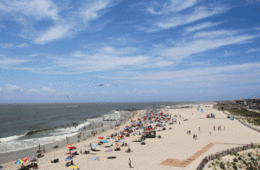 Best of the Shore 2015
There's nothing quite like summer at the Shore.
Whether you're spending the day enjoying the surf and sand or heading out for a cocktail before dining at one of the many spectacular restaurants up and down the coast, it's time to head back to the beach. But, we don't want you to show up unprepared, which is why for our annual Best of the Shore roundup we've gathered the top places from Long Beach Island to Cape May. Find out where you should be grabbing breakfast, lunch and dinner, as well as the best happy hours, cocktail bars, retail shops, activities for the kids and more.
We've also included a breakdown of what new things to expect when you arrive plus our readers' picks for their favorites. Grab your shades and some sunscreen, things are looking brighter than ever this year.
Avalon
Rise and Shine
Kudos American Grille
This Dune Drive eatery serves up the usual pancakes, waffles and French toast, but it's their omelets that have us waking up hungry. Whether you prefer yours filled with crab meat or spinach there are plenty of unique offerings, but you can also build your own with ingredients ranging from peppers to pork roll.
(609) 368-7422, KudosAmericanGrille.com
Out to Lunch
Concord Café
This polished casual food favorite satisfies our midday hunger pangs like no other. From the finger foods to the pizzas, salads and sandwiches, the menu satisfies without being overly simple. We love sinking our teeth into the London broil sandwich with roasted peppers and broccoli rabe but we're also partial to their chicken bruschetta served with mozzarella and drizzled balsamic.
(609) 368-5505, ConcordCafe.net
Dining Out
Café Loren
What Café Loren lacks in overall size, it makes up for with big-time dishes that showcase fresh ingredients and deft cooking techniques. There are plenty of seasonal options here—most of them dynamite—but seafood is the real star of the show and it shines with plates like the prosciutto-wrapped perch and the salmon seasoned with a cumin and chili spice rub. You'll be thinking about your meal here long after you've settled the check.
(609) 967-8228, CafeLoren.com
Snack Attack
Avalon Barbecue Co.
South Jersey isn't exactly a hotbed for well-done barbecue food, which is why any time we have the craving we head straight here. The meats—ribs, pulled pork, chicken, beef—are smoky and juicy, exactly what you want out of your barbecue and a strong lineup of side dishes make the journey complete. Looking for something new? Try the pulled pork parfait—layers of beans, pork, cheese and barbecue sauce piled into a cup. We told you this place was awesome.
(609) 967-8222, Avalon BarbecueCo.com
Child's Play
Evenings at the Beach
Everyone enjoys a family vacation to the Shore, but trying to keep the little ones entertained for the entire time can be as rough as the undertow some days. Thankfully Avalon does a wonderful job with a series of movies, concerts and other regular live entertainment. Grab a couple towels, some snacks and settle in for a stress-free night (you hope) on the sand.
By the Bar
The Whitebrier
Happy Hour is a daily affair here from 4 to 7 p.m., and it just might be the hottest day party at the Shore with plenty of discounted drinks and lots of dancing inside the Mermaid Café. If you're on the hunt for food, head over to the Octopus Garden to sample the wide array of impressive sushi offerings. Whether you're just coming off the beach or getting an early start to your evening, this place is a party.
(609) 967-5225, TheWhitebrier.com
Drink Up
Windrift Hotel
The Windrift offers several areas to grab a specialty cocktail, from a small outdoor tiki bar to a slick indoor lounge. You'll usually find us perched at Level 2, an indoor/outdoor bar area where views of the ocean surround you as music fills the air and you sip on a pitcher of sangria or one of the many handcrafted signature drinks that have become the hotel's calling card.
(609) 368-5175, WindriftHotel.com
The Scoop
Sundae Best
There's so many flavors of homemade ice cream here it makes our head spin, or brain freeze, or… you get the point. They make waffle cones daily, but if sundaes are more your thing it's no coincidence that they named the place after them. Their collaboration with nearby Kohler's Bakery is a thing of beauty—cream donuts and ice cream, need we say more?
(609) 368-1121, SundaeBestAvalon.com
The Buzz
The Princeton
Princeton University may be synonymous with quality academics, but, in Avalon, the Princeton is synonymous with nightlife. With multiple venues under one roof, this is the place to be when the sun goes down for live music and DJ dance parties that keep a crowd consisting of a mix of millenials and middle-aged socialites moving well into the wee hours.
(609) 967-3456, PrincetonBar.com
More in Store
Bellissima
From Tory Burch shoes to Kate Spade bags, we find everything we need to look stylish at this modern boutique where the shelves and racks are filled with items that would look good in any discerning fashionista's closet.
(609) 967-4343, BellissimaAvalon.com
Cape May
Rise and Shine
Saltwater Café
We could go on about the stunning bay views from all angles, but Saltwater's menu is the true show stealer. Banana almond pancakes, eggs Florentine and the Bada Bing sandwich—featuring eggs, broccoli rabe, roasted peppers and sharp provolone—are more than enough to entice.
(609) 884-2403, SaltwaterCafeCapeMay.com
Out to Lunch
Dellas 5&10 Soda Fountain
This local legend on the Washington Street Mall is a true escape to the '50s. Serving up only the most quintessential soda fountain classics—like patty melts, burgers, and of course egg creams and milk shakes—the vintage vibe is fun for all ages.
(609) 884-4568, Dellas5And10.com
Dining Out
The Magnolia Room
Located inside the Chalfonte Hotel, a national historic landmark and the oldest continuously operating hotel on the East Coast, the Magnolia Room has not lost its Victorian charm. The Southern-inspired prix fix menu (which also features some à la carte items) matches its graceful dining room, and still has some of the same items that appeared on the original menu more than 130 years ago.
(609) 884-8409, Chalfonte.com/Dining
Snack Attack
Cape May Popcorn Factory
Popcorn gets a total makeover, thanks to dozens of flavors, ranging from spicy jalapeno to candy coated blue raspberry. It's hard to pass this snack spot without being pulled in by the smell, and once inside you might not want to leave.
(609) 898-7779, CapeMayPopcornFactory.com
Child's Play
Stockton Mini Golf
The Stockton Inn's mini golf course has been a hotspot for family fun since 1938, and still manages to challenge us today. Best of all? It's conveniently located near an arcade and many of the beach-front bars, so the fun can last all night long.
(609) 844-4036, StocktonInns.com
By the Bar
The Mad Batter
We know that The Mad Batter may be famous for their out-of-this-world breakfasts, but their happy hour selection, which runs from 3-6 p.m. every day, is one of Cape May's best-kept secrets. Drink specials on cocktails, beer and more collide with their phenomenal menu, all at a bar with plenty of room for a crowd.
(609) 884-5970, MadBatter.com
Drink Up
The Brown Room
This isn't your typical beachfront bar; the upscale lounge setting makes it much more of an elegant escape for your next night out. And the cocktails are proof, blending only the best liquors to create drinks like the Campari cucumber cocktail, and cherry bourbon sour.
(609) 884-8421, CapeResorts.com
The Scoop
Bliss Homemade Organic Ice Cream
There's no shortage of natural, tasty varieties at Bliss, which also offers vegan offerings alongside their all-organic ice creams. Take your pick from fully loaded flavors like PBJ and toast and orange creamsicle for kids, or strawberry balsamic, chicory root and lemon basil mint sorbet for grown-ups.
(609) 884-3350, ScoopsOfBliss.com
The Buzz
The Boiler Room at Congress Hall
Live music goes all summer at the Boiler Room, with plenty of cocktails and drinks to help get you out on the dance floor. You can also grab a late night bite, too, as they now have a brick oven pizza oven churning out gourmet pies until 1 a.m.
(609) 849-9019, CapeResorts.com
More in Store
Washington Street Mall
From beach gear and clothing to Shore home accessories, gifts and artisan products, Washington Street Mall is the all-in-one stop for a day of shopping in Cape May. There's something for everyone, all placed conveniently within one 10-minute walk.
WashingtonStreetMall.com
Long Beach Island
Rise and Shine
Shore Good Donuts
Ordering one doughnut here just won't do. Start your day off right by heading here for a "diver's dozen" or an "epic eighteen." With signature doughnuts such as the "inside-out Boston cream" and specialty flavors such as the "Pina Colada" or the "Creamsicle," Shore Good will forever change the way you look at fried dough.
(609) 492-0100, ShoreGoodDonuts.com
Out to Lunch
Living on the Veg
While LBI has more than its share of awesome spots for burgers and dogs, Living on the Veg has become a bastion for fresh and delicious fare of the meatless sort: veggie-laden sandwiches, salads and wraps; tacos and guacamole; burritos stuffed with barbecued seitan or cheesy tempeh; and fresh-fruit smoothies. The avocado club, with avocado, hummus and sprouts on multigrain toast, is highly recommended.
(609) 492-4066
Dining Out
The Arlington
Although it's a newcomer to the dining scene in Ship Bottom, the Arlington offers a dining experience unlike any other in LBI: rustic décor, inventive New American dishes crafted from high-quality, locally sourced ingredients, and a drink menu (signature cocktails, craft beers, barrel-aged spirits on tap, etc.) that other establishments might find tough to duplicate. Menu items such as the seafood paella, braised short ribs and grilled flatiron steak are sure to entice, but guests who can't stay for dinner will rejoice knowing that the Arlington's housemade bacon is available to go.
(609) 494-8848, ArlingtonLBI.com
Snack Attack
Woodies Too
The burger selection is ridiculous—half-pound peanut butter burger, anyone?—as is the selection of foot-long hot dogs, but this Beach Haven Gardens hot spot is anything but a typical burger shack. Families flock to Woodies Too not only for the old-fashioned Shore staples—burgers, dogs, fried chicken, shakes, cheesesteaks, etc.—but also for the casual, friendly atmosphere, perfect for grabbing a satisfying bite on the run.
(609) 492-1189, WoodiesTooRestaurant.com
Child's Play
Fantasy Island Amusement Park
Beach Haven's Fantasy Island is as much a part of the fabric of LBI as the Barnegat Lighthouse. Here, kids of all ages laugh the night away playing the arcade games, seeing LBI in its entirety from the top of the Ferris wheel and partaking in games of chance. Also, entertainment options abound throughout the summer, including the return of Reptile World—a live show featuring pythons and gators and cobras, oh my!—in August.
(609) 492-4000, FantasyIslandPark.com
By the Bar
The Dutchman's Brauhaus
The Dutchman's has been a fixture since the 1950s, and it remains a vital happy hour hot spot for those who appreciate great food of Bavarian heritage and fine seafood, as well as a good adult beverage (a cold mug of Paulaner, for example) or two. The Dutchman's alfresco bar, the Quelle, provides an idyllic roost for undoing the coils of a long week.
(609) 494-6910, TheDutchmans.com
Drink Up
Daddy O
This boutique hotel in Brant Beach has one of the best views of LBI, its rooftop "O" bar. The O is the perfect place for sipping one of Daddy O's signature cocktails—perhaps the 18-Mile Run, a blending of three Brinley rums (mango, coconut and spiced), with pineapple, orange juice, ginger ale and cranberry. Even when the weather doesn't cooperate, Daddy O has a restaurant bar equipped with all the accoutrements necessary for enjoying a well-made martini or something from the extensive wine list.
(609) 494-1300, DaddyOHotelLBI.com
The Scoop
Barry's Do Me a Flavor
With two dozen flavors of hand-dipped ice cream, Barry's Do Me a Flavor in Beach Haven has something to suit every palate, especially considering the copious list of premium toppings. (Extra jimmies, please!) There's also soft serve, frozen yogurt and every other kind of ice-cream-related creation under the sun. This includes the ballyhooed "Pamwich," Barry's take on the ice cream sandwich.
(609) 492-8259, BarrysDoMeAFlavor.com
The Buzz
Joe Pop's Shore Bar and Restaurant
There's always a reason to party at Joe Pop's in Ship Bottom. Daily happy hour specials, from 3 to 7 p.m., include $3 domestics inside and $5 frozen drinks at the alfresco Tiki Joe's. Libations aside, Joe Pop's has live bands, DJs and other entertainment six nights a week to keep guests smiling all summer long.
(609) 494-0558, JoePops.com
More in Store
Song of the Sea
Located in Beach Haven's Bay Village, Song of the Sea is a destination for locals and "shoobies" alike. Its specialties include jewelry, gifts and other items created by local artisans, though it's probably best known for its collection of kitschy signs. Song of the Sea also specializes in custom signs, so if there's something you want on a sign, they can do it here. Just keep it clean, people.
(609) 492-6326, SongoftheSeaLBI.com
Margate/Ventnor
Rise and Shine
Agnes' Café
Since taking over Shelly's Café in 2012, new owner Agnes Ritzel has kept the homemade muffins and hearty breakfast entrées this quaint Ventnor spot is known for while adding friendly service that is appreciated by locals and summer renters alike.
(609) 822-2700
Out to Lunch
Bocca Coal Fired Bistro
Just a short walk off the beach, this is a terrific place to step off the sand for a bite, whether you're bringing the kids or headed to their impressive bar for a burger and a craft beer. The menu has plenty of options, but be sure to try a coal-fired specialty pizza like the saltim bocca or sweet caramelized onion and prosciutto pie.
(609) 823-3663, BoccaNJ.com
Dining Out
Tomatoe's
Days at the Shore are meant for bathing suits and flip-flops. But when the sun goes down, get dressed up for a savory meal at this classy restaurant by the bay. Seafood, sushi, pasta and steak are all worthy options on a diverse menu that will please any palate.
(609) 822-7535, TomatoesMargate.com
Snack Attack
Jagielky's Homemade Candies
Chocolate lovers will have a hard time keeping their figures in beach shape when they pass by Jagielky's. Famous for traditional items like their vanilla crèmes, they also have interesting choices like chocolate-covered Swedish fish, and of course, their top-secret fudge recipe is a must-have in the summer.
(609) 823-6501 (Ventnor), (609) 822-2204 (Margate), JagielkysCandy.com
Child's Play
Lucy the Elephant
For amusement rides or mini golf, head to the nearby Ocean City Boardwalk. But no stay in Margate is complete without taking the kids to see the lovable Lucy, who sits six stories high and overlooks the beach. Guided tours are available, or you can stop for lunch in the picnic area. Lucy may be aging, but she never gets old.
(609) 823-6473, LucyTheElephant.org
By the Bar
Johnny's Café and Bar
You can't walk the 9400 block of Ventnor Avenue without noticing the influence of Johnny and Joanna Liccio. The owners of Shuckers Bar and Grille and John's Steaks also provide an elegant dining experience at Johnny's Café, along with a rollicking daily happy hour. Specials include bacon wrapped jumbo shrimp and cocktails like the peach sunrise martini.
(609) 822-1789, JohnnysCafeVentnor.com
Drink Up
Ventura's Greenhouse
With its rooftop deck overlooking the beach, the Greenhouse is a Margate mainstay. Enjoy the ocean breeze while you sip on a daiquiri or piña colada from the blender, or drinks on the rocks like the Beach Blanket Bingo or Jet Ski Thriller, a blend of vodka, peach schnapps, and Midori along with cranberry and orange juices.
(609) 822-0140, VenturasGreenhouse.com
The Scoop
Custard's Last Stand Located in the heart of Ventnor on Dorset Avenue, Custard's Last Stand has all your traditional ice cream favorites, as well as specialty flavors like salted caramel pretzel and pumpkin pie. Also a spot for water ice lovers, their generous portions are certain to make a scorching summer day at least a little cooler.
(609) 823-4033
The Buzz
Memories in Margate
Whether you're 21 or 61, Memories is the place if you're looking to hit the dance floor. The owner is legendary DJ and Rock and Roll Hall of Famer Jerry Blavat, who also spins the tunes every Friday and Saturday night of the summer till 4 a.m.
(609) 823-2196, MemoriesMargate.com
More in Store
Scout Clothing and Décor
Hannah Newcomer, owner of this trendy boutique, prides herself on providing a pleasant shopping experience for both the young and young at heart. Her store features comfortable, fashionable items from hot brands like Free People and Alternative Apparel as well as accessories and gifts for the home from noted designer and Bridgeton native Jonathan Adler.
(609) 823-1024, ScoutClothingAndDecor.com
Ocean City
Rise and Shine
Ma France Creperie
Step into this cozy European style café for a twist on the typical heavy Shore breakfast. Ma France Creperie offers a lighter alternative, filling a buckwheat crepe with ingredients such as egg, ham, Swiss cheese, mushrooms or bacon. Pair your meal with their French press coffee and you may suddenly imagine yourself in Paris.
(609) 399-9955, MaFranceCreperieOCNJ.com
Out to Lunch
Cinco de Mayo
When your stomach growls midday, head over to Cinco de Mayo for a taste of authentic Mexican cuisine served in a friendly atmosphere. Homemade salsa, guacamole and tortillas are just the beginning on this menu featuring classics like tostadas, chiles rellenos and tacos. If you're a more adventurous foodie, try the beef tongue taco.
(609) 399-0199, CincoDeMayoOC.com
Dining Out
Vittorio's
Authentic, fresh and friendly are just three words to describe this casual Italian restaurant on Asbury. Vittorio's serves up a cuisine of classic dishes with homemade pasta and seasonal ingredients in a warm ambiance. We can't resist the much-buzzed-about Chicken Esquire, stuffed with Boursin cheese and topped with scallops, shrimp and a creamy tomato sauce.
(609) 398-7800, VittorioRestaurant.com
Snack Attack
Curly's Fries
For a snack that's saltier than the ocean and hotter than the sand, you can't beat Curly's Fries on the boardwalk. Cooked fresh before your eyes and served in a bucket built for sharing, you might have to fight off a few seagulls while you enjoy them, but it's worth the risk.
(609) 398-4040
Child's Play
Boardwalk Bounce
With any Shore vacation, there's always the chance of rain ruining your plans. Instead of the kids bouncing off the walls at home, let them jump the energy away at Boardwalk Bounce, an indoor retreat featuring giant bounce houses, inflatable slides and a rock climbing wall. Rain or shine, this activity will have even parents jumping for joy.
(609) 385-0855, BoardwalkBounce.com
By the Bar
Sandi Pointe Coastal Bistro
The Shore is probably the last place where you'd need an attitude adjustment, but that's the theme of the daily happy hour at Sandi Pointe Coastal Bistro in Somers Point. A selection of half-price appetizers, $5 martinis, 30 wines by the glass and 12 rotating craft beer taps are the perfect way to cap off a day on the beach—and soothe sunburn sufferers.
(609) 927-2300, SandiPointe.com
Drink Up
The Doc's Place
Book a babysitter and grab a seat at The Doc's Place in Somers Point—the ideal spot for a quality cocktail or two. From the classic cosmopolitan to adventurous combinations such as Cabo Wabo tequila, Grand Marnier, orange, lime and lemon juices, the drink list will make this date night one worth waiting for.
(609) 926-0404, TheDocsPlace.com
The Scoop
Hobby Horse Ice Cream Parlor
When the mood calls for ice cream, head to Hobby Horse Ice Cream Parlor. You can't miss the iconic carousel horse out front or the 47 hand-dipped flavors inside, served on waffles, cones or cups, and topped with anything you can imagine. If you find yourself here more than once during your Ocean City stay, your secret's safe with us.
(609) 399-1214, HobbyHorseOCNJ.com
The Buzz
Yesterday's
Live music and summer go hand-in-hand, and Yesterday's has a calendar full of bands all season long. Every Friday and Saturday night features two bands playing simultaneously indoors and outdoors; and there's something for everyone, from rock 'n' roll to indie acoustic, leaving every member of your party entertained.
(609) 390-1757, YesterdaysBar.com
More in Store
Ta-Dah
What's a vacation without a little retail therapy? Asbury Avenue is the hub for shopping, and Ta-Dah is not just one but five boutiques catering to different women's tastes. From high-end clothing and jewelry to trendy accessories and summer sandals, there is plenty available to make heads turn while you walk the boards.
(609) 398-6768, TaDahOCNJ.com
Sea Isle City
Rise and Shine
Sunset Pier Restaurant
Everything tastes better down the Shore, especially when great food is paired with a great view. At the appropriately named Sunset Pier, breakfast is not only a meal but also an experience. Here, the joys of blueberry pancakes, Texas-style French toast and the "kitchen sink" omelet can be savored in the sunshine on the outdoor deck, which overlooks the bay on 86th Street.
(609) 263-5200, SunsetPierSIC.com
Out to Lunch
Mike's Seafood
At lunchtime, seafood lovers flock to Mike's Seafood for lunch on the dock. You can't go wrong with the fish and chips, but you might find it tough to resist ordering something called the "Back Bay Bomb." Do not resist, because this fried jumbo lump crab cake, topped with more crabmeat, and served on a Kaiser roll with fries and coleslaw, is a masterpiece.
(609) 263-3458, MikesSeafood.com
Dining Out
Mako's American Grille
It's a relative newcomer, having opened in 2013, but Mako's has already made a name for itself, thanks to a menu packed with fresh, creatively crafted seafood dishes that are head and shoulders above the deep-fried sort. Examples: tilapia stuffed with jumbo lump crabmeat and finished with a creamy lobster sauce; and the mammoth crab cakes touched off with a Creole mustard aioli. Fish not your thing? Try the grilled filet with chimichurri sauce and garlic-roasted potatoes.
(609) 263-3287, MakosGrille.com
Snack Attack
Drifters Feel Good Food
Two words: "fries" and "sliders." Drifters specializes in both, and the mix-and-match menu—a pair of crab cake sliders with truffle fries, say, or a barbecue bacon cheeseburger slider with Buffalo bleu fries, or the Cajun chicken slider with Canadian poutine fries—has made this place a "go-to" anytime the hunger demons in one's gut starts to grumble.
(609) 263-9900, DriftersFeelGoodFood.com
Child's Play
Harbor Outfitters' Sea Isle City Surf Camps
Sure, the Shore has its share of good surf breaks, but it's also prime territory for another board sport: standup paddleboarding, which, if you or the kids haven't tried it yet, is exactly what it sounds like. Harbor Outfitters' SUP camps for kids enable fledgling SUP-ers to explore Sea Isle's flat-as-glass waters from a much different perspective—by essentially walking on water.
(609) 368-5501, HarborOutfitters.com
By the Bar
The Dead Dog Saloon
The Dead Dog is a proper saloon—comfortable yet upscale, ideal for catching up with friends over a Phils game, tapping one's feet to the beat of a bass drum when the live entertainment is in full swing, or simply enjoying a cold beer and some exceptional pub grub of the chicken wing, bang-bang shrimp and mac-and-cheese bite sort.
(609) 263-7600, DeadDogSaloonSeaIsle.com
Drink Up
Henri's Bar at Braca Café
There is an altogether fine bar area inside this traditional Italian restaurant, but the real magic happens outside. Before or after dinner here, be sure to take a seat at Henri's, an alfresco bar located out back. Here, you'll enjoy signature cocktails—check out the frozen concoction known, rather understatedly, as the "302," in the flavor of your choosing—in a laid-back atmosphere that encourages lingering.
(609) 263-4271, BracaCafe.com
The Scoop
Marita's Homemade Ice Cream
Marita's has been at it for almost 30 years, and it's easy to see why it has endured: dozens of flavors of homemade hand-dipped cones and soft serve (with toppings galore), among other summertime treats, all at a stand that harkens back to a simpler, much different time. It's cash only, so bring plenty of greenbacks … and, of course, a sweet tooth.
(609) 263-6800
The Buzz
The Ocean Drive
The happy hours at "the OD" are just short of legendary. With live entertainment just about every night of the week, generous food-and-drink specials ($1 tacos every Wednesday) and a raft of daiquiris and other signature cocktails, the OD has earned its rep as the mecca of Sea Isle nightlife.
(609) 263-1000, TheOD.com
More in Store
Kiwi Boutique
If you're looking for a stylish new swimsuit, a pair of too-cute shoes or an adorable accessory to turn any outfit into a stunner, head to this unique boutique for woman's apparel on Pleasure Avenue. From summer tanks and tees to designer dresses and jewelry, Kiwi has you covered.
(609) 827-1718, KiwiBoutiqueSeaIsle.com
Stone Harbor
Rise and Shine
Marabella's Family Restaurant
Marabella's offers all the traditional breakfast staples, but also has specials like the eggs Florentine, and the frittata of the day, which often includes our favorite, the sausage and mozzarella frittata—made with the freshest eggs and enough melty mozzarella to make our cheese-loving taste buds swoon.
(609) 368-5037, MarabellasFamilyRestaurant.com
Out to Lunch
Chill
Chill was new in 2014 and we love that they're bringing their farm- and ocean-to-table concept back for another season. You won't find fresher seafood or more in-season vegetables at this laid-back, family-friendly establishment, so we recommend you order whatever tempts your palate, then sit back and enjoy.
(609) 368-8500, ChillStoneHarbor.com
Dining Out
Sax at the Reeds at Shelter Haven
Just because you're down the Shore doesn't mean your dinner options are limited to boardwalk fare and fast food. You'll find fine dining at its best at Sax, where the atmosphere is just as elegant as the menu which boasts standout dishes like pan-seared scallops with toasted hazelnut and one unforgettable lobster Caesar salad.
(609) 368-0100, ReedsAtShelterHaven.com
Snack attack
Bread and Cheese Cupboard
Whether you're a sweet aficionado or you prefer treats on the savory side, you'll find the perfect afternoon snack here, with options ranging from chocolate cheesecake muffins to truffle cheese.
(609) 368-1135, BreadAndCheeseCupboard.com
Child's play
Harbor Bike & Beach Shop
Inevitably, the beach is going to get boring this summer. So when your kids are looking for something else to do, head over to Harbor Bike & Beach Shop, where you can rent bikes and cruise the island for the afternoon.
(609) 368-3691, HarborBike.com
By the Bar
Stone Harbor Bar and Grill
There's nothing better than a cool drink after a hot day in the sun, and the Stone Harbor Bar and Grill offers plenty of options after having expanded their selection of draft and craft brews. Happy hour brings plenty of specials and munchies like the ahi tuna bites.
(609) 961-3534, StoneHarborBarAndGrill.com
Drink Up
Water Star Grille
There's a lot to like about the Water Star Grille—from its appealing food offerings to its seating on the water—but its cocktail menu truly stands out. We love how summer-like their drinks are—the Melon-Basil Cooler and the Cool as a Cucumber are especially refreshing on a hot evening—and we never get the same one twice.
(609) 368-0100, ReedsAtShelterHaven.com
The Scoop
Springer's Homemade Ice Cream
Springers is practically an institution in Stone Harbor, so you'd be doing yourself a disservice if you were to forgo any of their over 50 flavors, which include the chocolate and vanilla mainstays but also feature unique specialties like potpourri and butterscotch brickle.
(609) 368-4631, SpringersIceCream.com
The Buzz
Fred's Tavern
If you're looking to extend your happy hour into the evening, head to Fred's, where there's never a shortage of live music on the weekends. The beer selection is notable as is the coconut vanilla martini.
(609) 368-5591
More in Store
Gingy's
Whether they know what they're looking for or they need a little inspiration, ladies looking to update their wardrobes will find the trendiest summer clothing and accessories here, ensuring they step out on their latest Shore adventure in style.
(609) 961-3057, Gingys.com
Wildwood
Rise and Shine
The Waves Restaurant
This cozy spot serves up lots of homemade goodness for early risers looking to fill their belly. Fluffy pancakes and well-cooked omelets are fine choices, but we can't stop raving about their Banella French toast—slices of bread baked in-house stuffed with sliced bananas and topped with Nutella.
(609) 600-2958, WavesAtWildwood.com
Out to Lunch
Shoobie's Good Eats
Shoobie's menu has so many delectable options you could come all summer and not eat the same thing twice. They offer inventive sandwiches and paninis, tacos, mouthwatering burgers, even something called jelly fries—hand-cut fries with cream cheese and a spicy pepper jelly. Oh yeah, the salads are pretty dynamite too, if you're into that whole looking-good-in-a-swimsuit thing.
(609) 522-7466, ShoobiesGoodEats.com
Dining Out
One Fish, Two Fish Restaurant
The menu here is small, but focused, and the plates coming out of the kitchen are as appealing to the eye as they are appetizing to your stomach. Start with Prince Edward Island mussels in a tangy Tabasco tequila sauce then opt for the spicy roasted jerk chicken or blackened salmon, before finishing the evening with a warm chocolate chip muffin stuffed with cookie dough and a side of ice cream.
(609) 522-5223, OneFishTwoFishRestaurant.com
Snack Attack
Sam's Pizza and Curley's Fries
Boardwalk food is all about being able to grab and go. A slice of pizza here, a bucket of French fries there. Sam's and Curley's are Jersey Shore institutions and the fact that they are located mere steps from one another makes it easy for us to chow down efficiently. It's no coincidence that both places have steady lines; good things come to those who wait.
(609) 522-6017, SamsPizzaWildwood.com; MoreysPiers.com
Child's Play
Airboat Adventures
Over in Wildwood Crest your kids will have a blast riding through the marsh and getting up close and personal with the wildlife while learning about the ecosystem thanks to a friendly and knowledgeable staff that knows the local waterways like the back of their hand. Oh, who are we kidding? Even the adults in your crew will enjoy this one.
(609) 602-2492, AirboatAdventuresCapeMay.com
By the Bar
North End American Grill
Happy hour is truly a celebration at this North Wildwood joint. Grab a seat on the outdoor patio where live acoustic music fills the atmosphere as you sip on a Cape May IPA or a specialty cocktail while munching on plates like fried mac-and-cheese wedges or littleneck clams steamed in garlic herb butter.
(609) 435-5691, NorthEndAmericanGrill.com
Drink Up
The Establishment at 100
High-end cocktails reign supreme at this modern space sandwiched in between some of Wildwood's more rowdier bars. Gin Makes You Sin—Hendrick's gin, aperol, basil with honey syrup, grapefruit and a little carbonation—is a surefire way to kick off any evening. Or wind things down with the Message in a Bottle—hibiscus, coconut rum, orange, marmalade, pineapple, coconut milk and nutmeg. The bartenders here are true mixologists and the crafted cocktails are their hallmark.
(609) 523-8100, TheEstablishmentAt100.com
The Scoop
Duffers
With more than 30 homemade ice cream flavors Duffers is a one-stop shop for anyone who screams for ice cream. We absolutely melt for their undeniably delicious sticky bun offering, but maple walnut and piña colada are also crowd pleasers. They even have sundaes portioned for the little ones and they make a darn good orange cream float as well.
(609) 729-1817, DuffersWildwood.com
The Buzz
Cattle 'n Clover
Irish bars are all about the party and this pub packs plenty of Celtic charm. It also hosts some of the Shore's hottest live musical acts giving patrons the chance to cut loose and dance the night away. The sounds range from Irish folk songs to the hits of today, all under one roof with one mission in mind: to create a night to remember.
(609) 522-3800, CattleNClover.com
More in Store
Marcellina
This boutique carries the likes of Tommy Bahama and Brighton so your Shore couture will never suffer. It's the perfect place to pick up some accent jewelry for a special evening on the town or to grab a seasonal handbag that you'll likely be clutching well past Labor Day.
(609) 729-7528, Marcellinas.com
Around A.C.
The hottest tickets in Atlantic City this summer
June
13: Whoopi Goldberg
9 p.m., Harrah's, $45-$85
13: The Hooters with G. Love & Special Sauce and Southside Johnny & the Asbury Jukes. Two legendary Philadelphia bands from different decades will share the stage for the first show at the Borgata's new outdoor concert venue, Festival Park.
6 p.m., Borgata, $20
18: Chefs at the Shore
Historic Gardner's Basin is the place to be for this night of food that includes live cooking demonstrations and plenty of tastings all in the name of raising money for the Atlantic City Aquarium's education programming.
5:30 p.m, $50-$60
20: Aretha Franklin
9 p.m., Caesars, $55-$105
21: Roar at the Shore
Noon, Farley's State Marina, free
22: Woodford Reserve Dinner with Bobby Flay
6 p.m., Borgata, $195
27: Merle Haggard
9 p.m., Golden Nugget, $49-$79
27: Regis and Joy Philbin
9 p.m., Resorts, $45-$65
27: Kellie Pickler
8 p.m., Taj Mahal, $15-$35
July
3,4: Fireworks
Celebrate the holiday as A.C. lights up the sky with two evenings of firework spectaculars. The Boardwalk will be the best place to watch Friday's beachfront show. On the Fourth the show will take place across town at the Marina.
July 11: George Lopez
8 p.m., Borgata, $55-$85
17: Cheech and Chong
9 p.m., Golden Nugget, $35-$65
18: Norm Macdonald
9 p.m., Harrah's, $25-$45
18: Boyz II Men
8 p.m., Tropicana, $47-$67
19: 311
4 p.m., Borgata, $45
24: Blues Traveler
9 p.m., Resorts, $30-$40
25: Bill Maher
9 p.m., Caesars, $79-$99
24-26: Atlantic City Taste, Food and Wine Festival
A weekend made for food includes the always-popular Grand Market where restaurants, wineries and scores of exhibitors appeal to your gourmet senses.
Visit AC.GourmetShows.com for more information.
31: Peter Frampton and Cheap Trick
8 p.m., Tropicana, $65-$125
August
1: James Taylor
8 p.m., Borgata, $90-$200
2: LeAnn Rimes
9 p.m., Caesars, $25-$45
7, 8: Jerry Seinfeld
Famed funnyman Jerry Seinfeld comes to the Borgata for two nights of stand-up comedy where fans can expect plenty of his observational humor and ironic laughs.
8 p.m., Borgata, $95-$165
15: Alice in Chains
8 p.m., Taj Mahal, $28-$68
16: Bruce Hornsby and the Noisemakers
9 p.m., Caesars, $25-$45
21, 22: Santana
9 p.m., Borgata, $65.50-$145.50
24: Taste of the Quarter
This eighth-annual event allows guests to sample food from the Tropicana's casual and fine dining restaurants with proceeds from the evening benefitting The United Way.
6 p.m., Tropicana, $25
28: Art Garfunkel
9 p.m., Borgata, $35-$45
30: Gregg Allman and The Doobie Brothers
7 p.m., Borgata, $59-$79
What's New
Avalon
Avalon will host Thursdays on Dune weekly starting July 2, featuring family-friendly activities like a pet parade, a balloon artist, character appearances and giveaways, throughout the town's shopping district, followed by a concert at Veterans Plaza. Popular BYOB restaurant The Diving Horse will open for its sixth season with a new executive chef, Paul Carrier.
New businesses in town include Pop's Italian American Deli on Ocean Drive, Big Chanco's Tacos on 21st Street, Tuckahoe Bike Shop on Dune Drive, Surf Snack Shack at 21st and Dune Drive, Vozzella's Brick Oven Pizza at 21st Street and Dune Drive, and Jellyfish Juice Bar at 20th and Dune Drive. Avalon Barbecue Co. has also moved to a new location on 21st Street.
Cape May
Congress Hall's nightclub The Boiler Room has added six signature wood-fired pizzas and draft beer—including some local brews—to its menu. Pizzas are available nightly during the summer months. Sam Ackrill has also been named general manager of the resort.
The Little Store will combine fresh baked goods with fresh local produce at 1208 Route 109. Lucky Bones Beach will serve up a variety of burgers, fries and milkshakes.
Louisa's Café has increased its seating to accommodate 32 diners, up from 20. Folks from Peter Shields Inn will transform the Pilot House into Fins Bar & Grill at 142 Decatur Street with chef Carl Messick manning the kitchen.
Long Beach Island
Beach Haven welcomes Delaware Avenue Oyster House & Bar. Think fresh seafood and inventive small plates.
Women's boutique Wink has doubled the size of its Surf City location.
Roads in Tuckerton Beach that were heavily damaged in Superstorm Sandy are getting new water and sewer lines as well as repaving. The projects will be funded by the New Jersey Department of Transportation and the New Jersey Environmental Infrastructure Trust Fund.
Margate/Ventnor
As part of Beachstock 2015, Margate is keeping an eye on your health with the Wellness Oasis, where you can have a free skin screening by a health professional. Also new to Beachstock this summer is an eco-friendly treasure hunt for kids; and South Pacific Island Dancers, featuring traditional dances from Hawaii, Tahiti and New Zealand—even a Samoan fire and knife dance.
Margate is also upping the ante on an existing event, Thursdays Free Movies on the Beach with an art program for children before the movie.
There are several new businesses in town, including Teal Cruising and Charters, which offers sunset cruises, fishing trips and special events, as well as Anchor Arts on South Essex Avenue, which offers children and adult art classes.
The Margate Dairy Bar and Burger on Ventnor Avenue has a newly ­designed building and an expanded menu this year. Barrels Italian Restaurant is now located on Ventnor Avenue. The owners of Junior's Doughnuts and Dogs are opening Junior's Seafood Shack on Amherst Avenue; and a new eatery, Margate Burgers, will also open this summer. Jo Jo's Pizzeria is now called Sapore and has changed ownership.
Steve and Cookie's owner Cookie Till is behind Ventnor No. 7311, a new bakery and café found at 7311 Ventnor Avenue.
Ocean City
New restaurants include Vittorio's Italian Restaurant on Asbury Avenue, Frankie's on the Bay on Bay Avenue and Troy Mediterranean Cuisine on the beach block of Ninth Street in the former spot of Periwinkles, and Tony P's House of Pie on the Boardwalk.
Yoasis, a popular frozen yogurt shop in downtown Ocean City, recently opened a second location on the boardwalk called Yoasis Beach Bowls.
A new skatepark is expected to be completed this summer in Ocean City, adjacent to the fire headquarters at Sixth Street and Asbury Avenue.
Ocean City is also hosting a new set of events this summer called World Record Wednesdays, attempting feats such as the longest line of high fives/connected beach towels, fitness challenges, taffy unwrapping and pizza eating, among others.
Ocean City also redecked a portion of the boardwalk between 6th and 7th streets during the offseason.
Sea Isle
Several new eateries have opened in Sea Isle, including A Modo Mio Ristorante on Landis Avenue, Bella Luna Ristorante on JFK Boulevard, City Burger and La Piazza Brick Oven Pizza & Ravioli House, both on Landis Avenue and Sea Shell's Pizza & Subs on 43rd Street.
For the fashion-forward, two new boutiques join the town's repertoire, Coastal Palms Boutique on Landis Avenue and Obsession Boutique on 43rd Street.
The Army Corp of Engineers has issued a formal notice to move forward with a $57.6 million beach replenishment project of Ludlam Island, which includes the entire shorefront of Strathmere and Sea Isle City. Once the project is completed, the beaches in Sea Isle will be 200 to 300 feet wider during high tide. The project is 100 percent federally funded, except for the outfall portion of the project which costs $85,000.
A new $11.8 million city hall building will also be completed this summer in Sea Isle, since the previous structure was damaged during Hurricane Sandy. The new consolidated municipal building will be located on JFK Boulevard.
Stone Harbor
Stone Harbor Bar and Grill recently renovated its space and will introduce a new menu this season. In the mood for fine dining? Try out SAX Prix, which for nine weeks this summer will offer a multi-course prix fixe menu, two thoughtfully selected wine flights and a full gourmet, exclusive dining experience.
Stone Harbor will also be hosting a new event, the Harbor Hustle 5K and 2-Mile Fun Walk, set for July 5. And every Tuesday from July 7 through Aug. 25, bring your beach chairs and head to Water Tower Plaza for a weekly concert.
The Watering Hull is a new Caribbean-inspired seafood restaurant opening on the second floor or Harbor Square at 261 96th Street.
Wildwood
After a renovation and new ownership, Tucker's Pub will reopen this summer as the Old City Pub. After being closed for more than two years following Hurricane Sandy, Nino's Family Restaurant will re-open at the site of the former Groff's Restaurant on Magnolia Avenue. Splash Zone Waterpark's Flow House Bar & Grill also added a new upscale menu this year.
This summer at Morey's Piers & Beachfront Water Parks will be a new gorilla-themed amusement ride, centered around the iconic Kong boardwalk landmark. Morey's Piers' interactive artists' colony, artBOX, will introduce a new rotation of guest artists, and a new interactive workshop where kids can create their own works of art to take home.
Bill Henfey Park is undergoing a renovation, including upgrades to the softball field, a new basketball court, two playgrounds, restrooms, a first aid station, new fencing and newly planted trees.
Wildwood Crest Library has a new location on Atlantic Avenue.
Also check out the town's new Icon Wall Murals, sprinkled throughout the Wildwoods and showcasing its colorful history and culture.
Sip a collection of your favorite local brews at the first-ever Wildwood Beer Fest, June 13-14. And close out the season with the Wildwood Block Party and Music Festival, slated for Sept. 6, with a special performance by Chubby Checker. If country is more your style, Boots at the Beach is set for Sept. 18-19 and will have crafts, vendors, great food, and of course, live country music.
Best of the Shore Readers' Picks
Amusement Rides
Gillian's Wonderland Pier
Ocean City
Waterpark
Splash Zone
Wildwood
Miniature Golf
Pirate Island Golf
Avalon, Ocean City, Sea Isle City
Boardwalk
Ocean City
Beach
Stone Harbor
Surf Shop
Heritage
Margate
Lifeguards
Margate
Hotel
The Grand Hotel
Cape May
Fudge
Fudge Kitchen
Various locations
Ice Cream
Ken and Mary's
Wildwood
Pizza
Manco and Manco
Ocean City
Seafood
Lobster House
Cape May
Italian
Spiagetta
Stone Harbor
BYOB
Sage
Ventnor
Casual Dining
Lucky Bones
Cape May
Fine Dining
Marie Nicole's
Wildwood Crest
Sushi
Megu Sushi
Ventnor
Photo: A Beautiful Beach Day in Cape May
Published (and copyrighted) in South Jersey Magazine, Volume 12, Issue 3 (June, 2015).
For more info on South Jersey Magazine, click here.
To subscribe to South Jersey Magazine, click here.
To advertise in South Jersey Magazine, click here.