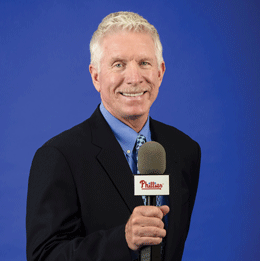 Back in the Game
Former Phillie Mike Schmidt had a Hall of Fame baseball career, but a recent cancer scare has him enjoying life in a whole new way.
Mike Schmidt stands behind the batting cage, watching several hitters take extra swings following another spring training game. A red fisherman's hat hangs beneath his Phillies cap, protecting his neck and back from the hot Florida sun.
Fighting—and beating—skin cancer makes a guy take necessary precautions. Even Hall of Famers are not invincible.
"I cake on sunscreen now," Schmidt says. "You get scared of the sun. It's evil."
The greatest third baseman in the history of the Philadelphia Phillies and arguably the best to ever play the position in the majors was back on the field this spring, a year after battling stage 3 melanoma.
Schmidt spent several weeks with the Phillies as one of the team's guest hitting instructors along with former manager Charlie Manuel and other legends. He's 65, but looks quite fit and trim. His hair is all gray and so is the stubble on his face.
It's a long way from when Schmidt was a young player and living in various apartments and condo complexes across South Jersey, including a stay in Cherry Hill.
"It was affordable for a guy making $15,000 a year ... and close to The Vet," Schmidt recalls.
It's been 26 years since Schmidt retired, calling it quits in the middle of a road trip on the West Coast not because he couldn't play well anymore, but because he wasn't playing at an MVP and All-Star level any longer.
He faced many challenges throughout his playing career, but nothing quite like staring down cancer. The dreaded disease makes hitting a Nolan Ryan 100 mph fastball seem like it was no big deal.
After a dermatologist found a mole on Schmidt's back in August 2013, a biopsy revealed the melanoma was more serious than stage 1. Schmidt had two operations, radiation and chemotherapy treatments over the course of several months as he traveled back and forth from Massachusetts General Hospital in Boston and his home in Jupiter, Fla.
"It was pretty rough for 13-14 months," he says. "I lost some hair and 20 pounds, slept 18 hours a day and was a zombie for a month. Thanks to my wife, I got through it. I'm very lucky."
Schmidt had a grandfather who lost an ear because of melanoma. But that didn't stop Schmidt from spending most of his life in the sun, growing up as a lifeguard, playing baseball, going fishing and vacationing often in the Bahamas.
"I'm a light-skinned guy and was always trying to get a tan and couldn't get a tan but kept trying," he says. "Over the last 20 years, sunblock has become like seat belts."
Schmidt gets body scans every six months now and brain scans every three. He's been clear of cancer so far and prays to stay that way.
"I have a very wonderful life right now, especially the good luck with health," he says. "I have two beautiful grandchildren. My 36-year old daughter married a lawyer in Boston. My son is single working in Berlin, Germany. He's doing well. My lovely wife, Donna, and I have been married for 41 years and she's still my best friend. We do a lot of boating. We have two nice homes, one in Jupiter and one in Rhode Island. We have a set of friends in both places. Things couldn't be better. I thank God every day for that. I'm blessed in that way."
Schmidt worked as a broadcaster after retirement and later tried to stay in the game as a manager for the Phillies in the minors at Single-A Clearwater. He's excited about his expanded role with the team as a hitting instructor and broadcaster, while working with the marketing staff.
Schmidt, who served as color analyst for Sunday home games last season on Comcast SportsNet, is also working Saturday games this year. He flies to Philadelphia on Wednesdays; plays golf with sponsors and suite owners Thursday and Friday; and works the weekend games on television. (Schmidt has always been a big golfer and was a former member at Riverton Country Club during his playing days).
That's a pretty sweet gig for a guy who hit 548 home runs and led the Phillies to their first World Series crown in 1980.
"It's fun for me because it's not a lot of pressure because I'm not making a career out of it," he says. "I have the freedom to tell stories and talk about the old days and express my opinion more so than other guys. I'm not held to not talking over a pitch and all the unwritten broadcaster rules that apply to those jobs.
"I think people value my inside opinions on hitting, the game and the organization. I can provide a perspective that very few people can."
When Schmidt talks, people certainly listen. His baseball IQ is off the charts. Young players could only benefit from conversations with a 12-time All-Star, 10-time Gold Glove winner and three-time National League Most Valuable Player.
Each of the guest instructors at spring training worked with five or six players. Cody Asche, Freddy Galvis, Darin Ruf, Domonic Brown, Chase Utley and Jordan Danks were part of Schmidt's group.
"It's definitely a privilege," said Asche, who started the season at third base but is currently being transitioned to the outfield. "I don't think too many guys can say they have an opportunity to learn from someone of his caliber. I pick his brain about anything and everything."
Ruf is a right-handed power hitter, so he has that in common with Schmidt. The Phillies are waiting on him to have a breakout year.
"I've enjoyed working with Mike because he's open to the way he teaches you," Ruf said. "He's not going to force something on you that might not work for you. He adapts his teaching style to get the most out of whoever he's working to work with."
So much has changed since Schmidt played from 1972-89. From the way players prepare by watching video to their intense workouts to how they spend their time in the clubhouse.
"The world is an electronic world," Schmidt says. "I wouldn't want to grow up now. Would I want to make the money they make? Sure, but it's tough and there's a tremendous amount of pressure being an athlete nowadays with all the scrutiny. I found a way to get people pissed off at me [without social media]."
When Schmidt played, guys would show up early to the ballpark and leave several hours after the game. They'd hang around the clubhouse, drink beers, eat and have fun together.
"We never sat around with a headset on because we were always screaming at each other," Schmidt says. "Now it's very quiet in there. They're sitting around on their iPhone, iPad, doing their thing, their own routine. We used to kid each other constantly and it was like Animal House the movie. We stayed in the clubhouse until they kicked us out. Now guys all have places to go and things to do and they're much more on their own. We were more of a fraternity."
Published (and copyrighted) in South Jersey Magazine, Volume 12, Issue 3 (June, 2015).
For more info on South Jersey Magazine, click here.
To subscribe to South Jersey Magazine, click here.
To advertise in South Jersey Magazine, click here.