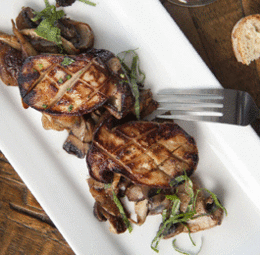 Casa Vecchia
A Worthy Newcomer: Casa Vecchia
273 Egg Harbor Road
Sewell
(856) 589-1114
2 and half forks
Sewell's Casa Vecchia is still quite young, opened at the beginning of 2015 at the hands of Philadelphia pizzeria owners Mayuri Clune and Mario Galietta. Casa Vecchia set out to serve traditional Italian food, with a menu that doesn't stray too far from the favorite dishes that many so closely associate with Italian dining.
The dining room itself is rustic and bright, with floor to ceiling windows draped in clean white linens, exposed brick and wood beams on the white ceiling and simple white chairs with wood tables. It's understated but still upscale, the perfect setting for date night, a celebration, or even when you need a quick escape after burning the roast.
Once seated, expect a visit from the house manager, who goes simply by Canio, as he buzzes through the restaurant all evening catching up with regulars and learning more about newcomers. The service itself most clearly represents true, quintessential Italian dining; a helping hand is never too far off and always eager to assist.
The night's most pleasant surprise was an appetizer of funghi trifolati, a traditional plate of sliced mushrooms. This was a dish designed to highlight the restaurant's beautiful variety of mushrooms, which were tossed simply in fresh parsley, chopped garlic and extra virgin olive oil. The mushrooms were earthy and nutty, and still maintained plenty of their meaty texture and flavor, while the accompanying herb, garlic and olive oil added just a hint of natural spice and a bit of brininess. It was a true display of what top-notch supplies can do when treated well.
Mussels were tossed in a white wine sauce with basil, and while the mussels themselves were fresh and cooked well, their natural brininess was lost in a sauce that would have benefitted from the salty flavor.
One of the most unique dishes was the pollo e Salsiccie, a combination of chicken thighs and chicken legs that were sautéed with veal sausage, shiitake mushrooms and sun dried tomatoes in a white wine-balsamic sauce. The balsamic was a bit heavy-handed and masked some of the flavor of the sundried tomato. But the bold flavors of the proteins, especially the sausage, were able to cut through nicely.
Pasta options take diners on a journey up and down Italy's coast, featuring everything from seafood to classic tomato and meat sauce. Linguine puttanesca—a recognizable Southern Italian plate—tosses linguine with a tomato sauce and anchovies, capers and olives. The sweetness of tomato was light compared to the punch of salt from the anchovies, olives and capers, which seemed to burst in every bite. It's no wonder why this dish managed to stand the test of time in Italian kitchens around the world; it really is a flavor explosion.
The same could not be said about the veal Sorrento, however, which covered thin slices of veal in prosciutto and a heavy amount of Fontina cheese. The cheese overpowered most of the dish, hiding any saltiness from the prosciutto and disguising the small cuts of veal. The plate's saving grace was a drizzling of pan sauce, which helped bring some life to the veal and added an elevated touch to the dish.
Desserts—while not made in house—were unlike most things you'll find on menus in the area. Like their limoncello cake, which layered creamy limoncello icing between sheets of vanilla cake and served it alongside fresh berries and strawberries. It was divinely fresh, and packed just enough punch from the limoncello without being too overpowering, and was a bright, light end to the meal.
There's no shortage of Italian eateries in South Jersey, so to really stand out a creative approach to the cuisine's classics is a must. Casa Vecchia is on the right track with a handful of innovative plates and unique desserts. Continuing down that path should give this local spot plenty of staying power in a crowded dining scene.
Published (and copyrighted) in South Jersey Magazine, Volume 12, Issue 3 (June, 2015).
For more info on South Jersey Magazine, click here.
To subscribe to South Jersey Magazine, click here.
To advertise in South Jersey Magazine, click here.