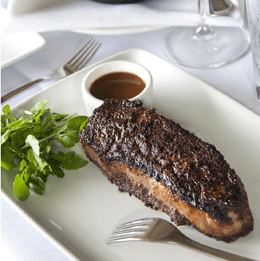 The ChopHouse
Silver and Gold: The ChopHouse
4 Lakeview Drive S.
Gibbsboro
(856) 566-7300
It's been a while since we stopped by The ChopHouse on official South Jersey Magazine business, but the feeling of walking through the front doors is still that familiar blend of hunger and elegance.
The kitchen remains upscale and refined under the direction of executive chef Markese Beverly—a South Jersey Magazine Top Chef—but still manages to have some modern touches that keep the menu from being boring or complacent. And the dining room fits the vibe; a wide open space with high, leather-backed booths and dimly lit tables that provide plenty of intimacy.
A high-topped chef's table next to the partially open kitchen provides the perfect opportunity to ogle at sizzling steaks coming out of the broiler, but if a view of Silver Lake is more your style then we suggest grabbing a seat at the still fairly young outdoor deck and bar. The beautiful covered space is a bit more laid back, with an open fire pit, lounge chairs and a bar menu featuring happy hour deals and specialty cocktails.
But back inside is a menu that combines classic favorites with innovative ingredients and technique. Nueske bacon is a traditional steakhouse starter that originated in the kitchens of Manhattan eateries like Peter Luger Steakhouse, served as three ultra-thick slices. Chef Beverly takes his bacon to the grill—as opposed to the greasy, pan-fried breakfast variety you're used to—and skips the standard steak sauces for just a hint of chipotle pepper and brown sugar. The result is a meaty, tender and smoky appetizer with just the right touch of sweetness and spice.
Clams casino get the vintage treatment, stuffing little neck shells with chopped clam meat, crispy bacon, and not much else. It's a fairly small appetizer—definitely not good for sharing amongst more than two people—and was lacking in originality, but could serve as a harmless crowd pleaser if you placed an extra few orders.
Many items on the menu have existed since we visited in 2008, like the Kona-crusted sirloin. Beverly has manned the helm since 2002, and with 13 years under his belt, his signature dishes—in the true fashion of quality steaks—have only gotten better with age. The 28-day dry-aged cut gets coated in finely ground Kona coffee, cooked and served alongside a caramelized shallot demi glace, a sweet and rich accompaniment to the steak. The crust itself added crispiness and a light touch of bitterness, not to mention an extra jolt of energy from the coffee.
An 8-ounce cut of filet Oscar was finished with lump crab meat, sautéed asparagus and creamy béarnaise sauce. The filet itself was buttery and practically melts in your mouth, and was only elevated by the combination of salty crab meat, fresh asparagus and rich, lemony béarnaise. No bite was too overpowering, no flavor too strong; it was a truly harmonious combination that comes with years of practice and technique.
You'd be remiss not to check out some of the non-steak options, however, which add some real character and originality to the menu. Like the pistachio-crusted halibut, cooked until flaky and served with a drizzling of citrus butter. The nuttiness from the pistachio and the fresh lemon flavor combine to create a natural, earthy flavor that matches the bright summer days so well. And sides like roasted Brussels sprouts and Lyonaisse potatoes help round out the dishes, adding some extra starch, salt and greens in all the right places.
One of the newest improvements is a new, more creative list of desserts. A serving of pot de crème arrived in a rustic mason jar, topped with cookie crumbles and served with rich house-made whipped cream. The custard was decadent and packed with vanilla, an easy crowd pleaser that rounded out a delightfully pleasing evening.
It's nice to know that some things don't change, especially when considering this eatery's plates and accompanying cocktails and wine list. And while The ChopHouse's menu still has the familiarity we've come to love, each trip over to Gibbsboro remains an exciting, new and indulgent experience. With unforgettable steaks, sides and service, you can't help but feel pampered here.
Published (and copyrighted) in South Jersey Magazine, Volume 12, Issue 3 (June, 2015).
For more info on South Jersey Magazine, click here.
To subscribe to South Jersey Magazine, click here.
To advertise in South Jersey Magazine, click here.