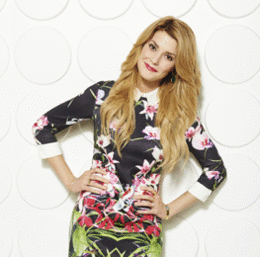 Good Grace
Woodbury Heights' Grace Helbig turned Internet fame into her own cable network show.
In the spirit of The Breakfast Club, she's a brain, a beauty, a jock, a rebel and a recluse (well, maybe not that last one). She's also a trailblazing Internet personality, a former Miss New Jersey USA semifinalist, and the host of The Grace Helbig Show on E! From growing up in Woodbury Heights and attending Gateway High School to earning millions of fans throughout the Web, Grace Helbig has seemingly done it all, but don't worry—she's just getting started.
A high school jock…
Whenever anyone asks me what kind of person I was in high school, I always just refer to the fact that I was a quiet, nerdy jock. I got really into track and tennis in high school. I loved it because I felt like I was decent at it, so I definitely put a lot of time and energy into it.
Comedy as a career…
I was undecided going into college, then I slowly started to realize I knew I wanted to do something creative. I didn't know exactly what that was. I got bit by the comedy bug and realized I wanted to do comedy, and was able to take improv classes in New York while I was in school [at Ramapo College]. I formed an on-campus sketch comedy group, and an on-campus improv group that performed once a week. I was able to really immerse myself in comedy.
What I wanted to do with comedy, I wasn't 100 percent sure. I knew I loved Tina Fey at that time. I knew I wanted to see if sketch writing was something I wanted to get into. The more improv I did, the more I fell in love with the performance side of things.
Competing to be Miss New Jersey USA…
I think I was quietly interested in figuring out who I was as a person and trying different things. When I first got to college, I tried to do indoor track, and I realized it didn't really appeal to me anymore. I also wasn't very good at it on a college level, so I dismissed that and got into the contemporary arts school a little bit heavier … writing scripts, and that sort of thing.
I was also hugely fascinated by beauty and the world of beauty competitions. My dad and stepmom live near Atlantic City, and my stepdad used to work for Caesars, so they would go see the Miss America pageant parade down there every year. I grew up with that being an event that we watched on television. A girl on my track team in high school was Miss Teen New Jersey. I was so fascinated.
I'm also a very competitive person, so I thought to myself, "I can try it. I can do this." Then I very quickly learned that I'm not a beauty competition kind of girl at all. I was so out of my league. I didn't even tell anyone that I was going to do this competition. I bought a dress at Macy's and hung it in my dorm. Before I left for the weekend, my roommate finally saw it on my way out and was like, "Why do you have a ball gown?" I was like, "Oh, uh, I'm competing in the Miss New Jersey pageant this weekend. Bye," and I ran out the door.
Venturing into the online world…
I had graduated college and was dating a guy that went to Rutgers. I moved in with him and his roommates for a few months and worked at the Olive Garden in New Brunswick. He was mowing lawns and that sort of thing, and one of the families that he was doing some gardening and housework for were going away for a month, and they wanted someone to watch their house. I was sick of living in the house with five dudes, so he kind of convinced them, and I got hired to housesit for them for a month.
At the same time, one of my internships from college had called me up. I had interned for them for like three or four semesters, so I feel like out of pity, they created a job for me in their project management department, so I was able to commute to the city every day for work. Also, I realized at the end of the day, coming back from work, that the house was completely empty and terrifying. I decided with my Olive Garden money I would buy myself an iMac computer because I'd just started to see these two girls named Beth and Val video-blogging. I'd never seen content like that before. I decided to try it for myself and keep a video diary. If I were to be murdered in this house, at least it would be documented on the Internet and, maybe, someone could find my killer.
Then I invited my college roommate, Michelle, who had also gotten a job in the city and was commuting from New Brunswick, over to live with me for a little bit so that the house wasn't so terrifying. When she came, we started making these videos together.
Staying ahead of the curve…
Well, I've always liked doing the thing that not a lot of other people were doing. I think that's why I did track in high school, because everyone else was playing soccer or swimming. I was really fascinated by these Web videos because no one else I knew was doing them, so [I thought] "I'll try doing that."
I was also really fascinated by improvisation because no one at my college was doing that. With this TV show, I feel like I'm really fascinated by the Internet meeting television, and no one's really doing that. Some people are infusing it in their shows, but I really want to try to do something I hadn't seen before.
I'm going to try to create content or create ideas that are original. I think that when I see someone else with an original idea, or something that I've never seen before, I get so excited and jealous at the same time, wishing that I had thought of something like that.
From online sensation to TV host…
I've been warned by so many people about television, [warning me], "They're going to change you. They're not going to let you have the creative freedom that you have on the Internet," but, really, my experience in creating for TV has been a really organic process. E! has been a very welcoming and open network that has really committed itself to experimenting with this show, trusting the relationship that I have with my pre-existing audience, and seeing what happens with it. That's all I've ever wanted from the show was for it to be an experiment, not to become a mega superstar success. It's something that we're trying out, seeing if it works, and seeing how this happens.
I've been familiar enough with the TV world to know that you don't always get a hit straight out of the box, which is why I create YouTube videos consistently. Some are winners and some aren't there at that level at all, in my opinion.
It's been a total learning curve and getting to work with quality people who respect, understand and encourage my brand and the mission at hand for all of us has been really helpful, and has been something I've really been focused on.
For me, it's been really great. I hope that it is the start of pioneering what else could be in this hybrid of Internet and television, with the Netflix, the Amazons, and the Hulus of the world, everything's just content. The idea of a television show is kind of losing its definition, so I'm hoping to just try and consistently figure things out.
Published (and copyrighted) in South Jersey Magazine, Volume 12, Issue 2 (May, 2015).
For more info on South Jersey Magazine, click here.
To subscribe to South Jersey Magazine, click here.
To advertise in South Jersey Magazine, click here.