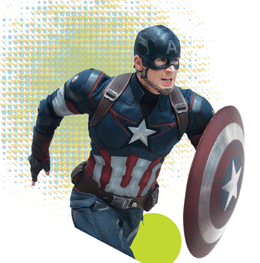 Summer Scenes
KYW film critic Bill Wine tells us what to watch for this blockbuster season.
A year ago, it sounded as if the summer of 2015 would be a virtual parade of blockbusters as movie franchise after movie franchise set their sights on the next few months to spring their latest installments on us.
But more than a few of them have been shelved or delayed or moved to a more promising or, in some cases, realistic, opening date.
As the following rundown demonstrates, there are, the dust having cleared, more than enough major movies opening this summer to keep moviegoers engaged. Don't expect the Oscar races to be strongly affected by the summer movie calendar, but do expect lots of long lines at multiplexes.
Here are 18 of the summer's highest-profile releases competing for your attention, your affection and your dollars, with a potential runaway hit or two opening just about every weekend, in approximate (but always subject to change) order of release.
Avengers: Age of Ultron (May 1)
GENRE AND PLOTLINE: The sequel to 2012's thriller, The Avengers, in which all the superheroes work together to defeat Ultron, an enemy bent on human extinction.
MAJOR PLAYERS: Robert Downey Jr. Chris Hemsworth, Chris Evans, Mark Ruffalo, Scarlett Johansson, Don Cheadle, Jeremy Renner, Aaron Taylor-Johnson, Elizabeth Olsen, James Spader, Samuel L. Jackson
BEHIND THE CAMERA: Joss Whedon, the writer and director, returns after writing and directing The Avengers.
REASON TO SEE IT: Not only does it kick off the summer movie season, it's likely to be the biggest commercial hit of the year. And The Avengers—same director, same cast—was Marvel-ous.
REASON TO SKIP IT: If you've had it up to here with comic book-inspired superheroes, you'll choke on this crowded gathering.
HIT OR MISS: The original was the biggest hit of any movie not directed by James Cameron. No reason to think that the follow-up will be any different.
Pitch Perfect 2 (May 15)
GENRE AND PLOTLINE: The musical-comedy sequel to Pitch Perfect (2012) finds the American group in an international acapella competition.
MAJOR PLAYERS: Anna Kendrick, Skylar Astin, Rebel Wilson, Brittany Snow, Ester Dean, Alexis Knapp, Anna Camp, Anna DeVine, Hailee Steinfeld
BEHIND THE CAMERA: The producer and director is actress Elizabeth Banks, making her debut at the helm after producing and playing a supporting role in the first one.
REASON TO SEE IT: The first was a charmer and the cast reunites for the sequel.
REASON TO SKIP IT: Acapella? What are you, kidding? If you ignored the first one, chances are you'll do the same this time.
HIT OR MISS: The first was a surprise hit. The second should score as well, but this time it's no surprise.
Tomorrowland (May 22)
GENRE AND PLOTLINE: A science-fiction mystery adventure involving travel through space and time that was originally titled 1952, and kicks off at the 1964 New York World's Fair.
MAJOR PLAYERS: George Clooney, Britt Robertson, Hugh Laurie, Tim McGraw, Kathryn Hahn
BEHIND THE CAMERA: Co-written and directed by Brad Bird, the maker of The Incredibles, Ratatouille, and Mission Impossible–Ghost Protocol
REASON TO SEE IT: George Clooney's stardom and track record render this one an event.
REASON TO SKIP IT: It's non-franchise science fiction, which makes it an unknown quantity, let alone quality.
HIT OR MISS: Not blockbuster territory, true, but look at Brad Bird's credits: not a miss among them.
Poltergeist (May 22)
GENRE AND PLOTLINE: A remake of the 1982 Tobe Hooper horror thriller about a suburban family whose home is invaded by angry spirits.
MAJOR PLAYERS: Sam Rockwell, Rosemarie DeWitt, Jared Harris, Susan Heyward, Jane Adams, Nicholas Braun, Saxon Sharbino
BEHIND THE CAMERA: Gil Kenan, the director of City of Ember and Monster House, is new to the genre, but veteran Sam Raimi is one of his producers.
REASON TO SEE IT: The spooky original is over 30 years old so the premise may feel new and Raimi knows his horror stuff.
REASON TO SKIP IT: The original isn't fondly enough recalled to tempt you to see the redo.
HIT OR MISS: There won't be a lot of PG-13 horror competition at this time of the year, so it could scare up a big audience.
San Andreas (May 29)
GENRE AND PLOTLINE: A disaster thriller about a devastating earthquake that hits California and a rescue helicopter pilot's attempt to rescue his estranged daughter
MAJOR PLAYERS: Dwayne Johnson, Kylie Minogue, Carla Gugino, Paul Giamatti, Alexandra Daddario, Archie Panjabi, Colton Haynes
BEHIND THE CAMERA: Brad Peyton, who brought the world Cats & Dogs: The Revenge of Kitty Galore and Journey 2: The Mysterious Island, is in the director's chair.
REASON TO SEE IT: You miss the disaster thrillers of old and are curious to see some state-of-the-art CGI magic.
REASON TO SKIP IT: Did you read the director's credits? Yikes.
HIT OR MISS: Johnson has left his "The Rock" persona behind, but his choices of projects have led to a spotty track record. Hits don't come easy.
B.O.O.: Bureau of Otherworldly Operations (June 5)
GENRE AND PLOTLINE: A computer-animated supernatural action comedy about a secret government agency that uses friendly ghosts to protect humans from evil ghosts.
MAJOR PLAYERS: Seth Rogen, Melissa McCarthy, Bill Murray, Rashida Jones, Matt Bomer, Octavia Spencer, Jennifer Coolidge
BEHIND THE CAMERA: It's the second animated feature from Anthony Leondis, who directed the little-seen Igor in 2008.
REASON TO SEE IT: The lead voices are funny and the premise is intriguing.
REASON TO SKIP IT: With the glut of animated projects, why go to a feature from a newcomer?
HIT OR MISS: Could go either way, but parents are grateful for just about all animated attractions.
Entourage (June 5)
GENRE AND PLOTLINE: A big-screen continuation of the HBO series about movie star Vince Chase and his Hollywood cronies, including his agent, who bankrolls Vince's directing debut.
MAJOR PLAYERS: Adrian Grenier, Jeremy Piven, Kevin Connolly, Kevin Dillon, Jerry Ferrara, Rex Lee, Scott Caan, Debi Mazar, Billy Bob Thornton, Haley Joel Osment, Emmanuelle Chriqui, Nora Dunn, Mark Wahlberg, Alice Eve
BEHIND THE CAMERA: Writer-director Doug Ellin has written and directed episodes of the series, as well as the feature film, Kissing a Fool.
REASON TO SEE IT: How could any fan of the series not want to see this?
REASON TO SKIP IT: But why would anyone who hasn't even watched the series head for a theater?
HIT OR MISS: The film's target audience might keep it afloat, but it should be in and out of theaters in a flash.
Jurassic World (June 12)
GENRE AND PLOTLINE: This fourth installment in the Jurassic Park franchise, set two decades after the original, is another science-fiction adventure, taking place at the fully-functioning dinosaur theme park in Central America, where a genetically modified dinosaur breaks loose.
MAJOR PLAYERS: Chris Pratt, Judy Greer, Bryce Dallas Howard, Vincent D'Onofrio, Ty Simpkins, Nick Robinson, Irrfan Khan, Jake Johnson, BD Wong, Brian Tee, Omar Sy
BEHIND THE CAMERA: This is the second feature from director Colin Trevorrow, whose first was the small-scale comedy-drama Safety Not Guaranteed. But Steven Spielberg, who directed the original, is the executive producer.
REASON TO SEE IT: The original was spectacular and both sequels were strong. But it's been nearly 15 years since the last one. It's certainly about time to revisit the concept in a third sequel.
REASON TO SKIP IT: This is too big a movie to entrust to an inexperienced director. It might be better to watch the original again.
HIT OR MISS: After all this time, and factoring in our abiding fascination with dinosaurs, this one has hit written all over it.
Inside Out (June 19)
GENRE AND PLOTLINE: An animated comedy-fantasy about a young girl guided, as everyone is, by her emotions: Joy, Fear, Anger, Disgust and Sadness, which live in a control center in her mind and help her adjust to a new life when the family moves.
MAJOR PLAYERS: Amy Poehler, Phyllis Smith, Bill Hader, Lewis Black, Mindy Kaling, Diane Lane, Kyle MacLachlan, John Ratzenberger, Kaitlyn Dias
BEHIND THE CAMERA: Peter Docter, the co-director of Monsters, Inc. and Up
REASON TO SEE IT: It's from trustworthy Pixar, it's been quite a while since their last release (2013's Monsters University), and it's about as original an idea for an animated movie as has ever surfaced.
REASON TO SKIP IT: Pixar has lost its mojo of late and the concept could be overly cerebral for kids.
HIT OR MISS: Pixar is due for a hit, and if the execution is as strong as the idea, this could be one.
Ted 2 (June 26)
GENRE AND PLOTLINE: In the sequel to the 2012 comedy, Ted, talking teddy bear Ted has married Tami-Lynn and wants to have a child. You read that right.
MAJOR PLAYERS: Mark Wahlberg, Seth MacFarlane, Amanda Seyfried, Jessica Barth, Liam Neeson, Morgan Freeman, Dennis Haysbert, Patrick Warburton
BEHIND THE CAMERA: As he did on the original, Seth MacFarlane, the creator of TV's Family Guy, co-writes, directs, and provides the voice of the title character.
REASON TO SEE IT: Easy. Because the first outing was hilarious and very easy to bear.
REASON TO SKIP IT: If Ted's language either kept you away or offended you while you watched the original, you can certainly expect more of the same.
HIT OR MISS: The sequel exists because the original was a hit. If MacFarlane can do more than just repeat himself, lightning could well strike again.
Terminator Genisys (July 1)
GENRE AND PLOTLINE: The fifth installment in the Terminator franchise is another science-fiction action thriller set in 2029 and is a prequel, sequel, and reboot all in one as the leader of the Resistance continues the war against the machines.
MAJOR PLAYERS: Arnold Schwarzenegger, Emilia Clarke, Jason Clarke, Jai Courtney, Matt Smith, J.K. Simmons, Lee Byung-hun
BEHIND THE CAMERA: Alan Taylor, who last directed Thor: The Dark World
REASON TO SEE IT: The original remains unforgettable and the last attempt to kickstart the franchise, Terminator Salvation, was at least respectable. So why not?
REASON TO SKIP IT: Four Terminator movies have got be enough, don't they? Where else can these things go?
HIT OR MISS: Terminator fatigue may have set in, rendering this one superfluous.
Minions (July 10)
GENRE AND PLOTLINE: An animated comedy that's both a prequel and a spinoff to 2010's Despicable Me and 2013's Despicable Me 2
MAJOR PLAYERS: Sandra Bullock, Pierre Coffin, Jon Hamm, Michael Keaton, Allison Janney, Steve Coogan
BEHIND THE CAMERA: The co-directors are Pierre Coffin, who co-directed the first two Despicable Me 'toons, and Kyle Balda, who co-directed The Lorax.
REASON TO SEE IT: Because kids love these little yellow creatures. I dare you not to take them.
REASON TO SKIP IT: Only if you can distract the little mellow creatures in your household from all the advertising so they won't even know that it's playing. Nice try.
HIT OR MISS: The nation's very young will turn this into a smash
Ant-Man (July 17)
GENRE AND PLOTLINE: A science fiction superhero fantasy based on the Marvel comic book in which a thief aids his mentor in safeguarding the secret of technology that allows the user to decrease in size while increasing in strength.
MAJOR PLAYERS: Paul Rudd, Evangeline Lilly, Michael Douglas, Corey Stoll, Bobby Cannavale, Judy Greer, Michael Pena, Tip "T.I." Harris
BEHIND THE CAMERA: Comedy director Peyton Reed (Bring It On, Down with Love, The Break-Up, Yes Man) works from a script by Paul Rudd and Adam McKay, so you get the idea that it will be comedic in spirit.
REASON TO SEE IT: The enormously likable Rudd is not only on-screen but co-wrote it, while Guardians of the Galaxy demonstrated that this superhero stuff can also be played for comedy.
REASON TO SKIP IT: This is just one Marvel Comics movie project too many.
HIT OR MISS: Tough call: It could disappear quickly and quietly or catch on the way Guardians of the Galaxy did.
Trainwreck (July 17)
GENRE AND PLOTLINE: A comedy about a commitment-phobic career woman who meets Mr. Right
MAJOR PLAYERS: Amy Schumer, Tilda Swinton, Bill Hader, Brie Larson, Colin Quinn, Barkhad Abdi, Mike Birbiglia, Jon Glaser, Vanessa Bayer, John Cena, Ezra Miller, LeBron James, Method Man, Daniel Radcliffe, Marisa Tomei
BEHIND THE CAMERA: Judd Apatow (Knocked Up, The 40-Year-Old Virgin, Funny People, This Is 40) is the director, working from a screenplay by star Amy Schumer.
REASON TO SEE IT: Apatow produces a lot more comedies than he directs, but when he directs, the results are quite entertaining.
REASON TO SKIP IT: Why see a movie starring and written by Schumer, whose movie track record barely exists?
HIT OR MISS: Expectations are probably low for what might be a dismissible vanity project. Miss is more likely.
Pan (July 24)
GENRE AND PLOTLINE: A fantasy that offers the origin story of Peter Pan and Captain Hook based on the characters created by novelist and playwright J.M. Barrie
MAJOR PLAYERS: Hugh Jackman, Levi Miller, Garrett Hedlund, Rooney Mara, Amanda Seyfried, Adeel Akhtar, Jack Charles, Leni Zieglmeier
BEHIND THE CAMERA: Joe Wright, the director, also brought Atonement, The Soloist, Pride & Prejudice, Hanna, and Anna Karenina to the movie screen.
REASON TO SEE IT: Joe Wright's interesting and accomplished résumé
REASON TO SKIP IT: We've had enough Peter Pan-connected projects on TV and movie screens over the years that the origin story doesn't really beckon.
HIT OR MISS: Commercial expectations are understandably modest
Pixels (July 24)
GENRE AND PLOTLINE: A science-fiction comedy about aliens who get the wrong impression from video feeds of 1980s-era video games and then attack Earth in the form of those games, whereupon video game experts are recruited by the military to join the fight
MAJOR PLAYERS: Adam Sandler, Kevin James, Michelle Monaghan, Jane Krakowski, Peter Dinklage, Sean Bean, Josh Gad, Brian Cox, Lainie Kazan, Ashley Benson, Jared Sandler
BEHIND THE CAMERA: The man in the director's chair is Chris Columbus, the veteran moviemaker responsible for Adventures in Babysitting, Home Alone, Mrs. Doubtfire, and the first two Harry Potter movies, among many others.
REASON TO SEE IT: Chris Columbus has been up and down, but up often enough to offer hope of quality.
REASON TO SKIP IT: Adam Sandler's involvement, given the number of atrocious movies he has participated in in recent years, seems to dash that hope. Time will tell.
HIT OR MISS: Sandler movies, good or bad, seem to turn into hits regardless. That may be true again, given the catchy title and canny, audience-friendly concept.
Mission: Impossible 5 (July 31)
GENRE AND PLOTLINE: The fifth installment in the movie franchise based on the classic television series is another spy thriller involving IMF agent Ethan Hunt and his team.
MAJOR PLAYERS: Tom Cruise, Jeremy Renner, Simon Pegg, Ving Rhames, Alec Baldwin, Simon McBurney, Sean Harris, Rebecca Ferguson, Zhang Jingchu
BEHIND THE CAMERA: Christopher McQuarrie directed The Way of the Gun and Jack Reacher after writing the Oscar-winning screenplay for The Usual Suspects.
REASON TO SEE IT: All the Mission Impossible flicks have been at least respectable and the last one, 2011's Mission Impossible–Ghost Protocol, was electrifying.
REASON TO SKIP IT: A different director, Brad Bird, concocted the fourth film. Why take a chance of ruining the memory of it because of a weak follow-up?
HIT OR MISS: Reaching the giddy heights of the predecessor seems an impossible mission, so a miss seems more likely than a hit.
Fantastic Four (Aug. 7)
GENRE AND PLOTLINE: Yep, it's yet another superhero thriller emerging from the Marvel Comics empire as a reboot of the franchise that already exists, this time calling on the titular team to harness abilities gained from an alternate universe to save Earth.
MAJOR PLAYERS: Miles Teller, Kate Mara, Michael B. Jordan, Jamie Bell, Toby Kebbell, Tim Blake Nelson, Reg E. Cathey
BEHIND THE CAMERA: This is only the second film from director Josh Trank, who debuted with the impressive science fiction thriller, Chronicle.
REASON TO SEE IT: Chronicle was a nifty little movie and there's no such thing as too many superhero flicks.
REASON TO SKIP IT: But this is a big movie and the here-we-go-again superhero conceit is getting awfully tiresome.
HIT OR MISS: A hit would be a big surprise.
Published (and copyrighted) in South Jersey Magazine, Volume 12, Issue 2 (May, 2015).
For more info on South Jersey Magazine, click here.
To subscribe to South Jersey Magazine, click here.
To advertise in South Jersey Magazine, click here.