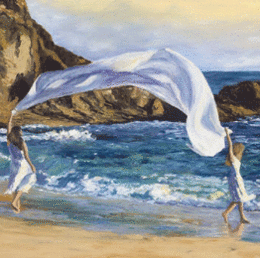 Art Appreciation
Actress and artist Jane Seymour stops by Stone Harbor for a Memorial Day exhibition of her work.
Emmy award-winning actress Jane Seymour is known to many as a presence on screen. From her time as Bond Girl Solitaire in Live and Let Die and more recent appearances in movies like Wedding Crashers to her long-time television stint as Dr. Mike Quinn on Dr. Quinn Medicine Woman, Seymour is an instantly recognizable talent.
But off camera Seymour has also become known for her work with the fine arts, as a painter, photographer, sculptor and more. Seymour has captured audiences across the globe with her art, and is now taking on the Jersey Shore for a special Memorial Day art exhibition.
We spoke with Seymour in anticipation of her exhibition, "Jane Seymour: Up Close and Personal," which opens to audiences at the Ocean Galleries in Stone Harbor from May 15 through May 25. Seymour herself will be on hand to meet guests and talk about her art and signed acquired pieces from May 22 to May 24.
SOUTH JERSEY MAGAZINE: What can visitors expect from your Stone Harbor exhibit?
JANE SEYMOUR: I do a variety of different styles of painting—everything from pen and ink to watercolors, pastels, mixed media and major oil. My subject matter ranges from mothers and children to floral bouquets and landscapes. One of the signature looks I have is a single flower from head on and I have miniature pen and ink drawings that I've become quite known for. They are very spontaneous and are often the inspiration for the fabrics that I've made for my women's clothing line and bedding collection.
SJM: What should people look for when viewing your art?
JS: Most people are surprised by the range. Most artists stick to one medium or one subject matter. Mine are more like my acting career; more diverse and spontaneous and inspired by the life I'm leading. If I just made a movie in the English countryside I may paint more watercolor villages, but I live by the ocean and the ocean is very spiritual and inspirational to me so that often becomes my inspiration as well.
SJM: So I suppose it is fitting that your new show is at the Shore.
JS: There are a lot of ideas and thoughts behind my paintings, especially my ocean scenes. The ocean, or a wave, is constantly in motion, like life. So for a lot of people when that motion doesn't go in your direction—be it emotionally, romantically—they tend to back away. The wave lets go of water it no longer needs, and as it comes and it crashes it doesn't stay down; it continues to move forward. If your heart and mind are open you can collaborate with new water or water that's been through its own cycle.
SJM: The exhibition is called Up Close and Personal; do you find the relationship with your fans to be more personal or intimate through the fine arts?
JS: A lot of people know that I paint to some degree. This is what I do for me, and I started painting having gone through a very tough time in my life. I still feel like art is the way I can most clearly express myself. When acting I'm dealing with someone else's writing or directing, and when I'm painting it's a very clear expression of who I am and what I am feeling at that time. I love when people see the work and connect to it in a personal way, and that's what's so fun about being at a gallery like Stone Harbor.
SJM: What inspires you in everyday life?
JS: Wherever I go my camera is with me. I start to notice details—be it in wrought iron or flowers. I take photographs of what is growing around me; and of course right now all the flowers are out. I love tulips so I might come up with some new tulip paintings soon.
SJM: I noticed that you have dabbled with sculpture work. Is 3-D something you might like to try next?
JS: Oh absolutely. I have a number of more classical sculptures that I don't show that are more personal and private to me and my children. I love sculpting, and I look forward to doing more of that in the future.
SJM: Do you have any future goals for your art?
JS: I'm trying to get a little bit more abstract at the moment, and allowing myself to be a lot freer. I'm trying a lot of different techniques. But color is a very big part of what I do, and that shows through in all my work.
SJM: What else do you have in the works right now?
JS: I'm on the television show Jane the Virgin right now, and I have a film called Bereave that's in film festivals right now. CNN is also going to be showing a documentary about Glen Campbell, called I'll Be Me that I am an executive producer of. I have another movie called High Strung that will air in Cannes right before I come to Stone Harbor, and I'm going to be launching several handbags that will be available to the public. I've been very busy lately, so it will be nice to have a little vacation in Stone Harbor.
Published (and copyrighted) in South Jersey Magazine, Volume 12, Issue 2 (May, 2015).
For more info on South Jersey Magazine, click here.
To subscribe to South Jersey Magazine, click here.
To advertise in South Jersey Magazine, click here.