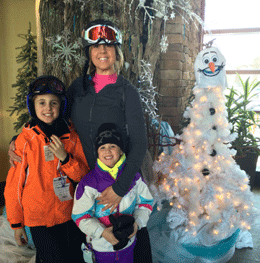 Reporting Live
When Cydney Long isn't bringing us the news, chances are you'll still find her on the South Jersey scene.
Ever since she was a little girl growing up in South Jersey and reporting on her family vacations for fun, it's been clear that journalism was Cydney Long's calling. The fact that she has been able to establish herself as a trusted news source in the Delaware Valley—in one of the nation's biggest markets—has made the pursuit that much more fulfilling.
After starting her career in Tampa, Fla., and eventually moving on to Austin, Texas, Long came home in 2001 as a reporter for CBS 3 in Philadelphia. She spent nine years there before taking on her current gig at NBC10 in 2011, where she reports mainly on South Jersey.
The Medford native and Shawnee High School graduate—who won a Mid-Atlantic Emmy in 2003 for her breaking news coverage of the Tropicana Casino parking garage collapse—now resides in Hammonton. We spoke to her about covering the news in the area she calls home, raising two children in South Jersey, and what the future holds for her career.
A reporter in the making…
I would update my family all the time. If we went to Disney World, I would find myself a week later saying, 'At this time last week, this is what we were doing.' I would recap it in chronological order to my parents. They'd say, 'Cydney, we remember. We were there, honey.' But it probably wasn't until college that I wanted to be a journalist. I wanted to be a reporter, I wanted to dig and find out [information]. … I think that's when I figured it out and I tried out for an anchor position at my college, the University of South Florida in Tampa. I earned the top spot, so that probably motivated me as well to really go for it. So I did, and that was my major from the beginning of my college career: mass communications and journalism.
Coming back home…
Never did I say, 'I have to be in Philadelphia.' It was a little bit of a happenstance, I guess you could call it. My stepfather, who raised me, was diagnosed with colon cancer right around the time of Sept. 11. I couldn't get home right away because we were covering stories in Austin [related to] Sept. 11 and the airport and so forth. I didn't come home until November that fall. When I did, we were out to dinner in Philly and I talked to my parents about [trying to get a position here]. I didn't even bring a suit [to wear to the interview], and I remember going into my mom's closet so I could find something to wear to Channel 3 in Philadelphia. And I got lucky, because I happened to work for CBS … in Austin, and at the time Channel 3 in Philadelphia was owned and operated by the network. So when I went, it was essentially a transfer. They welcomed me with open arms and said … 'We'd like to have you here in the Philadelphia market.'
I really kind of credit my stepdad, who is alive and well at 74 years old now—he beat his cancer. Coming home to see him and visit with my family [led me to say] 'let me give this a shot.' I've been in the Philly market ever since.
How stints in Florida and Texas helped prepare her for the Philly market…
I really feel like they did, and here's why: When I worked right out of college, I was a one-man band. … That made me appreciate the creativity of it, when I was in Tampa working for Bay News 9, which is a 24-hour news channel. I'd have to put the story together start to finish, top to bottom, all by myself. Then when I went to Austin, I was able to really learn how to dig better and investigate more. One story that comes to mind that a lot of people would remember is the yogurt shop murders. That was a big story that was unfolding in Austin. It preceded my time there but they were making arrests of four men involved in the murder of four girls in a yogurt shop that burned down. I really got to work with the police, work on some investigative pieces and do live reports for the first time when I was in Texas. So I think that did prepare me.
On covering the region…
It's such a big area. When I was first at Channel 3, I worked in Philly for several years before really being assigned to South Jersey. I do love covering interior South Jersey, which would be Burlington County, Mercer County and Camden County. It helps you zero in on having contacts and sources. When you know the area and you know the people—and they come to know you and rely on you and trust you—it definitely helps. And being able to help photographers who don't know the lay of the land in Jersey as well as I might, it definitely helps to know the region. I love South Jersey.
Balancing a demanding career with the demands of being a parent…
I'm a newly single mom and I have a demanding career. I have two kids: Charles is 8 and Emily is 5, so they keep me busy. I recently took my kids skiing over Valentine's weekend to Bear Creek Mountain. My kids are awesome skiers and I'm a pretty good skier. It was symbolic for me in a sense, because I'm conquering this mountain of single motherhood. It's hard to transition into being a single mom and having a demanding career, but I think it makes you strong and it makes you confident in what you do.
Favorite things in South Jersey…
We love the beach and the boardwalk in Ocean City. We go every summer, sometimes twice a summer. I love to be out picking blueberries with my kids on the family farm. We'll be out bike riding and playing soccer, and my daughter loves gymnastics. And we like the flexibility of where we are in South Jersey. Not only are we close to the Shore, but I like to explore the little vineyards we have in the area—not with my kids, obviously—or with my kids being able to get to New York City in two hours or to run the Rocky steps at the Art Museum. They've been asking me to do that, so I told them as soon as it gets nice we'll get over there. We've done some of the tours in Philadelphia. We're in that good central location where there are a lot of fun things to do.
Having her family close…
My parents are in Sarasota, Fla. I grew up in Medford and they also had a house in Ocean City, but they recently sold both of those, probably in the last five years or so. But they are getting ready to buy another house in Medford, so they'll be going back and forth. My younger brother Ryan and my sister-in-law Nicole are in the Atco-Berlin area, and I have four nephews. My grandmother is in Haddonfield and I have family in Cherry Hill and Mullica Hill, and my stepsister is in Washington Township. So I have a ton of family in this area, all over South Jersey.
Trying not to bring work home…
There are times when you can definitely separate them, and there are times when you can't. Any time you knock on the door of a soldier that was killed in the line of duty and you want to speak to their family, how do you separate from that? … I'm a mom, so I get tears in my eyes once in a while. I am definitely conscientious and care for the work that we do. It has to be factual and we want it to be creative and we want to try to help someone in the work that we do every day. … But to have my kids to come home to is definitely the bright light at the end of the day.
The thrill of the job…
I love the adrenaline of breaking news. I think what I like the best, even if it involves human tragedy or a family that has lost someone, is being able to help in some way, whether it's getting the information out so a crime can be solved, or helping memorialize their loved one. I hate to say that's where my strength is, but I think that's what is fulfilling for me. If they have something to look back on to remember their loved one, then that's fulfilling at the end of the day.
The big stories in 2015…
There are a ton. I think the pope's visit to the Philadelphia region is definitely going to impact South Jersey. It's going to have an economic impact with hotels and restaurants and it's going to be exciting. I think we'll be covering that from now until September, with stories leading up to his visit. We are also looking forward to seeing if our governor is going to run for the presidency, so that's a big one. Atlantic City needs a rebirth, and it will be exciting to see how [the town] reinvents itself after all of the casino closings.
On the change in how people get their news…
People are getting their news on their cell phone with an app, they're getting it on their iPad, they're looking on Facebook or Twitter. So when we're out in the field gathering our news for the day, we're tweeting, we're trying to update our social media network through NBC10 Philadelphia or our personal pages. I'm trying to build up my tweets, and when you're busy it's not always easy to tweet all day. But it's definitely part of the industry that's changing and that we have to get used to. There were times in the past when we didn't want to break a story that we might have had but the other stations didn't have. But those days are over. When you have it and you know it, you put it out there.
Unwinding after a long day…
I'm usually busy with the kids. Probably like any other family, we're doing homework and bathing and making dinner and tucking the kids in. But I sit down and watch TV. I have The Voice on right now. I'll read a book before bed to unwind.
Published (and copyrighted) in South Jersey Magazine, Volume 12, Issue 2 (May, 2015).
For more info on South Jersey Magazine, click here.
To subscribe to South Jersey Magazine, click here.
To advertise in South Jersey Magazine, click here.