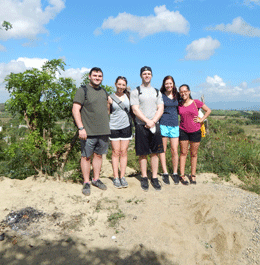 Southern Exposure
Go Figure
$349,000: Selling price of former Philadelphia Eagle Jeremy Maclin's 2,506-square-foot home in West Deptford.
$910,000: Cost of repairs to a bridge on the edge of Mantua and East Greenwich, paid for by state funding. The bridge reopened last month after being closed for 20 months.
600: Number of feet in length of the bulk carrier ship that ran aground in the Delaware River in Burlington City. The ship, from Liberia, was on its way to Tampa, Fla., when it lost propulsion.
88: Number of straight wins the Moorestown High School girls' lacrosse team recently tallied before the streak ended in late April.
$230,000: Amount the New Jersey Republican Party has spent on Gov. Christie's out-of-state travel expenses, in preparation for a potential 2016 presidential bid, according to a filing by the state Election Law Enforcement Commission.
3,157: Number of toothpicks Voorhees man Jeff Langum stuck in his beard, breaking the Guinness World Record for most toothpicks in a beard.
eight thousand: Dollar amount an Evesham Township woman was fined for not properly caring for more than a dozen cats inside her vacant home.
$24,000: Amount four Burlington County towns received from Sustainable Jersey grants. Maple Shade got $10,000 for a food waste recycling pilot project, Southampton received $10,000 for a solar education program and Delran and Bordentown townships received $2,000 each.
$291,814: Amount of the winning Jersey Cash 5 ticket that was sold at the Cherry Hill Exxon.
Hit or miss
Jon Bon Jovi will give the commencement speech at Rutgers-Camden, and will also receive an honorary doctor of letters degree. Who says you can't go home?
While battling a blaze in a Mantua home, firefighters rescued a cat named Winston from the home, giving the disgruntled feline oxygen to help him recover from smoke inhalation.
A group of New Jersey natives have created an account on Instagram titled Jersey Collective to showcase the beauty of New Jersey and the talented people who live here. Each week, a photographer takes over the account and uploads their own photos.
Facebook founder Mark Zuckerberg and Gov. Chris Christie recently interacted on Facebook. Christie recently uploaded a video to his public page of a town hall meeting and Zuckerberg "liked" it and commented on it, telling Christie it made him laugh. Christie's personal page also shows that he and the Facebook founder are friends.
Jon Gosselin, formerly of the TLC hit show Jon and Kate Plus 8, recently booked an appearance at Harrah's Atlantic City, earning $20,000 for just an hour of DJ-ing plus a meet-and-greet afterward.
A couple used a stroller to shoplift five high-end bats from Dick's Sporting Goods in Mount Laurel. They were later taken into custody.
The police officer in South Carolina charged with shooting and killing an unarmed black man, after it was caught on camera by a bystander, graduated from Lenape High School, and also once worked as a waiter in Voorhees. The officer has since been fired.
Datebook
5/2
Stroll your way through aisles of handmade crafts and products at The Gloucester County Craftsmen & Home Show. Enjoy food, live music and enter your pooch in the All Breed Dog Parade. May 2, 10 a.m.-4 p.m., Gloucester County 4-H Fairgrounds, 275 Route 77, Mullica Hill, (856) 765-0118, GloucesterCraftFair.com, free
5/16
Join American Legion Post 194 for a car show to benefit the local veterans and community of Florence. Family and friends can enjoy a variety of classic cars while indulging in grilled food, door prizes and the musical stylings of Cruzin Tunes. May 16, 10 a.m.-2 p.m., 601 Broad St., Florence, (609) 903-1944, free to spectators
5/27
Venture across the bridge to see Moorestown native Julian McCullough, host of Very Funny News on TBS and cast member on MTV2's Guy Code at the Helium Comedy Club for a night full of laughs. May 27-31, 2031 Sansom St., Philadelphia, (215) 496-9001, $12 general admission–Kaytlyn Mroz
3 Things You'll learn
Actress Jane Seymour will visit Stone Harbor this month to showcase her artwork. Page 16
Congressman Donald Norcross once took a college course with his mother. Page 68
Before she had a show on E!, Grace Helbig ran track at Gateway High School. Page 72
Did You Hear?
"Do you feel good about your job? So I could be a college dropout and do the same thing? Why, 'cause I have a brain and you don't? Maybe if I was missing some teeth, they'd hire me, huh? … Lose some weight, baby girl."
—ESPN reporter and Mount Holly native Britt McHenry was caught on camera insulting a tow lot attendant after her car was towed April 6 in Virginia. She was suspended from the network for one week.
Street Level
Burlington County: Mount Laurel
A contractor was charged with stealing jewelry worth $4,000 from a home in Mount Laurel while working at the house.
Camden County: Cherry Hill
A man allegedly tried to steal an iPad from the Apple store at the Cherry Hill Mall. Upon fleeing, the suspect ran head-first through a glass door, shattering it.
Gloucester County: Deptford
After giving cocaine to an undercover officer at the Deptford Mall, a man was indicted on charges of distribution of cocaine, conspiracy to distribute cocaine and possession of cocaine.
Voice & Vent
This month, on Page 60, we reveal our annual rankings for the top towns in South Jersey factoring in property values, scholastic data, crime numbers and more. Share your opinion by visiting SouthJersey.com's Voice and Vent section and answering:
"Are you as engaged in your community as you'd like to be?"
Click on "Submit" to make your vote count. Next month, we'll report back on what our readers are thinking.
Last month, we asked:
"Do you think Gov. Chris Christie would make a good presidential candidate?"
77% of you said No
23% of you said Yes
People: Water without Borders (pictured)
Rowan University's Engineers Without Borders (EWB,) recently traveled to Valle Verde in the Dominican Republic to help the impoverished rural community with water sanitation and supply issues. The club spent eight days as part of the project, hosting meetings with local officials, spearheading hygiene workshops, even building rainwater catchment system in one of the houses in the community.
Cindy Rubiano-Gomez, a junior at Rowan and the International project lead for the Rowan chapter of EWN, was one of five Rowan students and two professional engineers to go on the trip. She told South Jersey Magazine about the project—why it is important, what they accomplished while in the Dominican Republic, and why EWB is committed to finding a solution.
Tell me about the water/sanitation supply project in the Dominican Republic. Why there?
The Valle Verde project was identified by students the summer of 2012 with the help of our non-government organization, CARITAS. Our group was looking to get involved with a water project because our chapter has experience in working with water projects in the past.
What sorts of things was Valle Verde lacking in terms of water/sanitation?
[Valle Verde] is not receiving a continued supply of water. One of the main water sources they use is the canal, which is highly contaminated. [The] community is connected to a water distribution line from another community, which is the reason why they do not obtain water on a daily basis. The water they do receive from this distribution line gets contaminated by the way it is stored and handled. It is very important for us to teach [the community of Valle Verde] how to properly handle and store water.
How did EWB help alleviate these issues?
We accomplished many things during this trip, including a possible solution that is coming from one of the government entities this year, if this solution is implemented, our job is going to consist of teaching the community about hygiene, sanitation, water storage and educating them about proper water usage. Our team is still looking into a groundwater well if the solution from the government entity is not implemented. The commitment with the community is for five years, our team will travel to the community as many times as possible to provide them with a long term solution.
What did the club do while in the Dominican Republic?
Our team had various meetings with the community, water committee, our non-government organization, CARITAS Santiago; met with two of the water companies in the country, CORAASAN and INAPA; [and] had a hygiene workshop at a school close to our community. We used a GPS to draw an exact map of our community, took samples from different water points to determine the quality, measurements of roofs and the canal, we implemented a rainwater catchment system in one of the houses in our community, and community relations. The days were long, but extremely successful.
How many Rowan students traveled to the Dominican Republic?
Our team consisted in five Rowan students and two professional engineers: David Lichtenberger, a junior and chemical engineering student; Evan McCollum, a junior and mechanical engineering student; Danielle Wilcox, a senior and civil and environmental engineering student; Lorena Lopez, a senior and biology student; and [two professional engineers,] Aldo Cevallos and Angelita Fasnacht.
What about the trip stuck with you the most?
Since the first trip we took last year, the gender role dynamics in the Dominican culture that were represented in the community stuck out to me the most. Men are the head of the household, being that they are the main ones bringing an income into the home. Women usually stay home to take care of the kids, cook, clean and take charge in that area. Their life as a wife and mother starts at an early age.
Do you feel that you made a difference?
I feel that we are working towards making their life situation a little bit better. We are going to be involved in Valle Verde for at least five years and as a team, we truly hope to make a difference in the life of our community members.
As a team, we stayed in the community. We experienced their life for eight days. We basically lived for eight days, what they go through during their lifetime. We ate local food cooked by a community member (we bought water gallons at a supermarket in the city for safety), took showers with cold water and shared moments with the community for as long as we could. One of our community members has been renting us his house for the duration of our trips. We want the community to know we are truly invested in this project and show them we are here for them and how committed we are in coming up with a solution together.
Names to Know
Local people making a difference in South Jersey and beyond
Dana Pilla
Pilla, a Spanish teacher from Cherry Hill, has been awarded the Foreign Language Educators of New Jersey's 2015 Teacher of the Year. A middle school Spanish teacher in Haddonfield and a lecturer at Rutgers-Camden, Pilla has taught from second grade through university for the past 16 years, and is currently implementing an online proficiency elementary level Spanish course she developed for Rutgers-Camden.
Loretta Winters
This Williamstown resident and president of the Gloucester County NAACP since 2010 was honored by the Philadelphia Eagles at the Community Quarterback Awards. She was one of 10 recipients chosen from thousands of nominations where she received a $2,000 grant for her work with the NAACP.
Mike Kellenyi
A Washington Township resident, is the founder of Nikki's Foundation: People Against Distracted Driving (PADD), in memory of his daughter who died in a car accident in 2012. In August 2013, PADD got "Nikki's Law" signed into law in New Jersey. Since then, Kellenyi's charity has been donating "Stay Alive Don't Text and Drive" signs to schools and towns in areas they feel will impact motorists the most.
Linda Greiner
A Mount Laurel resident since 1998, Greiner started fostering for Shetland Sheepdog Placement Services of New Jersey (SSPSNJ) in 2003 and has launched a new children's book titled Sashi the Scared Little Sheltie. Greiner's goal with the book is to educate children and their parents about Shelties and rescuing while donating monthly to the SSPSNJ.
Adam Mohsen-Breen
Mohsen-Breen, a Moorestown Friends School senior, has written three children's books about Islam to challenge Muslim stereotypes and stop bullying. The books—which he illustrated himself—earned him a certificate of accomplishment for the Princeton Prize in Race Relations. Mohsen-Breen will attend Harvard University in the fall.
Pam Watson
Watson, a resident of Haddon Heights and student at Rowan College at Gloucester County, was named Female Athlete of the Week from the U.S. Track & Field and Cross Country Coaches Association. She was recognized for her performance in javelin at the Danny Curran Invitational and is the first female to ever be named Athlete of the Week in National Junior College Athletic Association Division III history.
Published (and copyrighted) in South Jersey Magazine, Volume 12, Issue 2 (May, 2015).
For more info on South Jersey Magazine, click here.
To subscribe to South Jersey Magazine, click here.
To advertise in South Jersey Magazine, click here.